THE BOOK OF MORMON Celebrates Broadway's Return With A Free Fan Performance on November 4
Regular performances resume Friday, November 5, 2021.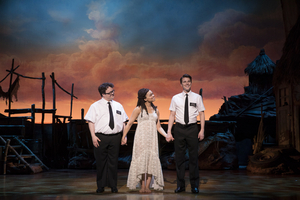 The Book of Mormon will return to Broadway one day earlier than previously announced with a Free Fan Performance on Thursday, November 4 at 8:00 pm at the Eugene O'Neill Theatre (230 West 49th Street). Regular performances resume Friday, November 5, 2021.

THE BOOK OF MORMON has staged Free Fan Performances throughout the show's history in appreciation of their dedicated and supportive fans. As Broadway returns from the industry-wide shut down, the entire company of The Book of Mormon felt it was the perfect time to bring back the tradition as the production resumes Broadway performances.
Here's how to enter:
Step 1: Tell us all about your mission companion! Is it someone special who inspires you? Someone who helped you get through the last 19 months? Is it someone who's never seen the show??? Tell us your story (can be a video or written post), tag us (@bookofmormon) and use the hashtag #BOMSweepstakes on social media.
Step 2: Submit to win by filling out the entry form below with your contact information and your social post URL. All entries must be received by October 24, 2021.
Step 3: Fans who have won a pair of free tickets will be contacted no later than October 29, 2021. All attendees will be required to adhere by Covid-19 vaccination, testing, and mask protocols, found here.
Step 4: We want to celebrate with our biggest fans at the Eugene O'Neill Theatre on November 4 at 8pm! We can't wait to be back on Broadway with YOU!

The details for how to register to attend the Free Fan Performance are available now at www.bookofmormonbroadway.com/missioncompanion.

THE BOOK OF MORMON stars Kevin Clay as Elder Price, Cody Jamison Strand as Elder Cunningham, Kim Exum as Nabulungi, Olivier Award winner Stephen Ashfield as Elder McKinley and Sterling Jarvis as Mafala Hatimbi.

The cast also features Lewis Cleale, Derrick Williams, Randy Aaron, Shanel Bailey, J. Casey Barrett, Graham Bowen, Isaiah Tyrelle Boyd, Christian Delcroix, Daniel Fetter, Naysh Fox, Bre Jackson, Keziah John-Paul, John K. Kramer, Ben Laxton, Terrie Lynne, Noah Marlowe, Matthew Marks, Henry McGinniss, Stoney B. Mootoo, Jevares Myrick, Darius Nichols, John Eric Parker, John Pinto Jr., Christian Probst, Jasmin Richardson and Arbender J. Robinson.

Since opening on March 24, 2011, The Book of Mormon has become one of the most successful shows in Broadway history, breaking the Eugene O'Neill Theatre house record more than 50 times. In addition to nine Tony Awards including Best Musical and the Grammy for Best Musical Theatre Album, The Book of Mormon won five Drama Desk Awards including Best Musical, the NY Drama Critics Circle Award for Best Musical, the Drama League Award for Best Musical and four Outer Critics Circle Awards including Best Musical.

The West End production opened in February 2013, winning four Olivier Awards including Best New Musical, and breaking the record for the highest single day of sales in West End history. The first-ever UK and European tour launched in Manchester in June 2019, winning 'Best Theatre Show' at the Manchester Evening News City Life Awards before touring throughout the UK and Europe. The UK tour reopened on October 12 at the Wales Millennium Centre in Cardiff and performances in the West End will resume on November 15 at the Prince of Wales Theatre.

THE BOOK OF MORMON has been performed on three continents and has won over 30 international awards. The musical has smashed long-standing box office records in New York, London, Melbourne, Sydney and in cities across the U.S. and the world.

THE BOOK OF MORMON features book, music and lyrics by Trey Parker, Robert Lopez, and Matt Stone. The production is choreographed by Casey Nicholaw and is directed by Nicholaw and Parker.

Set design is by three-time Tony Award winner Scott Pask, costume design is by two-time Tony Award winner Ann Roth, lighting design is by five-time Tony Award winner Brian MacDevitt and sound design is by two-time Tony Award winner Brian Ronan. Orchestrations are by Tony Award winner Larry Hochmanand two-time Tony Award winner Stephen Oremus. Music direction and vocal arrangements are by Oremus.

Tickets for The Book of Mormon are available via Seat Geek and at the Eugene O'Neill Theatre box office.