Sour Grapes Productions Presents CHEMICAL X: The Powerpuff Girls Improv Show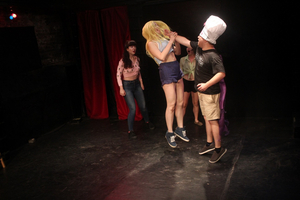 Sugar, spice, and everything nice - plus a heaping dose of Chemical X! Every month, a group of loud actors make up a never-before-seen and never-to-be-seen-again episode of The Powerpuff Girls, with a bonus added screening of classic episodes from the show. We're not your average improv troupe - we feature iconic characters and voices from the PPG, plus a whole ton of whoopass - seriously, we took hours of fight training for this. Come visit the city of Townsville, grab a drink, and revel with your favorite femme-fueled butt-kicking superheros!
Chemical X marks the 30th show that Sour Grapes Productions has ever produced in New York, so come ready to celebrate.
Our company features Kevin Buiocchi, Paeton Chavis, Amber Marie Hood, Saturday Lawson, Jenny O'Connell, Matthew Sears, and Genny Yosco.
Director Genny Yosco has loved theater since she was a child, and it's been a steady decline into madness ever since. Recently, she completed a run of her Midsummer adaptation Go Puck Yourself: A Shakesqueer Comedy at the 2019 Midsummer Nights Festival held at the Kraine Theater, which was called "expertly done" and "a joy to behold" by Hi! Drama, and "a resonant analogy of queer oppression" with "laugh-out-loud physical comedy" by Thinking Theater NYC. Yosco's first monthly show, SILENT BUT DEADLY: A Mime Experience, regularly comes close enough to sell out that we can pretend that it actually has. Her original piece Dead Body of Truth will premiere at the 2019 Boo! Short Play Festival this October. While she plays Bubbles in Chemical X, she considers herself to be a Blossom in real life.
Tickets are available online at www.frigid.nyc/events/chemicalx
Related Articles

More Hot Stories For You
VIDEO: HAMILTON Fan Creates a Side-By-Side Comparison of 'Helpless' and 'Satisfied'
One Hamilton fan saw some parallels while watching the musical on Disney+, specifically between A Winter's Ball/Helpless and Satisfied....

Ben Vereen's Son, Ben Vereen Jr., Has Died
BroadwayWorld is saddened to hear of the passing of Benjamin Vereen Jr., the son of Tony-winning actor Ben Vereen....

Disney Employee Pulls the Curtain Back on What it is Like to Work at Disney World During the Pandemic
Rolling Stone has reported on a conversation they had with one Disney World employee, pulling the curtain back on issues of safety, whether social dis...

Photo Flash: Berkshire Theatre Group's GODSPELL Takes Bows as First Equity-Approved Musical
The first musical in the United States to be approved by Actors' Equity Association has officially begun performances. Berkshire Theatre Group's Godsp...

Debra Messing and Eric McCormack Will Moderate an Online Discussion and Fundraiser For Joe Biden
Debra Messing and Eric McCormack will moderate an upcoming online discussion and fundraiser for Joe Biden....

Jason Robert Brown, Carolee Carmello, Chita Rivera & More Pay Tribute to Brent Carver
As BroadwayWorld reported yesterday, Tony Award winning actor Brent Carver has passed away at age 68. This evening, Carver's Broadway colleagues took ...