Shakespeare Theatre Company Announces Free And Final Open Rehearsal For THE ORESTEIA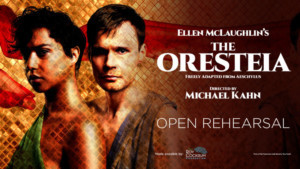 On Sunday, April 21, 2019, everyone is invited to the Open Rehearsal for The Oresteia, freely adapted by Ellen McLaughlin from Aeschylus' trilogy and directed by Shakespeare Theatre Company's outgoing Artistic Director Michael Kahn.
Michael Kahn was one of the earliest adopters of the Open Rehearsal, now a common practice in theatres worldwide. It's been a mainstay event at STC since Kahn took the helm, and this event for The Oresteia will mark the final Open Rehearsal for Kahn, who is retiring after 33 seasons at STC.
In a recent Michael Kahn and Friends: Off the Record event, Michael described how he began the innovative practice out of necessity. Worried about low audience turnout, Michael decided to allow audiences to see actors as they took the stage for the first time after weeks in the rehearsal room. Michael explains how well the Open Rehearsal worked for Twelfth Night: "Well, I remember Kelly McGillis being very nervous, but then she got her first laugh. Floyd [King] came out and he got his first laugh, and we were off to the races!" The shared laughter between actors and the audience was not only contagious, but also inspired Michael to adopt this this practice for all shows at the Company. "I decided to do Open Rehearsal for every play, because I realized it was a lovely thing to do." This production of Twelfth Night earned Kahn his first Helen Hayes Award.
Michael explains that while Open Rehearsals quickly became an STC tradition, visiting directors were originally hesitant to allow audiences to see their productions in such a raw, unfinished state, with actors wearing their street clothes stepping onto an unfamiliar set. "They all said, 'This is going to ruin my process.'" Michael explains. But they were quickly converted. "Every one of them went back to their own theatre and adopted the practice. It's a wonderful thing."
For some Open Rehearsals, such as Stacy Keach's star turn as Richard III, enthusiastic theatre-lovers lined up around the block. "We couldn't believe it!" Michael explains. "And I realized, this is what theatre is, it connects with people who care about it. I will be directing my last Open Rehearsal for The Oresteia, and I want you to come and enjoy it. We hope you will help us build up a line around the block."
Open Rehearsals are always free to the public. Please visit http://www.shakespearetheatre.org/events/oresteia-open-rehearsal/ to RSVP. There are two Open Rehearsals at 11:30 am and 1 pm. Performances of The Oresteia begin on April 30, 2019.

Related Articles
More Hot Stories For You
Breaking: Ciara Renee, McKenzie Kurtz & Ryan McCartan Will Join Cast of FROZEN on Broadway
Arendelle will soon welcome new royalty! BroadwayWorld has just learned that Ciara Renée, McKenzie Kurtz and Ryan McCartan will soon join the cast of ... (read more)

Bernadette Peters, Kristin Chenoweth, Sutton Foster & More Will Gather to Remember Jerry Herman Next Month
As BroadwayWorld reported last month, Tony Award winning composer and lyricist Jerry Herman passed away at 88 years old. Next month, Broadway will uni... (read more)

Diana DeGarmo and Ace Young Will Lead HIT HER WITH THE SKATES at the Royal George Theatre; Full Cast Announced!
HIT HER WITH THE SKATES, a new musical about life, love and the roller rink starring American Idol power couple Diana DeGarmo and Ace Young, has annou... (read more)

MOULIN ROUGE! Will Donate Profits and Present MAKE IT RAIN RALLY to Benefit Australian Wildfire Relief Efforts
As the world watches the devastating wildfires unfold in Australia, everyone at Moulin Rouge! The Musical on Broadway is heartbroken. The production... (read more)

MATILDA THE MUSICAL Movie Is In The Works
Matilda the Musical is headed to the big screen!... (read more)

Photo Flash: Michael McGrath, Erin Dilly & More Join PLAZA SUITE on Broadway; Go Inside Rehearsals!
Ambassador Theatre Group Productions, Gavin Kalin Productions, and Hal Luftig announced today the complete cast for the first-ever New York revival of... (read more)