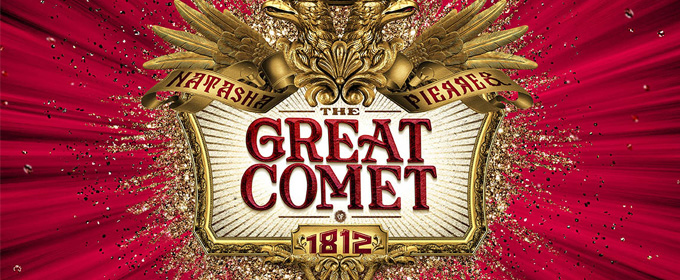 Click Here for More Articles on NATASHA, PIERRE AND THE GREAT COMET OF 1812
STAGE TUBE: Go Behind the Scenes with THE GREAT COMET OF 1812 and PIRATE PRINCESS at American Repertory Theatre
The American Repertory Theater (A.R.T.) at Harvard University is readying NATASHA, PIERRE, AND THE GREAT COMET OF 1812 for Broadway, but meanwhile, A.R.T. is also presenting their children's play, THE PIRATE PRINCESS on the same stage. The two shows could not be more different. Below, go behind-the-scenes and watch the set transform from a pirate ship to 19th century Russia, plus watch interviews with GREAT COMET director Rachel Chavkin and more!
Under the leadership of Artistic Director Diane Paulus, A.R.T. presents Dave Malloy's NATASHA, PIERRE, AND THE GREAT COMET OF 1812, a musical adaptation of an excerpt from Leo Tolstoy's monumental novel War and Peace, directed by Rachel Chavkin, with choreography by Sam Pinkleton.
Natasha is young, Anatole is hot, and Andrey isn't here...But what about Pierre? Based on a scandalous 70-page slice of Tolstoy's War and Peace, this electropop opera is Tolstoy like you've never experienced him before. Step into a glamorous, romantic world of chandeliers, vodka and caviar in the salons and opera houses of 19th century Moscow, where passions ignite as Napoleon's war rages outside the city. With the cast and musicians swirling among audience members, this new musical brings to life the heart of literature's most epic tale of love and fate.
The Great Comet is presented in a new immersive staging at A.R.T., continuing the show's development from its premiere at Ars Nova and it's critically acclaimed run in a pop-up venue in New York City.
The company includes Brittain Ashford as Sonia Rostova, Gelsey Bell as Maria Bolkonskaya, Denee Benton as Natasha Rostova, Nicholas Belton as Andrey Bolkonsky, Nick Choksi as Dolokhov, Lilli Cooper as Hélène Bezukhova,Grace McLean as Marya, Paul Pinto as Balaga, Scott Stangland as Pierre Bezukhov, and Lucas Steeleas Anatole Kuragin. The ensemble is composed of Courtney Bassett, Josh Canfield, Ken Clark, Erica Dorfler, Lulu Fall,Ashley Perez Flanagan, Nick Gaswirth, Azudi Onyejekwe, Heath Saunders, Lauren Zakrin,and Katrina Yaukey. Set design is by Mimi Lien, costume design by Paloma Young, lighting design by Bradley King, sound design byMatthew Hubbs, casting by Stewart/Whitley.
For further information, visit americanrepertorytheater.org