Rule Of 7x7 At The Tank Announces Rule Of 7x7: All-Star Edition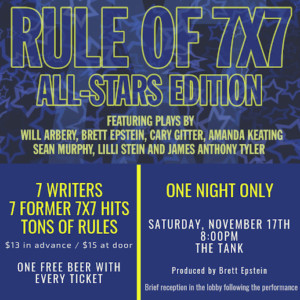 Rule of 7x7 at The Tank announces Rule of 7x7: All-Stars, the second-ever "best-of" edition of 7x7 on Saturday, November 17, 2018 at 8pm at The Tank Theater, 312 W 36th St, NYC. Seven of the strongest pieces in 7x7 history are back for one night only! Tickets are $13 advance / $15 at door, and include one free beer. To purchase, visit: https://www.brownpapertickets.com/event/3716752. Brief reception in lobby to follow performance.
For more information, visit: https://www.facebook.com/events/193853204750316/.
Since May 2014, Rule of 7x7 and The Tank have produced 196 world premiere short plays, with a plethora of sold-out evenings and free beer. It's the show critics have called "brilliant," "joyous," "an electrifying comedic experience" and "a deal that can't be beat." This November, seven of the most (explosively) hilarious and (oddly) poignant pieces are back, for one night only!
THE ALIGNMENT SYSTEM by Will Arbery
Directed by Will Arbery
Featuring Will Dagger, Briana Pozner, Rachel Sachnoff
TALK DIRTY TO ME by Cary Gitter
Directed by Molly Rose Clifford
Featuring Sarah Chalfie, Jonathan Randell Silver
HOMOLONE by Brett Epstein
Directed by Tom Costello
Featuring Alton Alburo, Alex J. Gould, Lilli Stein
TRUTH OR DARE by Amanda Keating
Directed by Molly Rose Clifford
Featuring Quinn Franzen, Julia Greer, Rachel Lin, Jacob Perkins, Briana Pozner
IN AND OUT OF ITSELF by Sean Murphy
Directed by Sean Murphy
Featuring Sean Murphy
TRADITION! TRADITION by Lilli Stein
Directed by Lilli Stein
Featuring Zachery Byrd, Arielle Goldman, Alex J. Gould, Briana Pozner, Casey Worthington
FATFATFATFATFATFATFAT! by James Anthony Tyler
Directed by Andrés López-Alicea
Featuring Amelia Fowler, Carl Hendrick Lewis, Lorenzo Jackson
7 writers | 7 rules | 7 new plays
1 free beer | every other month
Rule of 7x7 is a bi-monthly short play series featuring 7 writers, 7 rules and 7 new plays. The show has been consistently sold-out with a waiting list for playwrights. Recent playwrights have included Rob Askins (Broadway's Hand to God), Chiara Atik (NY Times Critics Pick Women) and Matt Cox (Puffs off-Broadway). For each show, every playwright comes up with one rule, then the 7 playwrights create new plays using all 7 rules. http://thetanknyc.org/series/ruleof