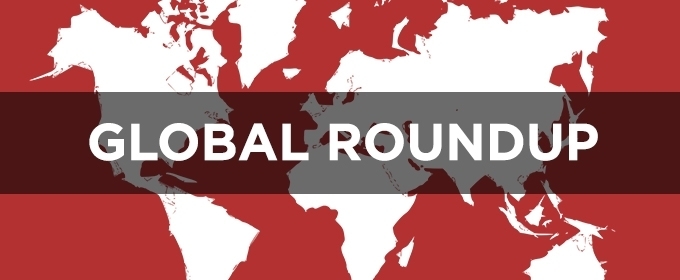 Regional Roundup: Top New Features This Week Around Our BroadwayWorld 3/1 - HARRY POTTER, FOLLIES, and More!
BroadwayWorld presents a comprehensive weekly roundup of regional stories around our Broadway World, which include videos, editor spotlights, regional reviews and more. This week, we feature Harry Potter, Follies, and more!
Check out our top features from around the BroadwayWorld below! Want more great global content? Check out our "Around The World" section!
---
UK / West End: Contributor Aliya Al-Hassan reviews ROCK OF AGES at the New Wimbledon Theatre, writing "Taking us back to a world of hideous stonewashed denim, huge hair and even bigger rock anthems, Rock of Agesis on a new national tour. The jukebox musical has been doing the rounds since it first appeared in Hollywood in 2005, but this particular version shows that it has not aged well. The paper-thin plot focuses on sweet Southern gal Sherrie arriving in LA's bright lights. Here she meets the sweet and clean-cut Drew at the Bourbon Club. With the threatened demolition of the club as a background, Sheree is drawn into the murky LA underworld where she ends up working in a strip club. After various misunderstandings, the show concludes with a vaguely happy ending; so far, so predictable."
---
UK / West End: Contributor Louis Train reviews FOLLIES at the National Theatre, writing "Bill Deamer's choreography is spectacular, as are the immaculate ensemble who leap, tap, twirl, and astonish. One show-stopper in the first half, led by Dawn Hope, was followed by the longest mid-show ovation I've ever heard, and the applause might have continued into the night if we hadn't all been so eager for more. It's hard to identify standouts in such a uniformly terrific cast, but Peter Forbes as Buddy hits every note, comedic and musical, just right, and better. Gemma Sutton, the young Sally, has a shining charisma and intense dramatic flare. Joanna Riding and Alexander Hanson, new additions to the cast as Sally and Ben, play the show's minor keys - subtle, suffering, and sublime."
---
Ireland: Contributor Jini Rooney reviews BIG SHOT at The Helix, writing "The comforting cacophony of blaring sirens. A kaleidoscope of scents: sweet and foul. The perpetual surge of humanity. All the things I love most about New York City. Into the melee, in a neighborhood coffee shop, a love triangle unfolds. Carrie O'Keefe (Sorcha Fenlon), a budding young Irish artist making ends meet as a barista, her smooth talking fiance, Hank Midden (Andrew Smyth) and big shot lawyer Jeremy Croker (Carl Stallwood) who has fallen under her spell."
---
Australia - Melbourne: Contributor Brodie Turner reviews HARRY POTTER AND THE CURSED CHILD at the Princess Theatre, writing "What really sets this show on fire is its superb cast, and one can imagine producers had the pick of all Australian and overseas talent, which makes it truly uplifting to see that for so many performers, Cursed Child is their professional debut. The first man to step on stage is Soren Jensen, who carries with him all the magnificence and intrigue to set the tone for a thrilling and unpredictable ride. Gareth Reeves as the famous Potter does an admirable job playing a hero we all understand has formidable flaws and traumas to overcome in his efforts to become as great a father as he is a legend. Paula Arundell brings the brilliance we all have come to look to Hermione for, but also is spectacular in moments of humanity and ambition. The potency of their roles asks Gyton Grantley to carry a great deal of the humour, which he does with humility and memorability."
---
Indianapolis: Contributor The Marriage Matinee reviews THE KING AND I, writing "THE KING AND I has the power to evoke many iconic songs, images, and fond memories. It has become a designated Broadway classic. However, what do the classics have to offer us in this modern age? Timothy Matthew Flores fills us in on how this national tour has breathed new life into the classic, showing its timeless qualities."
---
Philadelphia: Contributor Pati Buehler reviews Philadelphia Theater Company's BRIDGES OF MADISON COUNTY writing "Deep in the heart of Iowa sits Francesca, a lonely young woman who long ago left Italy with the young American GI finding herself supposedly content until she realizes she's really accepted the hopeless acceptance of captivity."
---
Russia: Contributor Daria Vorobyeva reviews STILYAGI at The State Theatre Of Nations, writing "The show premiered on 21st of February. It was preceded by a huge casting (more than 2500 people took part in it!) that lasted for almost 6 months. As a result, the cast combines famous faces from the musical world with brand new ones, like Oleg Ots. He just finished acting school and got the leading male part (Mels, which is an abbreviation for Marks, Engels, Lenin and Stalin)."
---
UK / West End: Contributor Louis Train reviews TARTUFFE at the National Theatre, writing "Tartuffe, which has just opened at the National, is quick, clever, and frightening. Going on a new adaptation by John Donnelly, which transplants the action to modern-day London, and a delicious set by Robert Jones - so decadent it chews the actors - this new, politically charged production is disiquientingly relevant. It is also wickedly funny."
---
Regional Editor Spotlight:
Brodie Turner
Brodie Turner is an avid theatregoer and theatremaker. Trained as a publicist in Adelaide, Brodie's passion for performance art developed under the bright lights of the Fringe Festival which he would go on to support shows in for five years, then travel over to Edinburgh Fringe Festival to support companies there. Since moving to Melbourne, Brodie has focused more on writing and producing, leading MEAN Projects to create collaborative, multidisciplinary projects with a social impact.
---
Join Team BroadwayWorld! Interested in joining our team, but not exactly sure what we do? All of your questions are answered, along with every open position from guest and student bloggers, Regional Editors, and more! Find out where we have open positions available here!
Related Articles