Raul Esparza Departs Chicago Shakespeare's HAMLET; Maurice Jones Will Play The Title Role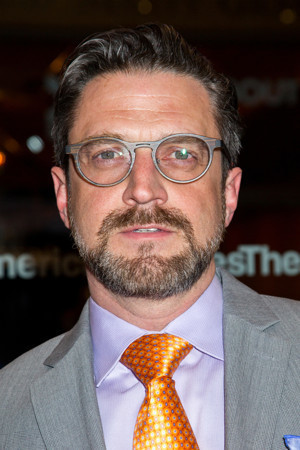 Chicago Shakespeare Theater announces today that Maurice Jones has stepped into the title role of the Theater's upcoming production of William Shakespeare's Hamlet, staged by Artistic Director Barbara Gaines, in the Courtyard Theater, April 17-June 9, 2019. Jones steps into the role following Raul Esparza's departure.
Most recently appearing on Broadway in The Lifespan of a Fact opposite Daniel Radcliffe, Jones is an accomplished classical performer whose Broadway credits include Saint Joan staged by Tony Award-winner Daniel Sullivan, The Cherry Orchard featuring Diane Lane, Romeo and Juliet starring Orlando Bloom and Condola Rashad, and Julius Caesar with Denzel Washington-as well as credits at The Public Theater and Roundabout Theatre Company. The role of Hamlet was originally to be played by Raúl Esparza who had to withdraw from the production due to scheduling conflicts.
Joining Jones in the Hamlet company are Karen Aldridge (Gertrude), Timothy Decker (Claudius), Larry Yando (Polonius), Sean Allan Krill (Horatio), Paul Deo, Jr. (Laertes), Rachel Nicks (Ophelia), Mike Nussbaum (Gravedigger), Greg Vinkler (Gravedigger/Player King), Kevin Gudahl (Osric), Alex Goodrich (Rosencrantz), Samuel Taylor (Guildenstern), Sarah Chalcroft (Voltemand/Player Queen), Callie Johnson (Reynalda), and Drew Shirley (Barnardo), as well as ensemble members Al'Jaleel McGhee, and Sam Pearson.
I wanted to let you all know that I'm no longer appearing in the Chicago Shakespeare Theater production of Hamlet. There were scheduling conflicts, and unfortunately we were unable to make it work. I wish them well, and I thank you all for your support. See you at the next show.

- Raúl E. Esparza (@RaulEEsparza) March 6, 2019
Celebrated actress Karen Aldridge takes on the role of Gertrude, queen of Denmark. In addition to numerous credits with Goodman Theatre, Writers Theatre, and Chicago Shakespeare, Aldridge originated the role of Tamyra in Tracy Letts's Pulitzer-Prize-nominated Man from Nebraska at Steppenwolf Theatre, as well as Mrs. Phelps in the Broadway production of Matilda the Musical. She also starred in the international tours of Battlefield and Le Costume, both directed by the legendary Peter Brook. Timothy Decker portrays Hamlet's uncle and adversary Claudius. Decker has appeared onstage at Chicago Shakespeare, Goodman Theatre, and American Blues Theatre, where he garnered the Jeff Award for his performance in Toys in the Attic. He notably completed a four-year run with 1,600 performances as Sam Philips in Million Dollar Quartet at the Apollo Theatre. In his twenty-fifth Chicago Shakespeare production, Larry Yando performs the role of Polonius. The five-time Jeff Award-winner-named "Best Actor in Chicago" by Chicago Magazine-is a mainstay on Chicago stages, including eleven seasons as Ebenezer Scrooge in The Goodman Theatre's A Christmas Carol. Veteran of the National Tour of The Lion King, Yando recently concluded a critically acclaimed European tour of Peter Brook's Battlefield.
Sean Allan Krill portrays Hamlet's close friend and confidante Horatio. Krill debuted on Broadway as Sam Carmichael in Mamma Mia!, a role which he reprised in the production's North American tour; additional Broadway credits include On a Clear Day You Can See Forever and Honeymoon in Vegas. He recently appeared in American Repertory Theater's world premiere production of the Alanis Morrissett musical Jagged Little Pill, which is headed to Broadway in Fall 2019. Appearing as Laertes is Paul Deo, Jr., who has previously performed in The Public Theater's Shakespeare in the Park production of Troilus and Cressida, as well as Shakespeare Theater Company's Twelfth Night and Romeo and Juliet. Rachel Nicks takes on the role of Ophelia. Nicks has appeared Off-Broadway in Final Follies, War, And I and Silence, and The Good Negro, as well as in productions with McCarter Theatre and The Old Globe.
Portraying the Gravediggers are Mike Nussbaum and Greg Vinkler. A seven-time Jeff Award-winner, Nussbaum's illustrious career at Chicago Shakespeare has included notable performances in Henry VIII, Shylock in The Merchant of Venice, and Follies. The Sarah Siddons Society honoree starred in Peter Brook's international touring production of The Cherry Orchard, as well as in the original Broadway productions of David Mamet's American Buffalo and Glengarry Glen Ross. Now 95 years old, Nussbaum is hailed "the oldest working actor in the United States." Vinkler has appeared in nearly forty Chicago Shakespeare productions, garnering Jeff Awards for his performances in King Lear, Hamlet, and Twelfth Night. He made his Broadway debut in the 2009 revival of West Side Story, and has appeared regionally with Milwaukee Repertory Theatre and Peninsula Players Theatre, where he also serves as artistic director-and in Chicago with Writers Theatre, Court Theatre and Goodman Theatre. Multiple Jeff Award-winner Kevin Gudahl is Osric. A veteran of more than forty Chicago Shakespeare productions, Gudahl has also appeared onstage at Court Theatre, Goodman Theatre, and Writers Theatre, in addition to five seasons with the Stratford Festival.
As Rosencrantz and Guildenstern are Alex Goodrich and Samuel Taylor, respectively. Goodrich has previously appeared on Chicago Shakespeare's stages in Love's Labor's Lost, A Midsummer Night's Dream, and The Taming of the Shrew. Goodrich frequently appears at Northlight Theatre and Marriott Theatre, where his performance in the world premiere musical Hero earned him a Jeff Award. Taylor returns to Chicago Shakespeare after memorable performances in Macbeth, Henry V, Julius Caesar, The School for Lies, and The Feast: an Intimate Tempest. His numerous Shakespeare credentials include teaching courses on the playwright at the University of Chicago and co-founding the Back Room Shakespeare Project.
Sarah Chalcroft returns to Chicago Shakespeare after appearing in King Charles III to perform the roles of Voltemand and the Player Queen. Playing Reynalda is Callie Johnson, who garnered a Jeff Award for her performance in Porchlight Music Theatre's Pal Joey and has also appeared at Drury Lane Theatre and Marriott Theatre.
As a leading director of Shakespeare internationally renowned for her populist and dynamic interpretations, Barbara Gaines has staged more than sixty productions at Chicago Shakespeare throughout her distinguished career, garnering the prestigious Honorary OBE (Officer of the Most Excellent Order of the British Empire) and Joseph Jefferson Awards for Best Production (Hamlet, Cymbeline, King Lear, and The Comedy of Errors), and for Best Director (Cymbeline, King Lear and The Comedy of Errors). Joining Gaines on the Hamlet creative team are Scenic Designer Scott Davis, Costume Designer Susan E. Mickey, Lighting Designer Robert Wierzel, Sound Designer Lindsay Jones, Projection Designer Mike Tutaj, Wig and Make-up Designer Richard Jarvie, and Fight Choreographer Matt Hawkins. Tyrone Phillips is the production's Associate Director.
For more information, visit www.chicagoshakes.com/hamlet.
Hamlet is presented in Chicago Shakespeare's Courtyard Theater, April 17-June 9, 2019. Single tickets ($48-$88) are on sale now. Special discounts are available for groups of 10 or more. For more information or to purchase tickets, contact Chicago Shakespeare Theater's Box Office at 312.595.5600 or visit the Theater's website at www.chicagoshakes.com.

Related Articles
More Hot Stories For You