REPRISE 2.0 Season Starts with SWEET CHARITY Directed By Kathleen Marshall; VICTOR/VICTORIA and GRAND HOTEL to Follow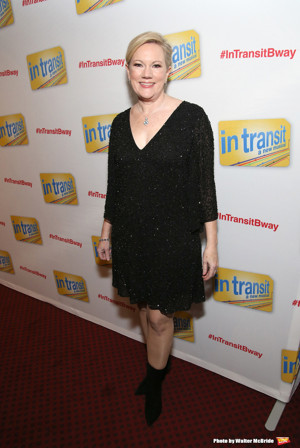 REPRISE 2.0 is now announced, presenting a season of three classic American musicals at UCLA's Freud Playhouse, by Marcia Seligson, Producing Artistic Director of the new performing arts organization. REPRISE 2.0 is partnering with the UCLA School of Theater, Film and Television's Department of Theater (UCLA TFT), chaired by Brian Kite.
Seligson was the founder of
Reprise! Broadway's Best
, which presented nearly 50 productions of classic musicals between 1997 and 2012. These included Promises, Promises; Finian's Rainbow; Wonderful Town; The Pajama Game; Sweeney Todd; Bells are Ringing; Call Me Madam; Hair; 1776; The Most Happy Fella; Follies; Anything Goes; Kismet; Company; Brigadoon; Pippin, On the Town, Carousel, How to Succeed, and the final show Cabaret. The inaugural 2018 season of REPRISE 2.0 includes Sweet Charity directed by three-time Tony winner
Kathleen Marshall
(June 20 -- July 1); Victor/Victoria directed by
Richard Israel
and choreographed by
Peggy Hickey
(September 5 -- 16); and concludes with Grand Hotel - The Musical (October 24 -- November 4) directed by
Arthur Allan Seidelman
and choreographed by
Kay Cole
. All of the productions will be conducted by REPRISE 2.0 musical director
Gerald Sternbach
. Matthew Herrmann is the General Manager of REPRISE 2.0,
Kevin Bailey
and
Arthur Allan Seidelman
are Executive Producers. This inaugural season of REPRISE 2.0 is funded in part by a generous gift from Charles B. Hensley, Chairman and CEO of Desilu Studios. Subscriptions are now available by visiting
Reprise2.org
or by calling
1-866-811-4111
(M-F 9a-9p; Sa-Sun 10a-9p). "The original
Reprise! Broadway's Best
was known from California to New York for both the excellence of our productions and our fierce dedication to this essential American art form; we rapidly became one of the leading American musical theatre companies," said REPRISE 2.0 Producing Artistic Director,
Marcia Seligson
. She added, "Since those days, after Reprise! had ended, so many of us have been approached by former audience members asking the same question: 'Can you bring Reprise! back? There's nothing like it in LA. We miss it!' With REPRISE 2.0, what is the same from the original is the passionate vision that made Reprise! so special." The new REPRISE 2.0 will be faithful to the original concept, combining simple sets and costumes with outstanding directors and choreographers, the band on stage, and stellar performances that lets the material shine, allowing audiences to experience musicals they have never seen before, or have not been performed in the area for many years." Under Seligson's previous direction of Reprise!, it presented productions starring some of the best musical theater talent in America, both gifted newcomers and established stars such as
Christine Baranski
,
Kelsey Grammer
,
Maureen McGovern
,
Jean Smart
,
Rachel York
,
Tony Danza
,
Jane Krakowski
,
Donna McKechnie
,
Christopher Sieber
,
Davis Gaines
,
Steven Weber
,
Lucie Arnaz
,
Christine Ebersole
,
Orson Bean
, and
Judith Light
. REPRISE 2.0 will continue to collaborate with many of these stellar performers. REPRISE 2.0 returns a professional musical theater season to UCLA's intimate 586-seat Freud Playhouse in partnership with UCLA TFT's Department of Theater. This initiative allows the school to expand activities for its theater students - in performance, lighting, sound and set design, as well as interning with REPRISE 2.0 personnel in directing, stage management, casting, producing, musical direction, costuming and choreography. Students also appear in the productions on stage as part of the ensemble, as appropriate. REPRISE 2.0 is excited and honored to have this creative and mutually supportive partnership with UCLA TFT, which supports the School's central vision as a pre-eminent storytelling school - one whose mission is educating and developing a new generation of diverse, humanistic artists, industry leaders and scholars to use the power of story to not only entertain, but to enlighten, engage and inspire change for a better world.
Brian Kite
, the former producing artistic director of La Mirada Theatre for the Performing Arts (2008-2015) is the chair of UCLA TFT Department of Theater. While at La Mirada, he directed many musical productions for the theater, co-produced by
McCoy Rigby Entertainment
. He is the recipient of the Los Angeles Ovation Award for Best Direction of a Musical for his production of Spring Awakening and was again nominated for his productions of Les Misérables and American Idiot. He directed the national tours of Judgment at Nuremberg, In the Heat of the Night, The Graduate, and Pride and Prejudice for L.A. Theatre Works, and staged the first production of Miss Saigon to ever play in China when his show closed the Macau International Music Festival. He also directed Top Secret: The Battle for the Pentagon Papers, starring
Margaret Colin
, which toured throughout Mainland China. Kite said, "The original Reprise! provided an unusually rich environment for our students, who often seamlessly joined the ensembles and could observe the assembling of a professional production during a compact period of time. With the kind of residency we are envisioning with the new REPRISE 2.0, we will be able to allow an even wider variety of experiences for students to both observe and participate in the process. We are thrilled to partner with Marcia and such incredible artists to bring these special musical experiences to L.A. audiences." About the Shows Sweet Charity
Directed and Choreographed by
Kathleen Marshall
June 20 -- July 1 Sweet Charity is a collaboration between some of Broadway's most spectacular talents. The hilarious, razor-sharp dialogue is by
Neil Simon
(Barefoot in the Park and The Odd Couple); the pop-influenced, jazzy music by
Cy Coleman
(Barnum and City of Angels) and lyrics by the legendary
Dorothy Fields
("On the Sunny Side of the Street" and "I Can't Give you Anything But Love"). Based on
Federico Fellini
's The Nights of Cabiria, Sweet Charity was director
Bob Fosse
's riotously colorful valentine to his then-wife, Broadway dancing phenomenon
Gwen Verdon
. Premiering in 1966, it was nominated for nine Tony Awards and ran for 608 performances. Charity was played in London by
Juliet Prowse
and by numerous stars in subsequent New York revivals, most recently in 2016 by
Sutton Foster
. The film version stars
Shirley MacLaine
and was directed and choreographed by Fosse. The story centers on Charity's life as a dance hall hostess "with a heart of gold", determined to break out of the Fan-Dango Ballroom. She accidentally finds herself in the bedroom of an Italian film star as she starts dating the neurotic and shy Oscar. When Oscar proposes, he insists he doesn't care about Charity's profession. But in the end, he does care very much and Charity is soon back to having her toes and heart stepped on in the ballroom. But not before singing and dancing to such rousing Broadway classics as "Big Spender," "If My Friends Could See Me Now," "Where Am I Going," and "There's Gotta Be Something Better Than This." The REPRISE 2.0 production is directed and choreographed by one of Broadway's most celebrated artists,
Kathleen Marshall
. A winner of three Tony awards (with six more nominations), she directed and choreographed such Broadway hits as Anything Goes (2011 revival with
Sutton Foster
) and The Pajama Game (2006 revival with Harry Connick, Jr.). She was Artistic Director of New York's "Encores" series from 1996-2000. Victor/Victoria
Directed by
Richard Israel
, Choreographed by
Peggy Hickey
September 5 -- 16 Victor/Victoria (1995), a musical version of
Blake Edwards
' cinematic 1982 masterwork, Victor/Victoria, served to bring Edwards's wife,
Julie Andrews
, back to Broadway after a 30-year absence since she last performed in the original Camelot. Premiering in 1995, the musical went on to play 734 performances and won Drama Desk and Outer Critics Circle Awards for the show, Andrews and co-star
Rachel York
(another Reprise favorite for Anything Goes). Audience favorites include: "If I Were a Man", "Paris by Night", "Crazy World" and the effervescent "Le Jazz Hot." The lyrics are by
Leslie Bricusse
("What Kind of Fool Am I?", "Goldfinger"). Legendary composer
Henry Mancini
("Moon River," "The Pink Panther") passed away before completing his score for the show, and additional musical and lyrics were created by Jekyll & Hyde's composer
Frank Wildhorn
. Edwards himself wrote the book for the musical version. The story (based on a 1933 German comedy) follows Victoria, a penniless out-of work soprano, whose life is changed when she meets a struggling gay impresario and, with his help, becomes "Victor", an overnight singing sensation in the nightclubs of Paris. But, Victor's success becomes hilariously complicated when he/she meets the love of his/her life, King Marchan, a macho Chicago gangster. King sees Victor's act and finds himself -- to his bewilderment -- attracted to the star. Needless to say, King's syntax-mangling, blonde bombshell girlfriend is not amused. More hilarity ensues. During the Broadway run,
Liza Minnelli
took over the leading role for Andrews' vacation;
Raquel Welch
finished the Broadway run; and Toni Tennille played the lead in the national company. Andrews herself made Broadway history when she refused a Tony nomination (and refused to perform on the awards show) when others in her cast were overlooked. Her highly publicized press conference stimulated ticket sales. Grand Hotel - The Musical
Directed by
Arthur Allan Seidelman
, Choreographed by
Kay Cole
Opening October 24 to November 4 Based on the 1929
Vicki Baum
novel and the subsequent 1932 MGM feature, Grand Hotel - The Musical premiered in 1989 and garnered 12 Tony Award nominations, winning 5, including best direction and choreography for
Tommy Tune
("Nine" and "The Best Little Whorehouse in Texas"). With music and dialogue flowing seamlessly, this stylish hit ran for 1,017 performances on Broadway. A 2005 London revival won the
Laurence Olivier
Award for "Best Musical Revival". In 1989, it was the first American musical since 1983's La Cage aux Folles to play more than 1,000 performances. The show focuses on events taking place over the course of a weekend in Berlin's elegant Grand Hotel. Through revolving doors enters a varied cast of eccentric guests of the hotel, including a ballerina afraid of her advancing years; her dashing younger lover - a baron, who is also a jewel thief; a fatally ill Jewish bookkeeper who wants to spend his last days living in luxury; and an honest businessman gone bad with his secretary, who dreams of Hollywood success (originally played by a Reprise! favorite
Jane Krakowski
). Fate has brought them all together, and they will find themselves interacting in surprising, musical and thoroughly entertaining ways. Grand Hotel was initially musicalized by
Robert Wright
and
George Forrest
(Kismet) and librettist
Luther Davis
for the Los Angeles Civic Light Opera at the Philharmonic Auditorium in 1958. It took 30 years to reach Broadway, with their songs revised and supplemented by
Maury Yeston
(Nine). The tour de force score featured orchestrations by legendary conductor, and the original Reprise! musical director,
Peter Matz
. MGM star
Cyd Charisse
made her Broadway debut (at age 70) in Grand Hotel as the ballerina, replacing original cast member,
Lilliane Montevecchi
.
David Carroll
, the baron, passed away as he was about to record his songs for the cast recording session. He was replaced by
Brent Barrett
, who subsequently played the part on Broadway and in the national tour. Both Montevecchi and Barrett performed at the tour stop at the Pantages Theatre. Biographies
Kathleen Marshall
, Director and Choreographer Sweet Charity -- Broadway credits include In Transit; Nice Work If You Can Get It; Anything Goes; The Pajama Game; Wonderful Town; Living on Love; Grease; Little Shop of Horrors; Follies; Seussical; Kiss Me, Kate; 1776 and Swinging on a Star. Off-Broadway and regional: Two Gentlemen of Verona (NYSF), Saturday Night (
Second Stage
), Mamma Mia! (Hollywood Bowl), Love's Labor's Lost (Old Globe), My Paris (Long Wharf), Ever After (Paper Mill), Diner (
Signature Theatre
), and The Unsinkable
Molly Brown
(St. Louis MUNY).
City Center
Encores!: The Band Wagon, I'm Getting My Act Together..., Bells Are Ringing, Carnival and Babes in Arms; Artistic Director for four seasons. Film: My Week With Marilyn (choreographer); TV: Once Upon a Mattress, The Music Man (Emmy nomination) and "2 Broke Girls." She has received three Tony Awards (out of nine nominations), three Drama Desk Awards, three Outer Critics Circle Awards, the Astaire Award, the
George Abbott
Award, the Smith College Medal (her alma mater) and the Pennsylvania Governor's Award for the Arts. She is a member of the Executive Board of the Stage Directors and Choreographers Society.
Richard Israel
, Director Victor/Victoria - Richard has directed West Coast and world premieres at regional theaters all over the United States, including the O'Neill Theatre Center and the
Laguna Playhouse
. Favorite productions include the world premiere musical Home Street Home; Floyd Collins (LA
Stage Alliance
Ovation Award for Direction and Outstanding Musical); 110 In the Shade (LA
Stage Alliance
Ovation Award for Outstanding Intimate Musical); Avenue Q and the world premiere of Anita Bryant Died for Your Sins. Most recently, he was the theatrical coordinator for the Emmy award-winning series Big Little Lies and is the proud recipient of the LADCC Career Achievement Award for Directing. As an actor, Richard appeared for Reprise! in 1776, On the 20th Century, She Loves Me, Company and My One and Only.
Peggy Hickey
, Choreographer Victor/Victoria - Reprise: A Funny Thing Happened on the Way to the Forum, Gigi. Broadway: Anastasia, A Gentleman's Guide to Love & Murder (Astaire and Outer Critics Circle Nomination, Best Choreography, 2014 Tony Award for Best Musical); National Tour: A Gentleman's Guide to Love & Murder (Directed & Choreographed). Lincoln Center: My Fair Lady (
New York Philharmonic
), The Most Happy Fella, Lucky to Be Me: The Music of
Leonard Bernstein
(New York City Opera); Selected Regional: Romy & Michele's High School Reunion (
5th Avenue Theatre
),
Kiss Me Kate (Hartford), A Midsummer Night's Dream (Old Globe), Carnival (Goodspeed), Oklahoma! (Paper Mill), Nice Work If You Can Get It (Music Theatre Wichita), Big Fish (Musical Theatre West), Carousel. Selected Opera: Santa Fe (King Roger), LA Opera (Wonderful Town), Washington Opera (Die Fledermaus), Lyric Opera of Chicago (Celebrating 100 Years of Bernstein). Film: Woodshock, The Brady Bunch Movie (MTV Nomination, Best Choreography); Television: Hansel and Gretel (Live from Lincoln Center), Die Fledermaus (Live from The Kennedy Center), Beck's The New Pollution (MTV Award, Best Choreography); Samantha Who, General Hospital (ABC); Hot in Cleveland (TV Land); Hart of Dixie, 90210 (CW); Days of Our Lives and Passions (NBC).
Arthur Allan Seidelman
Director Grand Hotel - The Musical -- Arthur's shows for Reprise! include Hair, Of Thee I Sing, The Boys From Syracuse, Mack And Mabel, The Most Happy Fella, Follies and Merrily We Roll Along. He directed Carousel at the Hollywood Bowl, The Sisters at
The
Pasadena Playhouse
and Six Dance Lessons in Six Weeks at the Geffen, as well as on Broadway and London's West End. Other Broadway and Off-Broadway shows include Awake snd Sing, The Ceremony of Innocence, Vieux Carré, Billy, Hamp and The Most Happy Fella for the New York City Opera. His more than 50 films have garnered five Emmy nominations, two Emmys, the Peabody Award, the Western Heritage Award, Humanitas Award, two Christopher Awards, the Writers Guild Award and numerous film festival awards. His most recent film, the screen version of
Richard Alfieri
's Six Dance Lessons in Six Weeks, starred
Gena Rowlands
.
Kay Cole
, Choreographer Grand Hotel - The Musical - As Director/Choreographer: Love Songs, Spelling Bee, Rose Bowl Queens, Bark! No Strings, Desperate Writers (Off-B'way/L.A.), Flunky, Dining Room, Nuncrackers, Judy's Scary Little Christmas, Frog & Toad, A Chorus Line. Choreographer: Hunger, Nightmare Alley, Atlanta, Great Expectations, Triumph of Love, Dancing at Lughnasa.
Pasadena Playhouse
: 110 in the Shade, Do I Hear a Waltz? Hollywood Bowl: Mame, Bernstein's Mass, My Fair Lady, The Music Man, Camelot. Reprise: Three Penny Opera, City of Angels, Company, 20th Century, Follies, Sweeney Todd, The Most Happy Fella. (Other) Los Angeles: Atlanta, Paint Your Wagon (Geffen); Grave White Way (Hudson Theatre); Dogeaters, Gaytino (
Kirk Douglas
Theatre); Six Dance Lessons (Falcon, Geffen, B'way); Snoopy, Blockheads (London West End). Film/TV: Country Rules, Santa Clause 3, Six Dance Lessons in Six Weeks.
Gerald Sternbach
, Resident Musical Director REPRISE 2.0 - Resident conductor of the Reprise Theatre Company (2002-2007). Twelve Ovation nominations (winning in 2006), seven LADCC nominations (honoring him in 2007, 2008 and 2012); West End debut, London (2015);
Mel Brooks
(One Night Only) also Geffen Theater, L.A., (2014) filmed for HBO. Onstage pianist for
Carrie Fisher
's one-woman show,
Wishful Drinking
(Geffen). Other Southern California credits: Grey Gardens, (associate conductor, Ahmanson Theater); I Only Have Eyes for You (musical director, Montalban Theater); Sondheim on Sondheim (West Coast premiere, International City Theater); Love, Noel; Enter Laughing (Wallis
Annenberg Center
): LA Philharmonic debut: Hollywood Bowl (2005)
Stephen Sondheim
's 75th Birthday Concert; ongoing musical director, An Evening With Groucho, (with
Frank Ferrante
). Other credits: Seven Brides for Seven Brothers, Merlin and The Tap Dance Kid (associate conductor, Broadway); Les Misérables (L.A. premiere); Song and Dance (national tour with
Melissa Manchester
); worked with
Marilyn Horne
,
Jennifer Hudson
,
Josh Groban
,
Sarah Brightman
,
Carol Burnett
,
Adam Lambert
,
Nancy Wilson
,
Lainie Kazan
,
John Lithgow
and
Judith Light
. As a songwriter/composer, Jerry has contributed to three Ringling Brothers' circuses, Heartbeats (with
Amanda McBroom
), A-5-6-7-8! (with Faye Greenberg), Club Mom (with Elin Hampton) and Biting Broadway! (with
Jordan Beck
and Richard Hochberg). His song "Mary" (as a tribute to
Mary Tyler Moore
, with Ms. Greenberg) was sung by
Eric McCormack
(2004 TV Land Awards).
Marcia Seligson
, Producing Artistic Director was the Founder and Producing Artistic Director of
Reprise! Broadway's Best
, the fourteen-year, nationally acclaimed regional theatre company in Los Angeles that presented revivals of classic American musicals. While in charge of Reprise! for ten years, from 1995-2005, she produced over forty shows, staged readings, concerts, benefits and many other musical theatre events. She left Reprise! in order to create and become Co-Executive Producer of The Festival of New American Musicals, which was inaugurated in 2008. Now known as The Foundation for New American Musicals, it is committed to bringing musical theatre creation into high schools and colleges nationally and well as developing new musicals on their long road to success. Marcia studied classical piano with Danish virtuoso Gunnar Johanssen at the University of Wisconsin, graduating Columbia University with a major in music. She performed for ten years with the renowned Collegiate Chorale in New York. While enjoying a long career as an award-winning journalist and author, Marcia wrote eight published books, and articles for virtually every major magazine in America. Marcia was co-producer, with
Rodger Hess
and
Entpro Plays
, Inc., of Six Dances Lessons in Six Weeks by
Richard Alfieri
, which ran on Broadway in the Fall of 2003, after a long run at
The
Geffen Playhouse
in L.A. and opened in London's West End in November of 2006. The film, starring
Gena Rowlands
,
Cheyenne Jackson
, Ann Margaret and
Rita Moreno
opened in December 2014. Marcia was co-producer of Not that Jewish, developed by the Jewish Women's Theatre in Los Angeles and presented at the New World Stages off Broadway in 2017.
Marcia Seligson
lives on the beach in Marina del Rey, California with her husband Tom Drucker and their rescue princess pup, Roxie.