Producer Dan Stone Talks New Musical with At Risk Youth in NYC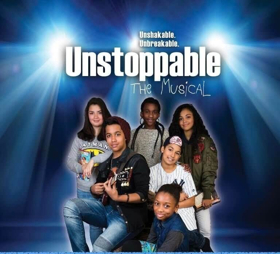 On May 16-18, The New York Foundling and Mott Haven Academy will present the newly revised production of Unstoppable the Musical, performed by the students of Haven Kids Rock at The Sheen Center for Thought & Culture. This year's production is led by Broadway producer Dan Stone (Dear Evan Hansen, Beautiful, The Carol King Musical and the forthcoming production, The Prom), who has taken a lead role in preparing the kids for three nights of performances this May with 820 tickets available for purchase here.
Haven Kids Rock is an afterschool program that is part of Mott Haven Academy, a school founded by The New York Foundling in 2008 to meet the needs of children in foster care and the child welfare system in the South Bronx. The program directors and student participants developed Unstoppable as an original musical in 2017 based on the real-life experiences of the school's student population. The show follows the lives of six street smart kids as they navigate their way through foster care, homeless shelters and the unforgiving streets of New York City. Unstoppable combines, the magical wonderment of the Broadway show Matilda, with nods to Annie and the grit and pop culture of Hamilton and American Idiot. Unstoppable is sure to appeal to a wide range of musical lovers. The show premiered last year with two sold-out shows at the Sheen Center on Bleecker Street.
"Watching the students perform on stage is an inspiration," said Bill Baccaglini, CEO of The New York Foundling. "These are children who know firsthand what it's like to be separated from their family and to overcome barriers and challenges many of us can't even begin to imagine. It's our responsibility to create a better and brighter future for our youth, and coming out to see Unstoppable is a small first step we can all take."
"I am so grateful to be a part of Haven Kids Rock, and to help these amazing, beautiful and talented kids share their powerful stories-by feeding their creative souls. And, believe me, these Haven Kids REALLY do rock," said Dan Stone, producer of Haven Kids Rock and Broadway shows Dear Evan Hansen, Beautiful, The Carole King Story
"Students performing in this program have grown tremendously over the years in both their both academic abilities and self-confidence. The ability to heal past trauma through the music program and other school initiatives is just one of the reasons Haven Academy is so special. It gives me great pride to see young men and woman who entered the doors of Haven Academy at age 5 dance and sing across the stage demonstrating their perseverance, empathy and determination," said Jessica Nauiokas, Principal of Mott Haven Academy Charter School.
Haven Kids Rock was created by professional musicians Jimi K Bones (Blondie, Joan Jett, Monday Night Football) and Nefertiti Jones (Casting Director, Singer-songwriter, Lilith Fair/VH1, NY1 "New Yorker of the Week"), with the belief that by exposing disadvantaged students to opportunities beyond the limitations of their often-impoverished communities and simultaneously helping them develop technical skills, they can learn to dream beyond their circumstances.
About Mott Haven Academy
Haven Academy seeks to close the achievement gap that plagues low-income communities by providing a rigorous academic program in a thoughtfully-constructed supportive environment. While the school is open to the general public, Haven Academy prioritizes admissions to children involved in the child welfare system. One-third of available seats are reserved for children in foster care, and one-third are reserved for children whose families receive preventative services. Haven Academy's mission is to empower children in an educational environment that addresses and reduces the barriers to academic success through the integration of family support services with a rigorous, college-preparatory academic program. Graduates will be resilient, resourceful, independent scholars who have the skills necessary to reach their full potential and to build a better future. For more information, please visit http://havenacademy.org/.
About The New York Foundling
The New York Foundling reaches 27,000 children and families each year in all five boroughs of New York City, surrounding counties, and Puerto Rico. Established in 1869, the organization's vision is a community where every person, regardless of background or circumstance, enjoys the safe, stable, and supportive relationships needed to reach his or her full potential. To achieve this, The Foundling provides evidence-based and evidence-informed programs that focus on keeping families together; preventing abuse and neglect; providing academic support for children; and giving people with developmental disabilities the tools and training they need to lead independent lives. For more information please visit www.nyfoundling.org.
Related Articles
More Hot Stories For You
VIDEO: First Look at Matthew Morrison in DR. SEUSS' THE GRINCH MUSICAL!
Dr. Seuss' beloved classic children's book "How the Grinch Stole Christmas!" has become a Christmas staple for generations and NBC is bringing the sto...

THE SPONGEBOB MUSICAL is Now Available For Licensing Through Concord Theatricals
The Spongebob Musical is now available for licensing through Concord Theatricals! The production is available for schools, colleges, universities, and...

THE SHOWS MUST GO ON Presents 42 STREET Starring Bonnie Langford
Join The Shows Must Go On from this Friday 4th December for the multi-award winning production of 42nd Street starring stage legend Bonnie Langford! T...

Alan Menken, Glenn Slater, and More Sign On for ANIMAL FARM Musical Adaptation
Composer Alan Menken and lyricist Glenn Slater are teaming up with playwright James Graham on a new musical adaptation of George Orwell's classic nove...

Signature Theatre Announces 2021 Five-Show Season, Featuring Norm Lewis, Solea Pfeiffer, Daniel J. Watts and More
Signature Theatre has announced the full lineup for Signature Theatre's 2021 Signature Features season, five fully-staged plays and musicals, made exc...

VIDEO: Watch Nicole Kidman Give It Some 'Zazz' in Netflix Adaptation of THE PROM
Nicole Kidman and Jo Ellen Pellman are giving us some Zazz in this first look at the number from Netflix's upcoming adaptation of the Broadway hit The...