Photo Flash: 'reasons to be pretty' Real People, Real Bodies Casting Call
The producers of the upcoming Broadway production of Neil LaBute's reasons to be pretty held a casting call for real people with real bodies (all shapes and sizes) to be models who will be photographed for the play's advertising campaign (no professional models, please). The open audition was conducted by casting directors Bernard Telsey and Will Cantler on Thursday, January 8th at the casting offices of Telsey & Co. (311 West 43rd St., 10th Fl).
SpotCo, the New York theatrical advertising firm, has engaged photographer Howard Schatz, known for his unique and artful work with bodies, to shoot the campaign. Mr. Schatz will photograph the body parts of eight real people chosen from the January 8th audition. For further information regarding the casting call, go to the play's website, DoesThisPlayMakeMeLookFat.com
Directed by Terry Kinney, Neil LaBute's new play confronts America's obsession with physical beauty headlong. In addition to featuring photos from the advertising campaign, the reasons to be pretty website (DoesThisPlayMakeMeLookFat.com) will expand the discussion with video interviews and other unique content.
Preview performances for reasons to be pretty will begin on Friday, March 13, 2009, (please note this change from earlier releases) at the Lyceum Theatre (149 West 45th Street). An official opening night is scheduled for Thursday, April 2, 2009.
In LaBute's new play, Greg's tight-knit social circle is thrown into turmoil when his off-handed remarks about a female co-worker's pretty face (and his girlfriend's lack thereof) get back to said girlfriend. But that's just the beginning.
This play marks the sixth collaboration between MCC Theater and LaBute, who is MCC's Resident Playwright. reasons to be pretty puts a final, ferocious cap on a trilogy of plays that began with The Shape of Things and Fat Pig. Performances of the four-character play began Off Broadway at the Lucille Lortel Theatre on May 14, 2008, and the critically acclaimed production continued through July 5, 2008.
reasons to be pretty is produced on Broadway by Jeffrey Richards, Jerry Frankel, Jam Theatricals, Ted Snowdon and Doug Nevin/Erica Lynn Schwartz in association with MCC Theater (Robert LuPone, Bernard Telsey, Artistic Directors; William Cantler, Associate Artistic Director; Blake West, Executive Director).

'reasons to be pretty' welcomes 'all bodies'

Will Cantler and Bernard Telsey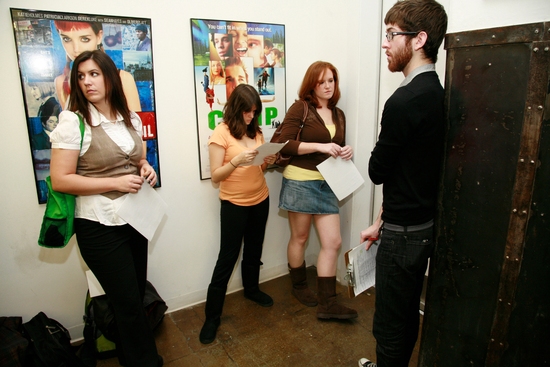 The hopeful wait to be called...

Not afraid to show who they are for 'reasons to be pretty'