Click Here for More Articles on HEATHERS THE MUSICAL
Photo Flash: Tina Fey Goes Backstage at HEATHERS Off-Broadway
How VERY fetch! MEAN GIRLS creator Tina Fey was spotted with her husband Jeff Richmond on Sunday night at the hit musical HEATHERS at New World Stages in New York. Scroll down for a photo of Fey with the cast!
Apparently, the Emmy-winning comedienne went 'corn nuts' for the musical, as witnesses reported that during intermission she went backstage to meet the cast and tell them how "blown away" she was by the show. Fey is developing the musical stage adaptation of MEAN GIRLS with Tony-nominated composer and lyricist Nell Benjamin, wife of Tony-nominated HEATHERS co-writer Laurence O'Keefe.
HEATHERS: THE MUSICAL, the critically acclaimed musical stage adaptation of Daniel Waters' iconic 1989 dark comedy film, will play its final performance of its limited engagement at New World Stages on Monday, August 4, 2014. The production opened on Monday, March 31, 2014 -- the 25th Anniversary of the film's release.
Written by Olivier Award winner and Tony Award nominee Laurence O'Keefe (Legally Blonde, Bat Boy) and Emmy Award winner Kevin Murphy (Reefer Madness, "Defiance", "Desperate Housewives"), HEATHERS: THE MUSICAL is directed by famed stage and screen director Andy Fickman (Reefer Madness, Parental Guidance, She's The Man), with choreography by Emmy Award winner Marguerite Derricks (Fame, Charlie's Angels, Austin Powers films).
HEATHERS stars Charissa Hogeland as Veronica and Dave Thomas Brown as JD; taking on the roles of The Heathers are Jessica Keenan Wynn as Heather Chandler, Elle McLemore as Heather McNamara and Kristolyn Lloyd as Heather Duke. Katie Ladnerstars as Martha Dunnstock, Jon Eidson as Ram Sweeney, Evan Todd as Kurt Kelly, Tony Award-winner Anthony Crivello as Ram's Dad/Big Bud Dean, Daniel Cooney as Kurt's Dad/Veronica's Dad/Principal, and Michelle Duffy as Ms. Fleming/Veronica's Mom.
The production features Set Design by Timothy R. Mackabee (Mike Tyson: Undisputed Truth), Costume Design by Amy Clark (Chaplin, A Night With Janis Joplin), Lighting Design by Jason Lyons (Rock of Ages, Bring It On: The Musical), Sound Design by Jonny Massena, and Music Direction by Dominick Amendum (First Date).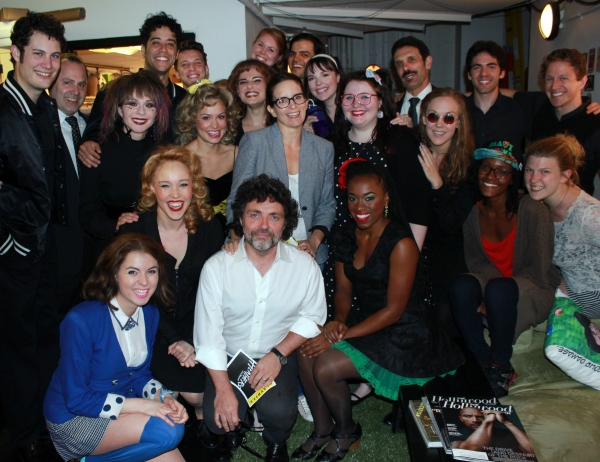 Tina Fey and the Cast of HEATHERS