Photos: The Big Voice Celebrates Merman's 99th B'day
Marge Champion (Hello, Dolly!, Follies) and Donald Saddler (Mary Martin and Ethel Merman: Together on Broadway, My Fair Lady, Follies), as well as a bevy of Ethel Merman impersonators and Forbidden Broadway star Christine Pedi, helped celebrate the Gypsy star's 99th birthday on Tuesday, January 16th at the Actors Temple Theater.
They joined the stars of The Big Voice: God or Merman - Jim Brochu and Steve Schalchlin - for the festivities, which included a "Merman-off" costume parade hosted and judged by Champion and Saddler.  A costume parade concluded with a cake and ice cream celebration at the theater.
Written by and starring Jim Brochu and Steve Schalchlin (The Last Session), The Big Voice "hilariously proves that showbiz is as much a calling as the priesthood. This high energy, razzle-dazzle show chronicles the lives of a Baptist from Arkansas and a Catholic from Brooklyn who find eternal salvation in the temple of musical theatre," press materials state. The show "traces Jim and Steve's meeting aboard a ship in the Atlantic Ocean, Steve's struggle with AIDS, the production of their hit off-broadway musical The Last Session, their separation and their reconciliation. It's a comedy about a "gay marriage" between two men created by the couple themselves."
Ethel Merman, born in Astoria, Queens in 1908, was the clarion-voiced star of such Broadway classics as Anything Goes, Annie Get Your Gun, Call Me Madam and - most famously - Gypsy.  She died in 1984 after a fabled career that spanned more than half a century.
For more information, please visit: www.TheBigVoice.com.
Photos by Paul Kreppel

Jim Brochu, Marge Champion, Donald Saddler, and Steve Schalchlin

Jim Brochu and Steve Schalchlin (center) with Ethel Merman Impersonators

Jim Brochu speaking with Donald Saddler and Marge Champion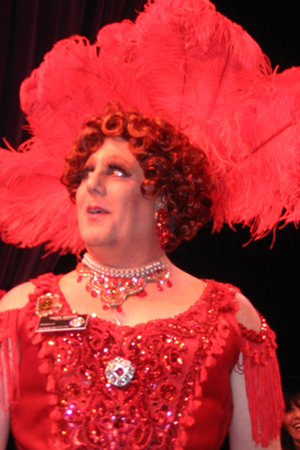 Empress Gefil Tefish as Ethel Merman in Hello Dolly!

Christine Pedi, Jim Brochu, Ethel Merman impersonators, and Steve Shalchlin