Photo Flash: Stage Stars Bring Sparkle and Holiday Spirit to 8TH ANNUAL JOE ICONIS CHRISTMAS SPECTACULAR
THE 8TH ANNUAL Joe Iconis CHRISTMAS SPECTACULAR brought holiday escapades to Feinstein's/ 54 Below on December 18-19. BroadwayWorld has photos from the starry concert below!
Joe Iconis and his merry band of musical theater punks are back by popular demand in this eighth annual insane celebration of all things red and green. Featuring brand new holiday songs, old favorites, tiny elves, enormous reindeer, an inebriated Mr. and Mrs. Claus, and an ungodly number of candy canes, it promises to be the happiest holiday hoedown you've ever seen.
The show featured special guest stars Dylan Baker, Becky Ann Baker and Annie Golden, as well as family members Dos Allen, Nick Blaemire, Ally Bonino, Liz Lark Brown, Gerard Canonico, Katlyn Carlson, Sarah Cetrulo,Harrison Chad, Will Connolly, Bill Coyne, Ixchel Cuellar,Ashkon Davaran, Katrina Rose Dideriksen, Seth Eliser, Badia Farha, Alexandra Ferrara, Danielle Gimbal, Josh Greenblatt,Molly Hager, Kate Johnson, Ian Kagey, Dennis Michael Keefe,Jessica Kent, Jane Kivnick, Rachel Lee, Johnny Link, Lorinda Lisitza, Tatiana Loftin, Alyse Alan Louis, Lauren Marcus, Julia Mattison, Eric William Morris, Jeremy Morse, Ray Munoz, KevinMichael Murphy, James Penca, Rob Rokicki, Will Roland, Charlie Rosen, Mike Rosengarten, Lance Rubin, Sammi Sadicario, George Salazar, Katie Schorr, Brooke Shapiro,George Slotin, Philip Jackson Smith, Richard Spitaletta, Jordan Stanley, Rachel Sussman, Brandon Uranowitz, Jared Weiss, Jason SweetTooth Williams, and Ross Wolkenbrod.
John Simpkins directed the performance, and Jennifer Ashley Tepper produced. Jennifer Werner choreographed, and Michelle Eden Humphrey was the costume designer. Max Friedman was assistant director and E. Sara Barnes was stage manager.
Photo Credit: Kristin Goehring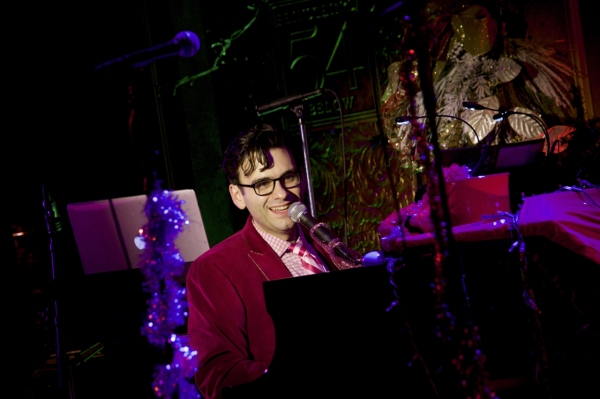 Joe Iconis kicks off his 8th Annual Christmas Spectacular at Feinstein's/54Below.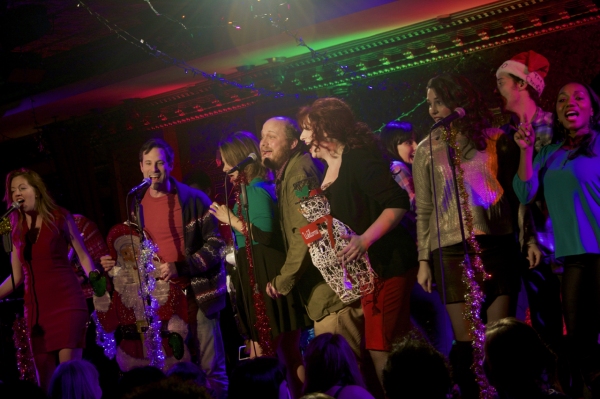 The Family gets the crowd in the holiday spirit led by (L to R) Liz Lark Brown, Lance Rubin, Katrina Rose Dideriksen, Jason SweetTooth Williams, Lorinda Lisitza, Alexandra Ferrara, & Badia Farha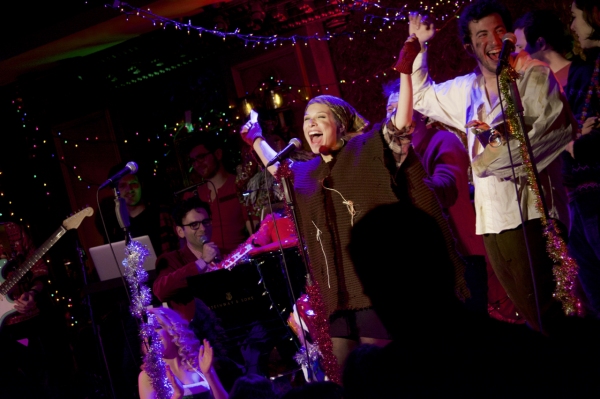 Lauren Marcus & Harrison Chad as the Ragamuffin and Quince

Julia Mattison breaks up the party as Phyllidia Krampington

Jeremy Morse as The Hick

Badia Farha leads the crowd in 'I Wish You A Merry Merry Christmas'

Badia Farha leads the crowd in 'I Wish You A Merry Merry Christmas'

Jordan Stanley chimes in as Jo-Ha with the mistletoe munchkins Jessica Kent & Jane Kivnick, at his side.

Spectacular band & cast look on. (L to R) Mike Rosengarten, Alyse Alan Louis, Dos Allen, Charlie Rosen & Joe Iconis

Philip Jackson Smith & Nick Blaemire lead a flashback montage as Flashback Jason and Flashback Joe

Nick Blaemire belts out as Flashback Joe to his long lost love.

A belly button ballet led by Eric William Morris, Will Roland, & Gerard Canonico

Rachel Lee charms the audience with 'Hard Candy Christmas'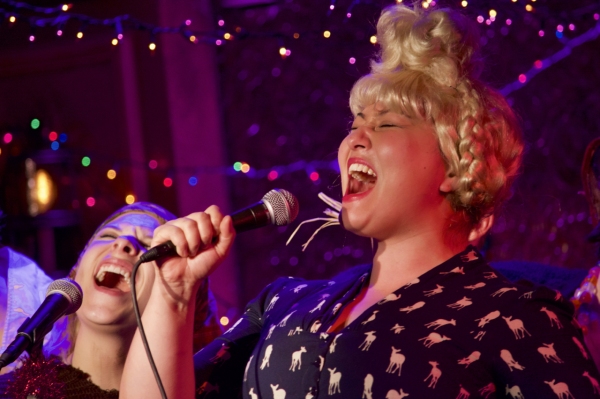 Rachel Lee charms the audience with 'Hard Candy Christmas'

Will Roland and Danielle Gimbal take over as Uncle Peenie and Aunt Lorette with 'Christmas Around the World'

Jeremy Morse & Julia Mattison jazz up 'Baby, It's Cold Outside'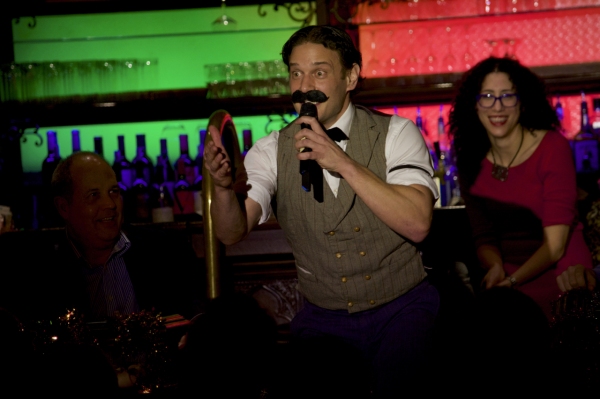 Eric William Morris as Mr. Macabee, the old timey barkeep

Lorinda Lisitza is Mrs. Claus and Gerard Canonico is Some Guy Mrs. Claus Met At A Bar Last Night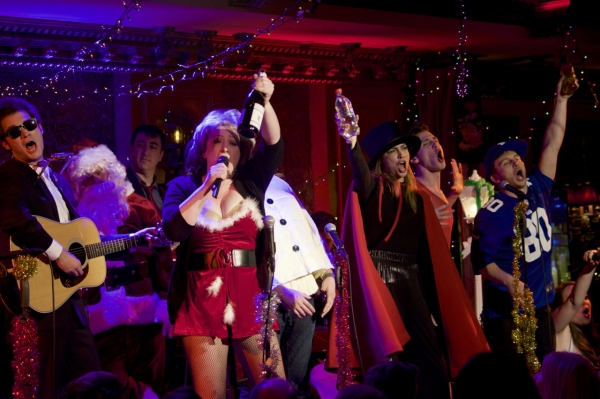 Jared Weiss, Lorinda Lisitza, Katlyn Carlson, Josh Greenblatt, Gerard Canonico, and Jessica Kent sing out 'War Is Over' while Jason SweetTooth Williams and Dennis Michael Keefe look on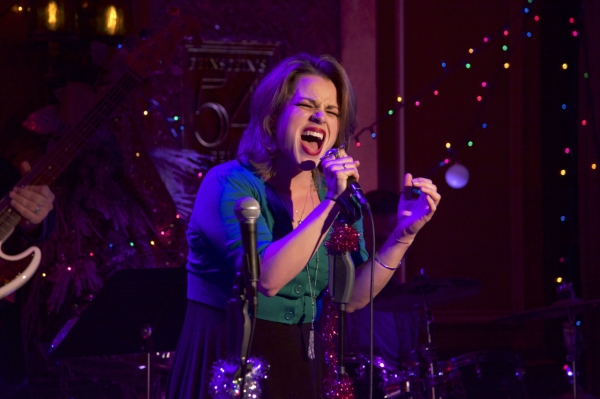 Katrina Rose Dideriksen wails on 'Please Come Home For Christmas'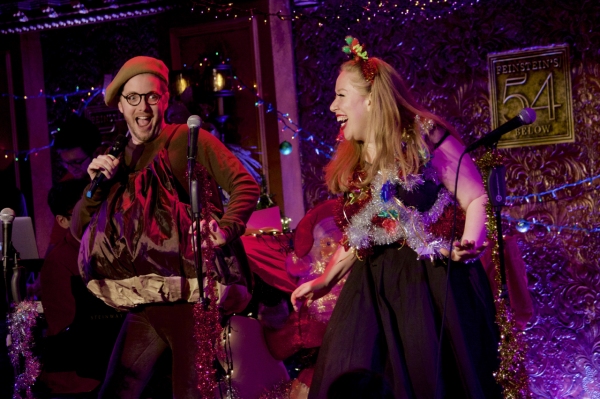 Kevin Michael Murphy and Jennifer Ashley Tepper in 'Mr. Chestnut's Christmas Medley'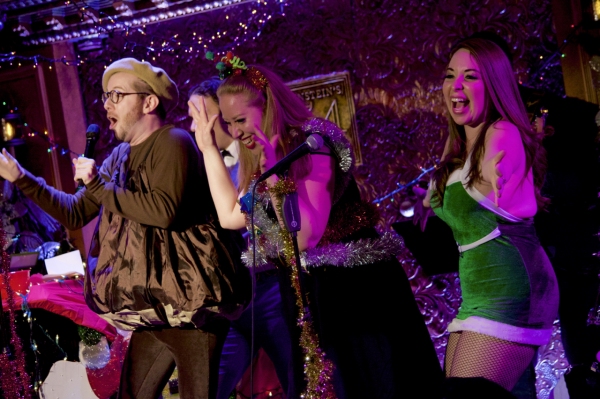 Kevin Michael Murphy, Jennifer Ashley Tepper, and Jessica Kent in 'Mr. Chestnut's Christmas Medley'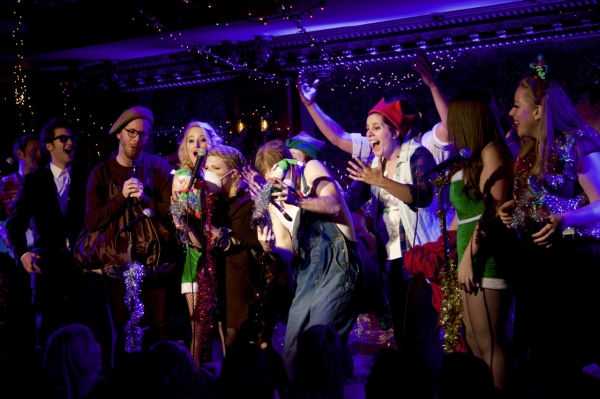 Two lesbian elves give birth during 'Mr. Chestnut's Christmas Medley'

Jane Kivnick as a Mistletoe Munchkin and Kevin Michael Murphy as Mr. Chestnut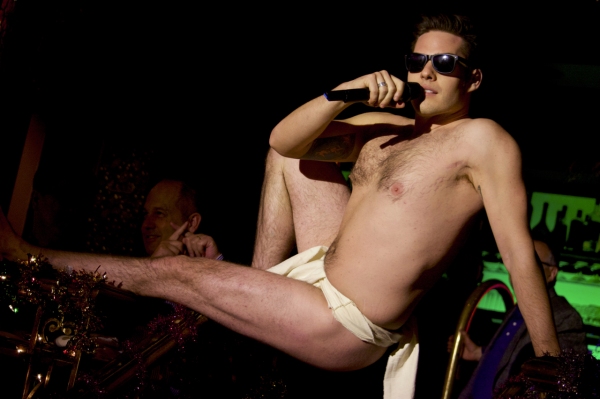 Bill Coyne as the Sweet Baby Jesus, with a terrified audience member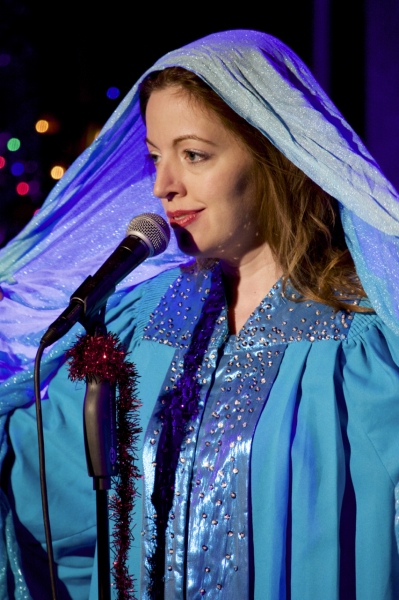 Liz Lark Brown as the Virgin Mary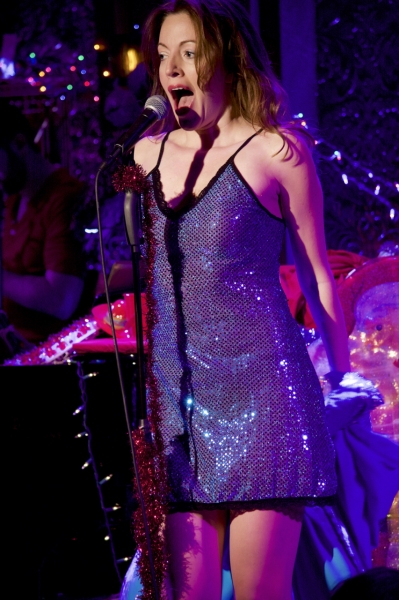 Liz Lark Brown as the Virgin Mary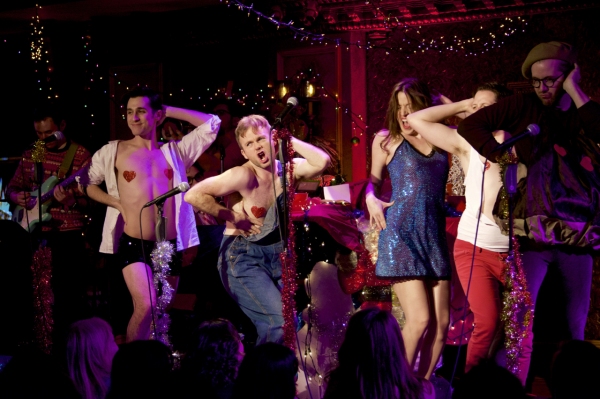 Josh Greenblatt, Jeremy Morse, Liz Lark Brown, Will Roland, and Kevin Michael Murphy perform 'Santa Baby'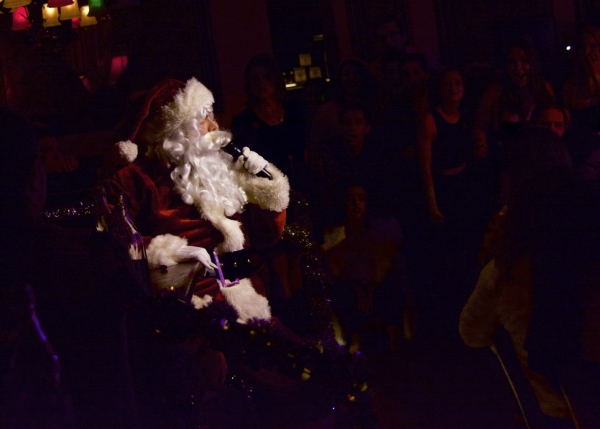 Jason SweetTooth Williams as Santa

Rachel Sussman, Mike Rosengarten, Ally Bonino, Joe Iconis, Charlie Rosen, Gerard Canonico, Bill Coyne, Lance Rubin, Jessica Kent, Alyse Alan Louis, Sarah Cetrulo, Harrison Chad

Lance Rubin, Alexandra Ferrara, Alyse Alan Louis, and Seth Eliser

Jason SweetTooth Williams, Julia Mattison, Will Connolly, Jeremy Morse, Eric William Morris, and Danielle Gimbal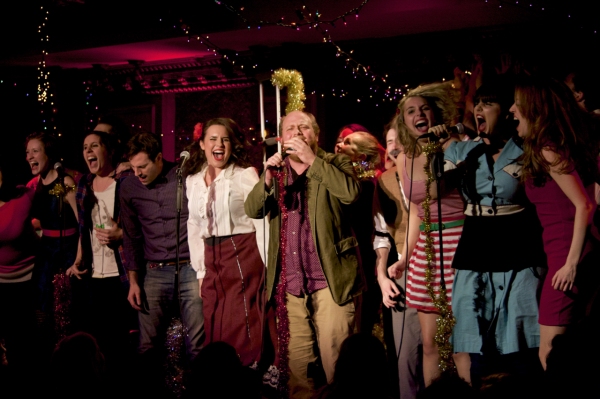 Rachel Sussman, Ally Bonino, Lance Rubin, Alexandra Ferrara, Jason SweetTooth Williams, Julia Mattison, Will Connolly, Danielle Gimbal, Molly Hager, Liz Lark Brown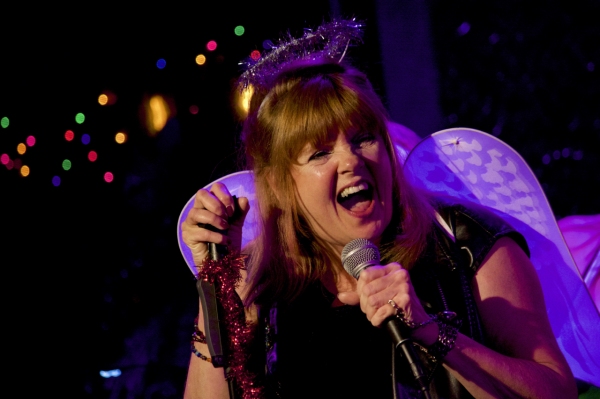 Annie Golden as the Rock and Roll Christmas Angel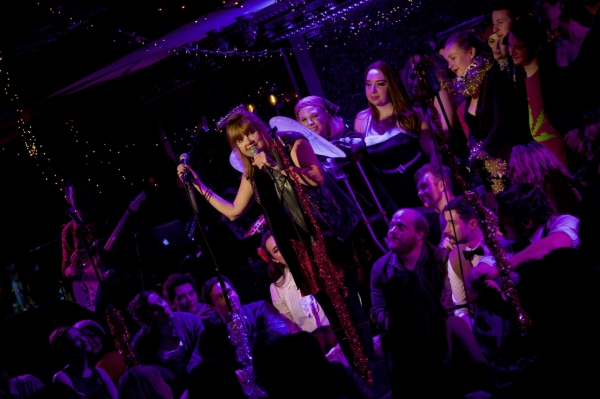 Annie Golden sings 'Have Yourself A Merry Little Christmas' as the cast looks on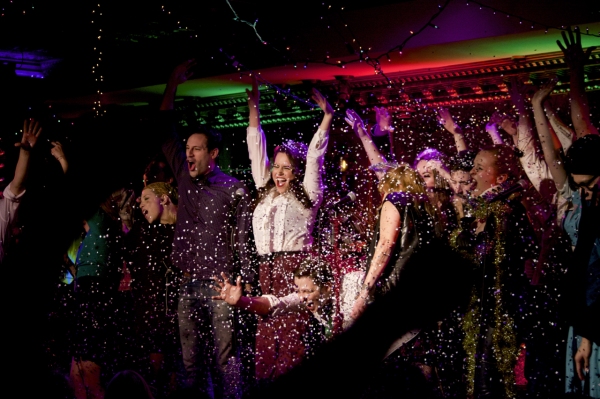 The cast of the 8th Annual Joe Iconis Christmas Spectacular