Photo Flash: Snapple Theater Center's nor'mal Fundraiser
On June 12, 2007, The Snapple Theater Center (located at the corner of 50th St. and Broadway) hosted a benefit for "Normal in Schools," a national nonprofit arts-in-education organization to produce, develop and implement programs and curricula that teach students of all ages about the devastating impact of eating disorders and the therapeutic impact of theatre. 
The benefit featured excerpts from the musical performed by the show's first high school cast, who came to New York from Greendale, Wisconsin.  "Observing how the students, teachers and community have embraced this often silent subject matter with so much passion and connectivity has made it very clear that we must continue this mission of bringing the musical and the hugely successful curriculum to schools everywhere," stated lyricist Cheryl Stern of Greendale High School's production.  The cast of nor'mal won a number of honors in statewide Wisconsin theatre competitions, and after New York, will perform at the EDTA International Thespians Festival in Lincoln Nebraska.
nor'mal is the true story of a family's struggle with a daughter's eating disorder. This Jonathan Larson Award-winning musical features book by Yvonne Adrian, lyrics by Cheryl Stern, music by Tom Kochan, developed by Jack Cummings III and developed for the "Normal In  Schools" program by Robyn Hussa and Eric Christiansen. As directed by Cummings, it was originally presented Off-Broadway by the Transport Group from October 20th through November 12th, 2005.
Visit www.normalinschools.org for more information, and this link to read Michael Dale's profile piece on the nor'mal fundraiser.  Visit www.snapple.com/theater/ for more on the Snapple Theater Center.
Photos courtesy of Abby Buell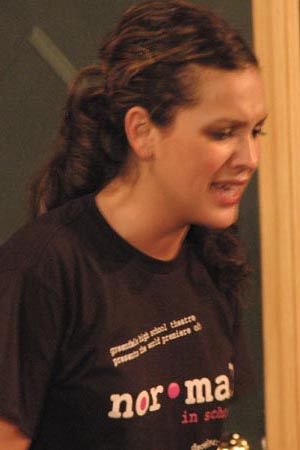 Jessie Liederbach (Polly)

Robert Postonik (Zachary) and Jessie Liederbach

Jessie Liederbach and Sara Zientek (Kayla)

Sara Zientek, Jessie Liederbach, Robert Postonik and Hani Al-Dahshan (Robert)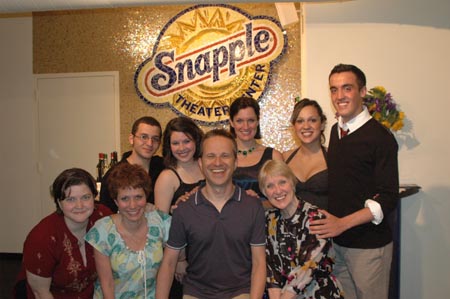 (Back row L to R): Hani Al-Dahshan, Sara Zientek, Robyn Hussa (Co-Director/Normal In Schools Creator), Jessie Liederbach and Robert Postonik; (Front L to R) Mary-Mitchell Campbell, Cheryl Stern (Lyricist), Tom Kochan (Music) and Yvonne Adrian (Book)

Hani Al-Dahshan, Sara Zientek, Jessie Liederbach and Robert Postonik

Robyn Hussa (Co-Director/Normal In Schools Creator), Hani Al-Dahshan, Sara Zientek, Jessie Liederbach, Eric Christiansen (Co-Director), Tom Reifenberg (Musical Director) and Robert Postonik

Yvonne Adrian, Tom Kochan and Cheryl Stern