Photo Flash: RIVERDANCE Composer Bill Whelan Returns To Irish Arts Center
Irish and Broadway stars came out Saturday night for Bill Whelan's first in a series of 4 concerts at the Irish Arts Center. Among the attendees: five-time Tony Award-winner Angela Lansbury, Emmy Award winner and two-time Tony Award nominee Andre De Shields, Dr. Ruth Westheimer, award-winning author Colum McCann, Consul General of Ireland Noel Kilkenny, Malachy McCourt,Chief Executive Eugene Downes of Culture Ireland, Aidan Connelly Executive Director Irish Arts Center, Pauline Turley, Vice Chair Irish Arts Center and many more. Whelan conducted the nine-piece orchestra, played the piano, told stories and sang along with special guests world-renowned fiddler ATHENA TERGIS, Irish singer Morgan Crowley and Irish Dancer and former RIVERDANCE star MICK DONEGAN.
Whelan's return to the Irish Arts Center included the U.S. Premiere of two new compositions - "Jazzical Cyclebike" and "After The Titanic", a poem by Derek Mahon set to music by Whelan and sung by Morgan Crowley. The remaining concerts are tonight, and tomorrow at 7:30 PM at the Irish Arts Center, 553 West 51 Street.
For more than three decades, composer, producer, arranger Bill Whelan has broken ground across musical boundaries in a career that has played a major role in ensuring the relevance and dynamism of Irish music in the 21st Century. He was composer to the W. B. Yeats International Theatre Festival at Dublin's Abbey Theatre in 1989. His adaptation of HMS Pinafore received a Laurence Olivier Award nomination. His compositional work in film includes Dancing at Lughnasa (starring Meryl Streep), Some Mother's Son and Lamb. The Seville Suite was commissioned for Expo '92 in Seville and The Spirit of Mayo followed in 1993. The Connemara Suite, a trilogy of pieces written for chamber orchestra, premiered at Carnegie Hall in March 2005. Bill's production and arranging credits include U2, Van Morrison, Kate Bush, Richard Harris, Planxty and The Dubliners. He was honored with the 1997 Grammy Award for "Best Musical Show Album" for his Riverdance record. He has taught at Princeton University and is on the boards of Berklee School of Music in Boston, the University of Limerick and the recently established music education body Music Generation. Bill is currently working on a new theatre work which has been commissioned by the New York Metropolitan Opera and Lincoln Center and also on a musical for Rough Magic, the Irish Theatre Company.
Whelan will be joined on stage by Suzuki-trained violinist and composer
Athena Tergis
who has performed in traditional, classical and pop settings all over the world - from Riverdance-On Broadway to the Dublin Philharmonic Orchestra in Beijing to national tours with the late E Street Band saxophonist Clarence Clemmons and The Green Fields of America. She appeared in Absolutely Irish, the concert documentary filmed live at the
Irish Arts Center
, and is a featured performer in the Center's annual solstice celebration An Irish Christmas.LISTINGS INFORMATION
An Evening with
Bill Whelan
Featuring
Athena Tergis
and Special Guests
Irish Arts Center
(553 W 51st Street, New York NY)
Saturday October 29 - Tuesday November 1 at 7.30pm
Reserve through
www.irishartscenter.org
or 866-811-4111
Irish Arts Center
, founded in 1972, is a New York-based arts and cultural center dedicated to projecting a dynamic image of Ireland and Irish America for the 21st century, building community with artists and audiences of all backgrounds, and preserving the evolving stories and traditions of Irish culture for generations to come. Our multi-disciplinary programming is centered around three core areas: Performance - including live music, dance, theatre, film, literature, and the humanities; Exhibition - including visual arts presentations and cultural exhibitions that tell the evolving Irish story; and Education - with dozens of classes per week in Irish language, history, music, and dance. Located in New York City, a world capital of arts and culture,
Irish Arts Center
serves as a dynamic platform for top emerging and established artists and cultural creators to reach a New York, national, and global audience, and as a gateway for other institutions to access first-rate Irish and Irish American culture.
www.irishartscenter.org
Photo by Merle Frimark


Bill Whelan, Dr. Ruth Westheimer, Angela Lansbury Photo by Merle Frimark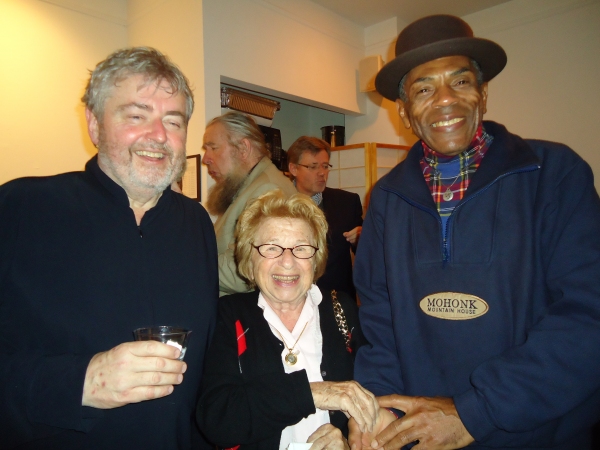 Bill Whelan, Dr. Ruth Westheimer, Andre De Shields

Malachy McCourt, Andre De Shields, Cormac McCourt

---
Shop BroadwayWorld

Shop this season's new musicals! Get dressed up for a night at the theatre, or just a night at home, with merch from some of Broadway's biggest hits including SOME LIKE IT HOT, KIMBERLY AKIMBO, and more!
---
Related Stories