Photos: POPE! Opens at NYMF
The New York Musical Theatre Festival and Papal Productions/ Michael Chase Gosselin are pleased to announce POPE! An Epic Musical, which returns to New York City as an Official Selection of the 2015 New York Musical Theatre Festival's Next Link Project.
The production, with book and lyrics by Justin Moran, music and additional lyrics by Christopher Pappas choreography by Wendy Seyb and direction by Peter Flynn, is scheduled to run Wednesday, July 15 at 8pm, Thursday, July 16 at 9pm, Sunday, July 19 at 4pm and 8pm and Tuesday, July 21 at 5pm at the PTC Performance Space, located at 555 West 42nd Street (between 10th and 11th Avenues on the south side of 42nd Street). The NYMF PASS is currently on sale at http://nymf.org/tickets. Individual tickets are $27.50. For tickets and information call (212) 352-3101 or visit http://nymf.org/pope.
POPE! An Epic Musical is an award-winning musical comedy of superhero proportions. It tells the tale of a young, idealistic rock-star, Pope, and his ambitious nemesis, the Archbishop, who will stop at nothing to wear Pope's Mitre. In this comic book world, the papal masses are charmed at first, but Pope soon learns that a few well-placed enemies can overpower a few million fans. When the tyrannical Archbishop sweeps in and seizes power the world cries out for a hero... and only Pope can answer the call! Good and evil collide in this rambunctious, Shakespearean power struggle where lines must be drawn, sides must be taken, and confrontations must be musical!
The production first played at the Magnet Theater in New York City in 2009. Originally intended as a one-night event, the production went on to play for almost a year. In August 2010, it opened at the Lucille Lortel Theater as part of the New York International Fringe Festival, where it became the fastest-selling ticket of the festival that year. The production was included in the FringeNYC Encore Series and received "Overall Excellence Awards" for Music/Lyrics. POPE! An Epic Musical went on to be presented at the Belfry Stage in Los Angeles in 2014. For more information, please visit:http://www.popethemusical.com/ .
Featured in the company are Gilbert L. Bailey II (The Book of Mormon), Sam Bolen (It's a Bird...it's Superman), Britney Coleman, Jason Edward Cook, Jarid Faubel (Yank!), Brian Flores, Megan Lewis (If/Them, Spider Man: Turn Off the Dark, Grey Gardens), Vasthy Mompoint (Rocky, Mary Poppins, Good Vibrations), Dylan S. Wallach and Ken Land (Victor/Victoria).
Photos by Jeremy Daniel
Britney Coleman
,
Gilbert L. Bailey
II, James
David Larson
,
Ken Land
,
Sam Bolen
,
Jason Edward Cook
,
Megan Lewis
,
Dylan S. Wallach
and
Vasthy Mompoint
. (rear)
Jarid Faubel
Gilbert L. Bailey
II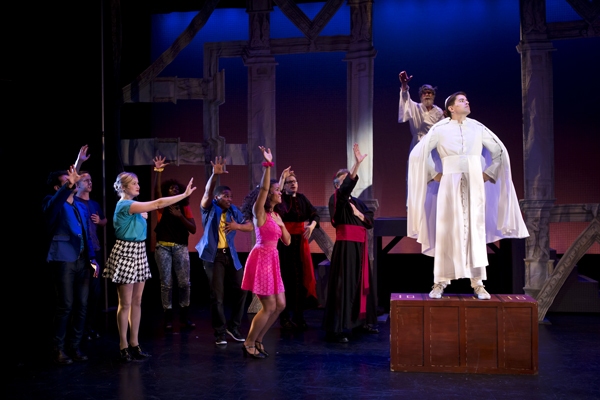 Sam Bolen
James
David Larson
,
Ken Land
,
Gilbert L. Bailey
II and
Jason Edward Cook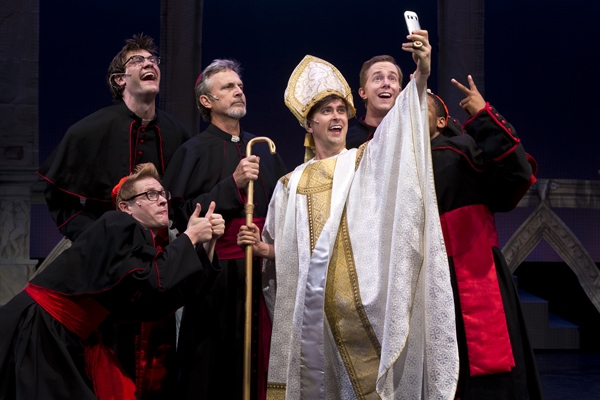 Jarid Faubel
,
Jason Edward Cook
,
Ken Land
,
Sam Bolen
, James
David Larson
and
Gilbert L. Bailey
II
Sam Bolen
,
Ken Land
,
Jason Edward Cook
and
Megan Lewis
,
Jarid Faubel
James
David Larson
,
Gilbert L. Bailey
II,
Jarid Faubel
and
Sam Bolen
Britney Coleman
,
Sam Bolen
,
Ken Land
,
Jason Edward Cook
and
Megan Lewis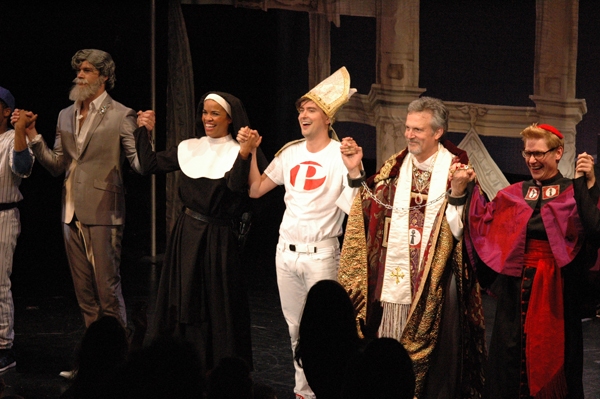 Jarid Faubel
,
Britney Coleman
,
Sam Bolen
,
Ken Land
and
Jason Edward Cook