Photos: Off-Broadway's WASPS in Bed
The new comedy WASPS in Bed, starring Jessica-Snow Wilson and more, will play a six-week limited engagement at Off-Broadway's Beckett Theatre on Theatre Row (410 West 42nd Street). Performances begin Tuesday, September 5 and continue through Sunday, October 15. Opening Night is Thursday, September 7 (8 p.m.).

The production will star David Alan Basche (Snakebit) as Allan, Kelly Deadmon as Betsey, Rick Gifford as Bobby, Alysia Reiner (Anais Nin – One of Her Lives) as Raina, Richard Short as Cal and Wilson (upcoming Spelling Bee, Good Vibrations) as Reese.  Wilson will depart the cast on September 17th; Natasha Malinsky (Three Sisters) will succeed her.

"Meet Betsey, Bobby and Cal – best friends from college, who haven't been in the same room since their graduation 10 years ago. But now, Bobby's getting married, Betsey's hosting the celebration at her cabin in the Berkshires and Cal is the best man. With Bobby on the verge of becoming a husband, Betsey married with two kids, and Cal vehemently opposed to the institution of marriage, the fireworks are unforgettable when these three friends reunite over one July 4th weekend," state notes on the show, which is written by Richard Willis Jr. and Nicola Behrman, with additional material by Kieron Quirke and Paul Murray.
Tickets are $15-50 and are now available online at
www.TicketCentral.com
or by calling 212-279-4200. Tickets may also be purchased in-person at the Theatre Row Box Office, 11 a.m. to 8 p.m. daily.
Photos by Bruce Glikas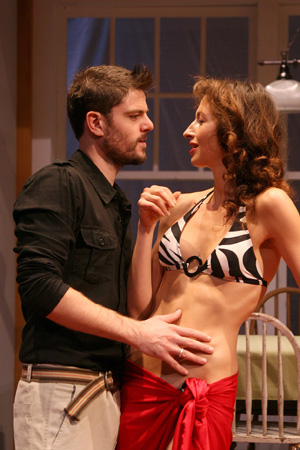 Richard Short and Alysia Reiner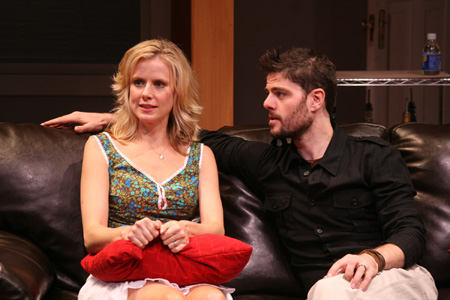 Kelly Deadmon and Richard Short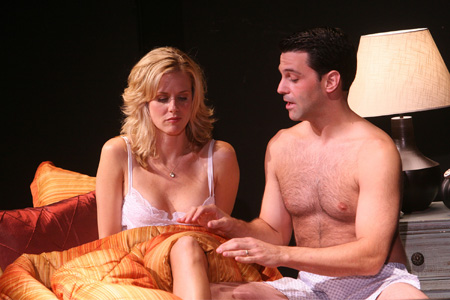 Kelly Deadmon and David Alan Basche


Jessica-Snow Wilson and Rick Gifford