Photo Flash: GORGONZLA Sweeps Sound Bites 3.0 Festival at Hurley's After-Party
Last night, January 18th, 2016, Theatre Now New York presented its 3nd Annual festival of new musicals, Sound Bites 3.0 (sponsored by Music Theatre International and Disney Theatrical Productions) to a sold-out house at the 47th Street Theatre. An after-party, sponsored by MTI, was held after at Hurley's Saloon where awards were given. Sound Bites showcases ten 10-minute musicals or musical excerpts in one evening. Scroll down for photos from the event!
This year's festival included:
A Cappella Love (music by Nelson Kole, lyrics by Mark Browning Milner, and book by Mark Browning Milner, Lorrie Kole, and Nelson Kole) Directed/ Choreographed by Myrona DeLaney
Baked Goods (music by Helen Park Martin, lyrics by Christyn Budzyna, and book by Charles Cohen) Directed by Tom Frascatore
Burning Up (music by Rick Bassett, lyrics by Pamela Weiler Grayson, and book by Pamela Weiler Grayson andRick Bassett) Directed by Alice Jankell
Fictitious (music, lyrics, and book by Paul Cozby and Tom Hyndman) Directed/ Choreographed by Jonathan S. Cerullo
Gorgonzola (music by Nolan Livesay, book and lyrics by Gregory Bonsignore) Directed by Gregory Bonsignore
The Hipster Sister (music, lyrics, and book by Andy Roninson) Directed by Andrew Garret Karl
Houdini (book, music, and lyrics by Marcus Pelegrin, additional material by Gio Dormero) Directed by Matt ZanFagna
On Your Mark (music by Aaron Kenny, book and lyrics by Danny K. Bernstein) Directed by Juliana Kleist-Mendez
Too Much Coffee Man Opera (music by Daniel Steven Crafts, book by Shannon Wheeler) Directed by Daniel Steven Crafts
We Have Apples (music, lyrics, and book by Rachel Ford Griffin) Directed by Branden Huldeen
At Sound Bites 3.0, Gorgonzola took home five awards including Best Musical, Best Lyrics (Gregory Bonsignore), Best Music (Nolan Livesay), Best Actress (Patti Perkins) and Best Actor (Cory Conley), makingGorgonzola the highest-awarded show at Sound Bites to date. Best Direction went to Jonathan S. Cerullo forFictitious and A Cappella Love received the Audience Choice Award.
Staff of Sound Bites 3.0:
Thomas Morris
sey (Artistic Director),
Stephen Bishop
Seely (Producer), Ellie Kahn (Music Coordinator), Cindy Shumsey (Lighting Design),
Larry Alexander
(Sound Design), Michael Tosto (Production Stage Manager), Jessica McIlquham (Assistant Stage Manager),
Matt ZanFagna
(Associate Artistic Director), Juan Garcia (Crew Head), Lauren Downie (Cast Expediter),
Nicolas Baumgartner
(Front of House),
Lauren Draper
(Graphic Design), Carlos Zamora (Illustrations).
Theatre Now New York Artistic Director, Thomas Morrissey, has helped develop and produce new plays and musicals including the East Coast Premiere of Kingdom, the world premiere of The Last Sunday in June, and the East Coast Premiere of The Break-Up Notebook. Stephen Bishop Seely, Literary Manager of Theatre Now New York and Producer of Sound Bites, has helped develop several Off-Broadway and Broadway shows including Disney's Tarzan, Rock Wilk's Broke Wide Open, Rock Wilk's Brooklyn Quartet, and 8 Million Protagonists.
Theatre Now New York is a professional theatre company whose history originates with two established companies - the Genesius Theatre Guild in New York City and ReVision Theatre in Asbury Park, New Jersey. Theatre Now New York brings together the founding principles of both these companies; developmental work and main stage theatrical productions. The mission of Theatre Now New York is to facilitate the creation and development of new theatrical works, the reimagining of previously produced known titles and the reinterpretation of classic works through readings, productions, workshops and work-in-progress presentations and to promote the understanding and appreciation of live theatre and its process by the general public and provides opportunities for emerging, mid-career and established theatre professional in their ongoing creative process. In keeping with this mission, Sound Bites' goal is to seek out and cultivate new writers and composers and develop new musicals.
For more information on Theatre Now New York, visit www.tnny.org. For more information about Sound Bites, go to www.tnny.org/soundbites.
Photo Credit: Emily Briggs


Haley Clair and Deanna Giulietti accept the Audience Choice Award for A CAPPELLA LOVE (music by Nelson Kole, lyrics by Mark Browning Milner, book by Mark Browning Milner, Lorrie Kole and Nelson Kole)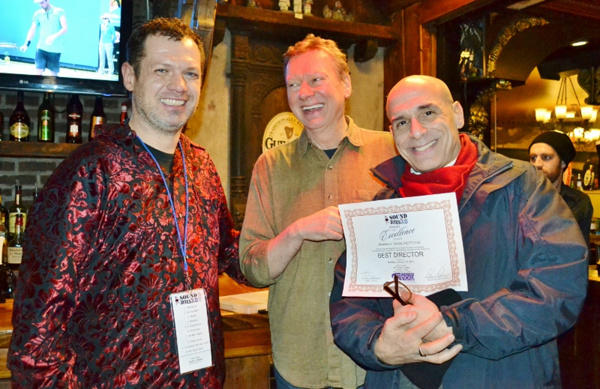 Jonathan S Cerullo, winner: Best Direction for FICTITIOUS (book, music, and lyrics by Tom Hyndman and Paul Cozby), Thomas Morrissey (Artistic Director, TNNY), Stephen Bishop Seely (Producer, Sound Bites Festival)

Brian Graziani (actor, WE HAVE APPLES), and Matt ZanFagna (director, HOUDIN)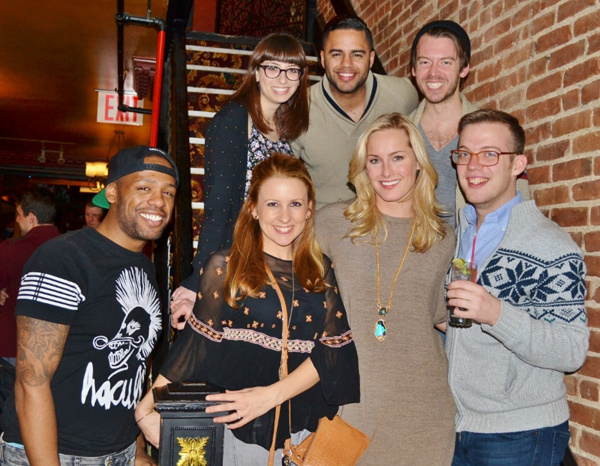 WE HAVE APPLES (front row): Marcus Underwood, Rachel Griffin (Music, Lyrics, and Book), Ginna Le Vine, Brian Graziani; (back row) Emily Nash, Nicholas Gordon, Brad Giovanine

Gregory Bonsignore and GORGONZOLA go home with Best Musical, Best Actor, Best Actress, and Best Lyrics, the most awards given to one show at Sound Bites to date.
Related Articles
More Hot Stories For You
Patti LuPone Wants to Narrate Mary Trump's New Book For Randy Rainbow to Lip-Sync
Could we be getting a new Randy Rainbow/Patti LuPone collaboration? We sure hope so!...

QUIZ: Attend the Winter's Ball to Find Out Which Hamilton Star Will Be Your Date!
We're going back to 1780 for A Winter's Ball (you know, where the Schuyler Sisters are the envy of all?) for our latest Hamilton quiz!...

VIDEO: On This Day, July 9- Lin-Manuel Miranda, Phillipa Soo, Ariana DeBose, and Leslie Odom, Jr. Say Goodbye to HAMILTON
On this day in 2016, original Hamilton cast members, Leslie Odom Jr., Phillipa Soo, and Ariana DeBose along with the musical's star and composer, Lin-...

VIDEO: Listen to Act 1 of HAMILTON, Acted Out by The Muppets
Voice actor and comedian Ricky Downes III has recorded all of Act I of Hamilton... in the voices of all The Muppets!...

Broadway League Approves 15-Second COVID-19 Test For Actors and Crew; League President 'Cautiously Optimistic' About Early 2021 Return
Broadway League President Charlotte St. Martin told the New York Post that for the first time, she feels 'cautiously optimistic' about Broadway being ...

BROADWAY AT HOME on PBS Continues With GREAT PERFORMANCES: SHE LOVES ME & More
Beginning July 24, GREAT PERFORMANCES will continue to keep the performing arts alive with Broadway at Home, broadcasting a theatrical favorite every ...