Photo Flash: First Look at New Cast in West End's WAR HORSE at the New London Theatre
This week three new and six returning cast members will join the London company of
The
National Theatre
's internationally acclaimed stage production
War Horse
at the New London Theatre.
At the outbreak of World War One, Joey, young Albert's beloved horse, is sold to the cavalry and shipped to France. He's soon caught up in enemy fire, and fate takes him on an extraordinary odyssey, serving on both sides before finding himself alone in no man's land. But Albert cannot forget Joey and, still not old enough to enlist, he embarks on a treacherous mission to find him and bring him home.
War Horse premiered at The National Theatre in October 2007. Now in its fourth year in the West End, Nick Stafford's adaptation of Michael Morpurgo's book has continued to play to sell-out houses at the New London Theatre since March 2009. The Broadway production of War Horse, which continues its run at the Lincoln Center's Vivian Beaumont Theater until 6 January 2013, was the winner of six Tony Awards including a Special Tony Award for Handspring Puppet Company. In February 2012 War Horse opened to great critical acclaim at The Princess of Wales Theatre, Toronto. A North American tour of War Horse started in Los Angeles in June of this year and will visit 27 cities in its first year. An Australian production will open at the Melbourne Arts Centre State Theatre on 31 December 2012 and will go on to play seasons in Sydney and Brisbane. In 2013 a German language production will open at the historic Theater des Westens in Berlin, and a further production will embark on a UK tour later in 2013. Staging War Horse, an exhibition which tells for the first time the full behind the scenes story of the creation of War Horse continues until 9 September 2012. The exhibition, War Horse: Fact and Fiction, continues at the National Army Museum until March 2013.
The 35-member West End cast comprises Derek Arnold (Joey/Topthorn Hind), Alex Avery (Captain Nicholls), Sarah Calver (Baby Joey/Ensemble), Richard Cant (Priest/Friedrich Muller), Sam Clark (Joey Head), Kate Colebrook (Baby Joey/Emilie), Matt Costain (Topthorn Hind /Goose), Laura Cubitt (Paulette), Ewen Cummins (Chapman Carter/Col. Strauss/Soldat Schmidtt), Danny Dalton (David Taylor), Bob Fox (Songman), Thomas Goodridge (Joey/Topthorn Hind), Robin Guiver (Joey/Topthorn Heart), Owain Gwynn (Joey/Topthorn Heart), Robert Horwell (Arthur Narracott / Sgt Thunder), Christian Jenner (Dr Schweyk/Heine/Sgt Fine), Luke Jerdy (Albert Narracott), Curtis Jordan (Joey/Topthorn Head/ Goose), Louise Kempton (Baby Joey/Annie Gilbert), Pieter Lawman (Grieg), Dominic Leeder (Topthorn Heart), Henry Maynard (Topthorn Head), Shaun McKee (Joey/Topthorn Head / Geordie /Goose), Steve Nicolson (Ted Narracott), Christopher Patrick Nolan (Gefreiter Karl/Vet Martin), Adam Philps (Ensemble), Malcolm Ridley (Sgt Allan/Soldat Manfred), Mat Ruttle (Bone/Heine), William Rycroft (Captain Stewart/ Rudi), Rachel Sanders (Rose Narracott), Eliot Short (Klebb/Fiddler), Matt Tait (Joey Head), Ivan Thorley (Joey Hind), John Trindle (Billy Narracott/Coco/Ludwig), Adam Welsh (Johann Schnabel/Sentry Shaw).
Directed by Marianne Elliott and Tom Morris, War Horse is designed by Rae Smith, with puppet design and fabrication by Basil Jones and Adrian Kohler for Handspring Puppet Company, lighting by Paule Constable, and movement and horse choreography by Toby Sedgwick; the puppetry directors are Basil Jones and Adrian Kohler, with video design by Leo Warner and Mark Grimmer, songmaker John Tams, music by Adrian Sutton and sound by Christopher Shutt.
War Horse is produced in the West End by The National Theatre and National Angels, New London Theatre, Drury Lane, London WC2B 5PW.  War Horse is currently booking until 26 October 2013.  Performances are Monday, Wednesday and Fridays at 7.30pm, Tuesdays at 7pm, Thursday & Saturdays at 2.30pm and 7.30pm
Ticket prices: £15-£55 plus concessions, Prices include a restoration levy.  From May 2012 a limited number of Day Seats will be available at £25. Day Seats can be purchased in person at the box office from 10am on the day of the performance, strictly limited to one pair per person.
Box Office: National Theatre Box Office - No booking fee, Telephone 020 7452 3000
Online at www.warhorselondon.com or www.nationaltheatre.org.uk. New London Theatre Box Office -booking fee, Telephone 0844 412 4654, or online from www.seetickets.com
Website: warhorseonstage.com
Photo Credit: Brinkhoff/Mögenburg


Joey and Goose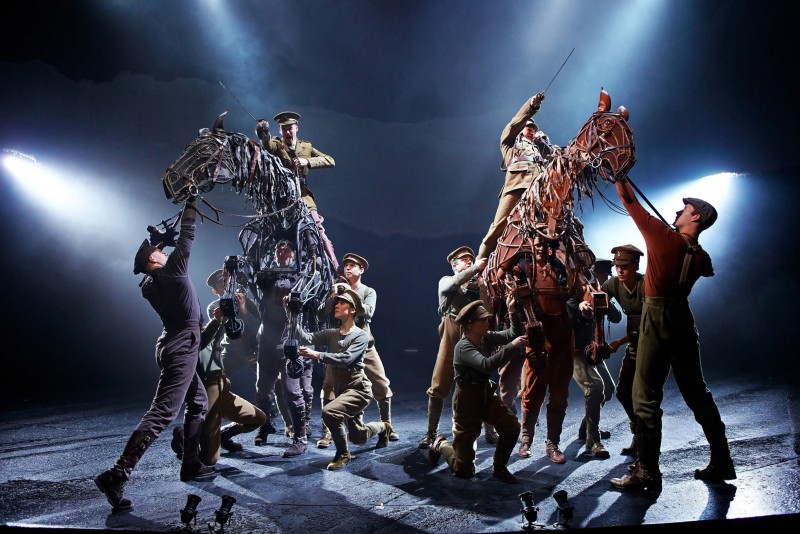 The Cast

The Cast

The Cast