Photo Flash: First Look at Karen Olivo & Company in Forward Theater Company's FUN HOME
Forward Theater Company continues its 10th anniversary season celebration by producing its first musical, Fun Home (Book & Lyrics by Lisa Kron, Music by Jeanine Tesori) This groundbreaking musical is based on the graphic novel by Alison Bechdel, and is the winner of five Tony Awards, including Best Musical. As an added bonus, Forward Theater is excited to feature Tony Award-winning actress Karen Olivo in the production as Adult Alison. This Wisconsin premiere will be presented in the Playhouse at Overture Center, through November 25.
Graphic novelist Alison Bechdel's father was a volatile and brilliant man whose secrets defined her family and her life. Bruce taught high school English, ran the family's funeral home business, and was obsessed with restoring their old house. When he dies unexpectedly, Alison digs deeply into her childhood memories to try and understand how his choices may have influenced her own.
This unique, funny and heart-shattering new musical zig-zags across Alison's past and present as she tries to make sense of her parents' lives, her own sexuality, and how she maps the terrain of her adult world.
The production features an all-Wisconsin cast comprised of Karen Olivo, Clare Arena Haden, Matt Daniels, Rachael Zientek, Chantae Miller, Solana Ramirez-Garcia, Andy White, Tryg Gundersen, Donovan Lonsdale, and Walker Stephenson.
The creative team includes Mark Wurzelbacher (Music Director), Keith Pitts (Scenic Designer), Jason Fassl (Lighting Designer), Scott Rott (Costume Designer), James Uphoff (Sound Designer), Maureen Janson (Choreographer), Jake Penner (Associate Director).
Forward Theater is partnering with GSAFE Madison to present a free performance of Fun Home for members of youth LGTBQ clubs in high schools around Dane County. The performance will be held in the Playhouse at Overture Center.
Photo Credit: Ross Zentner


Rachael Zientek, Karen Olivo & Chantae Miller

Chantae Miller, Tryg Gundersen, Donovan Lonsdale

Karen Olivo, Clare Arena Haden, Chantae Miller, Tryg Gundersen, Donovan Lonsdale, Matt Daniels & Andy White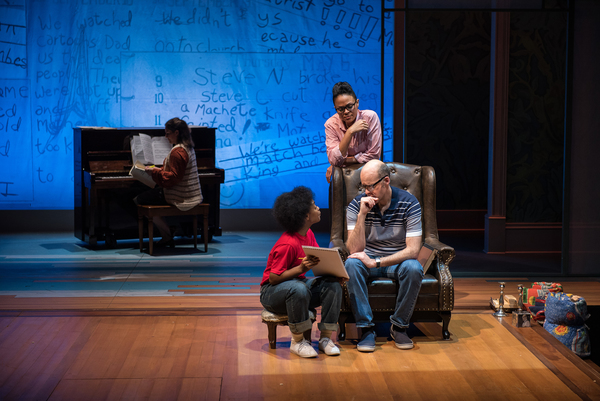 Clare Arena Haden, Chantae Miller, Karen Olivo & Matt Daniels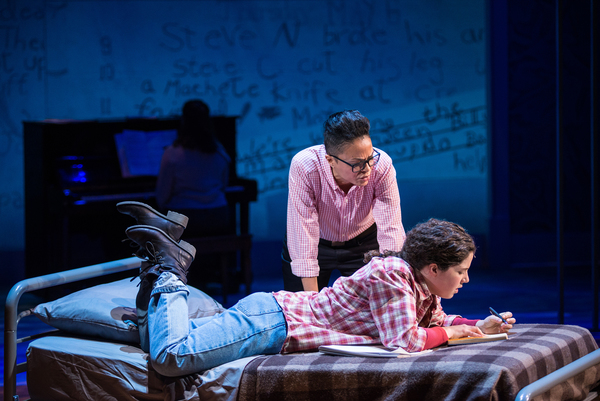 Karen Olivo and Rachael Zientek
Related Articles
More Hot Stories For You
Betty Buckley Demands Trump Stops Using 'Memory' at Rallies- 'Your Presidency is the Very Antithesis of Art'
As BroadwayWorld reported earlier this month, at a campaign rally in Sanford, Florida, the Trump campaign continued its use of the song 'Memory' from ...

Photos/Video: First Look at the Russian Premiere of CHESS The Musical
On October 17, Chess the Musical made its Russian premiere at the MDM Theatre, Moscow....

Actors' Equity Comments On SAG-AFTRA Members Condemning the Union's Raiding of Equity Employers
Actors Equity has released the following roundup of quotes addressing SAG-AFTRA members who are speaking out against the union's battle with Equity. ...

Exclusive: Keala Settle Sings 'Being Alive' from COMPANY as Part of The Seth Concert Series; Re-Airs Today at 3pm and Available On Demand!
Her concert re-airs today at 3pm and is now available On Demand, get your tickets here!...

BEETLEJUICE Will Premiere in South Korea in 2021
It has been confirmed that the first Korean production of Beetlejuice, performed in the Korean language, will come to Seoul, South Korea next year....

Bernadette Peters, Kristin Chenoweth, and More Share Their Thoughts on STICKS & STONES
There are just two more days to watch Sticks & Stones right here on BroadwayWorld before it disappears forever. The concert benefits Broadway Cares &...