Photos: First Look at INTELLIGENT HOMOSEXUAL'S GUIDE!
The first preview of Tony Kushner's THE INTELLIGENT HOMOSEXUAL'S GUIDE TO CAPITALISM AND SOCIALISM WITH A KEY TO THE SCRIPTURES has been postponed a day to provide the cast and crew with an additional dress rehearsal. The production will now begin performances on Wednesday, March 23 at The Public Theater (425 Lafayette Street). The production is presented by The Public Theater (Artistic Director Oskar Eustis; Interim Executive Director Joey Parnes) and Signature Theatre Company (Founding Artistic Director James Houghton; Executive Director Erika Mallin) in association with the Guthrie Theater (Joe Dowling, Director). Michael Greif, who directed the world premiere at the Guthrie in April 2009, directs the New York premiere, which opens on Thursday, May 5 and runs through June 12. Check out images from the production below!
The cast for THE INTELLIGENT HOMOSEXUAL'S GUIDE includes Michael Cristofer, Linda Emond, Michael Esper, K. Todd Freeman, Hettienne Park, Steven Pasquale, Molly Price, Matt Servitto, Danielle Skraastad, Stephen Spinella and Brenda Wehle. Cristofer, Emond, Esper and Spinella originated their roles in the Guthrie Theater's world premiere of the play.
Full price tickets begin at $75 each. Public Theater Members can purchase $20 tickets and Signature Theatre Company subscribers can reserve their seats by contacting their respective Member and Subscriber hotlines. Single tickets are available at (212) 967-7555 , www.publictheater.org, or in person at The Public Theater Box Office, 425 Lafayette Street at Astor Place. For more information and complete performance schedule, please visit www.publictheater.org.
In the summer of 2007, Gus Marcantonio, a retired longshoreman and cousin of the late New York Congressman Vito Marcantonio, summons his three adult children to the family's Brooklyn brownstone - to vote on the question of his committing suicide. THE INTELLIGENT HOMOSEXUAL'S GUIDE TO CAPITALISM AND SOCIALISM WITH A KEY TO THE SCRIPTURES explores revolution, radicalism, marriage, sex, prostitution, politics, real estate, unions of all kinds and debts both unpaid and unpayable.
The Public Theater and Artistic Director Oskar Eustis have a long history with Tony Kushner, dating back to 1986 when Eustis, then Artistic Director of the Eureka Theater in San Francisco, directEd Kushner's first professional production, A Bright Room Called Day (later seen at The Public Theater), and commissioned Angels in America, which he then directed in its world premiere at the Mark Taper Forum. The Public Theater producEd Kushner's adaptation of The Dybbuk in 1997, directed by Brian Kulick. The Public later developed and producEd Kushner and composer Jeanine Tesori's Obie Award-winning musical Caroline, or Change, directed by George C. Wolfe, which then transferred to Broadway in 2004, and went on to London's Royal National Theater where it received, among other honors, the Olivier Award for Best Musical. In 2006, Kushner's translation of Bertolt Brecht's Mother Courage and Her Children, starring Meryl Streep, was presented at the Delacorte Theater as part of the Shakespeare in the Park season.
Signature Theatre Company is the first theatre company to devote an entire season to the work of a single playwright, including re-examinations of past writings as well as New York and world premieres. By championing in-depth explorations of a living playwright's body of work, the Company delivers an intimate and immersive journey into the playwright's singular vision. Signature's 20th Anniversary Season, devoted to Tony Kushner, also includes their acclaimed production of Angels in America - its first New York revival - now in its fourth final extension, playing through April 24, 2011. The final Kushner play of the Signature season, The Illusion, directed by Michael Mayer, will open later this spring.
Signature was in residence at The Public Theater for two seasons in 1995-1997. THE INTELLIGENT HOMOSEXUAL'S GUIDE marks the first time the two theatres have partnered to present a co-production.
Photo Credit: Joan Marcus


Stephen Spinella and Michael Esper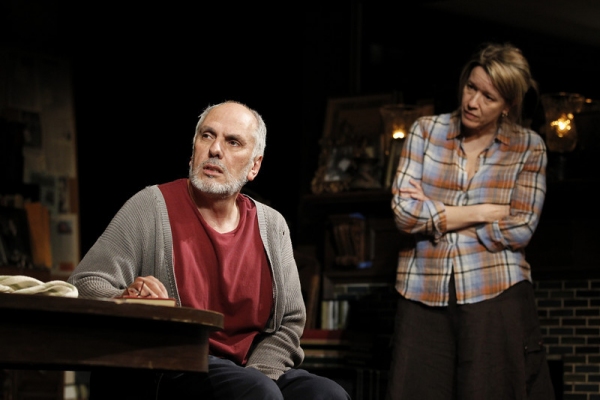 Michael Cristofer and Linda Emond

Linda Emond, Michael Cristofer and Molly Price

Stephen Spinella and K. Todd Freeman

Steven Pasquale and Michael Cristofer

Michael Cristofer and Stephen Spinella

The cast of The Intelligent Homosexual's Guide to Capitalism and Socialism with a Key to the Scriptures.