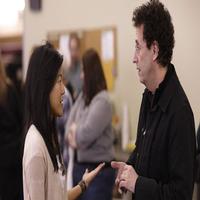 by BroadwayWorld TV - Mar 15, 2011
In the folowing conversation Tony Kushner sits down with Andrea Bernstein to chat about his plays ANGELS IN AMERICA and THE INTELLIGENT HOMOSEXUAL'S GUIDE, as well as 'The Kids Are All Right.
by Broadway Beat - Mar 4, 2011
On Tuesday, March 2, the company of THE INTELLIGENT HOMOSEXUAL'S GUIDE TO CAPITALISM AND SOCIALISM WITH A KEY TO THE SCRIPTURES met the press. Cast members Michael Cristofer, Linda Emond, Michael Esper, K. Todd Freeman, Bruce MacVittie, Hettienne Park, Steven Pasquale, Molly Price, Danielle Skrastaad, Stephen Spinella and Brenda Wehle, and director Michael Greif and playwright Tony Kushner were on hand for the photo op and BroadwayWorld brings you coverage below.