Photos: First Look at Billie Joe Armstrong's Shakespeare Ripoff THESE PAPER BULLETS! at the Geffen
Geffen Playhouse presents the West Coast premiere of THESE PAPER BULLETS! A Modish Ripoff of William Shakespeare's Much Ado About Nothing, opening the not-for-profit organization's 20th anniversary season in the Gil Cates Theater. Written by Pulitzer Prize finalist and Emmy Award nominated writer Rolin Jones (Friday Night Lights, Boardwalk Empire) with songs by Grammy Award winner Green Day frontman Billie Joe Armstrong and staged by Jackson Gay, THESE PAPER BULLETS! was commissioned by Yale Repertory Theatre where it premiered in 2014. Below, BroadwayWorld has a first look at the cast in action!
The cast of THESE PAPER BULLETS! features
James Barry
,
Kate Blumberg
, Damon Duanno (Brief Encounter on Broadway), Chris Geary,
Brad Heberlee
,
Justin Kirk
(Showtime's Weeds, HBO's Angels in America, ABC's Modern Family),
Tony Manna
, Rod MacLachlan (Magnolia, The Audience on Broadway),
Keira Naughton
, Adam O'Byrne (Netflix's Bosch and CBS' Extant),
Lucas Papaelias
(Once on Broadway),
Nicole Parker
(Wicked on Broadway, MADtv)
Greg Stuhr
(The 25th Annual Putnam County Spelling Bee and Fish in the Dark on Broadway),
Ariana Venturi
and
Nick Ullett
(Loot on Broadway). The show will run now through October 18, 2015 in the
Gil Cates
Theater, with the opening night tonight, September 16. THESE PAPER BULLETS! is a co-production with
Atlantic Theater Company
in New York and will be performed there following the
Geffen Playhouse
engagement. Meet the Quartos. Ben, Claude, Balth, and Pedro. Their fans worship them. Scotland Yard fears them. And their former drummer will stop at nothing to destroy them. Can these fab four from Liverpool find true love in London and cut an album in seven nights? For Signature Series dates associated with the run of THESE PAPER BULLETS!, visit
www.GeffenPlayhouse.com/ThesePaperBullets
. Tickets are currently priced from $32 to $82 and are available in-person at the
Geffen Playhouse
box office, via phone at 310.208.5454 or online at
www.geffenplayhouse.com
. Fees may apply.
Photo Credit: Michael Lamont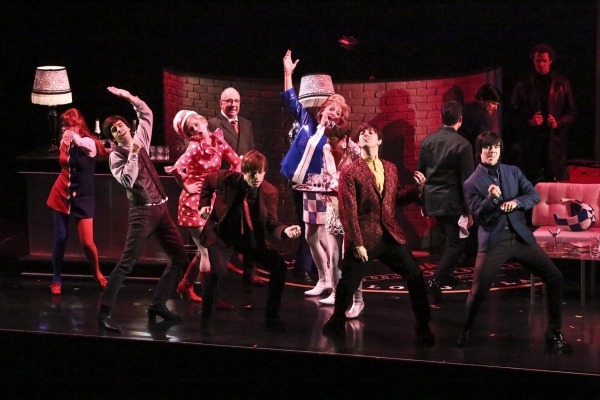 Frida (Kate Blumberg), Claude (Damon Daunno), Higgy (Ariana Venturi), Leo (Nick Ullett), Ben (Justin Kirk), Ulcie (Keira Naughton), Beatrice (Nicole Parker), Balth (Lucas Papaelias), Pedro (James Barry), and Don Best (Adam O'Byrne)

Claude (Damon Daunno), Balth (Lucas Papaelias), Pedro (James Barry) and Ben (Justin Kirk)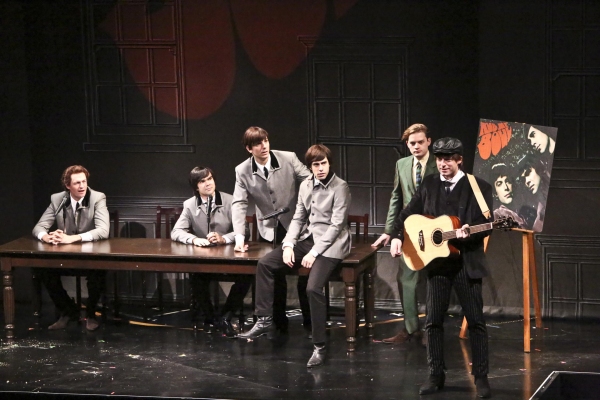 Best (Adam O'Byrne), Pedro (James Barry), Balth (Lucas Papaelias), Claude (Damon Daunno), Anton (Christopher Geary), and Ben (Justin Kirk) at Rub My Bowl press conference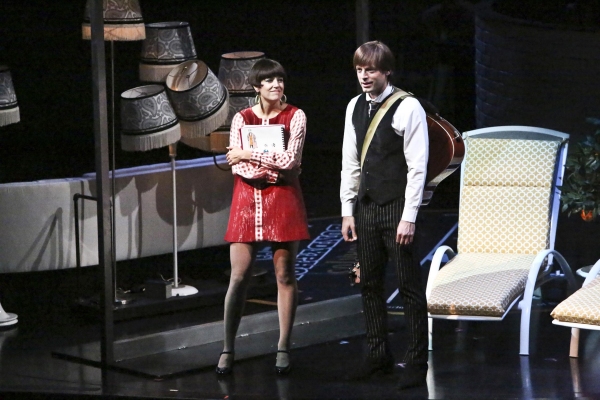 Beatrice (Nicole Parker) and Ben (Justin Kirk)