Photo Flash: Company XIV Presents LE CIRQUE FEERIQUE
Company XIV, a Neo-Baroque dance-theatre group, is proud to present the World Premiere of Le Cirque Feerique (The Fairy Circus), a fairy tale inspired show for all ages, choreographed and directed by Austin McCormick, written and adapted by Austin McCormick and Jeff Takacs, and conceived by Austin McCormick and Zane Pihlstrom. Le Cirque Feerique (The Fairy Circus) runs from May 8 - June 6, 2010 in a limited 5-week engagement at the 303 Bond Street Theatre, the company's home space, located at 303 Bond Street (between Union & Sackett) in Carroll Gardens, Brooklyn. Previews begin May 8 for a May 9 opening.
Performances are Saturdays at 2pm and 7pm and Sundays at 2pm and 5pm. Tickets are $30 for adults and $25 for children 16 and under, students and seniors. Running time is 1 hour and 30 minutes. Capacity is 100 seats. Trains: F or G to Carroll Street. To purchase tickets and for more information visit http://www.CompanyXIV.com.
Step right up to the golden tent! With Le Cirque Feerique, Company XIV will delight and amaze, as they re-imagine your favorite childhood fairy tales as only Austin McCormick and his exquisite troupe can. Don't miss this Baroque confection for all ages, a magical menagerie of opera, dance, theatre and opulent design. McCormick incorporates a myriad of dance styles, fusing Baroque, classical ballet, flamenco, ballroom, contemporary partnering and Indian dance, along with contemporary movement. The show includes an array of music, including pieces by Vivaldi, Aphex Twin, Lady Gaga and Bizet, and features a special guest, the Charites Baroque Opera Trio.
This lush extravaganza includes classic fairy tales such as Charles Perrault's Little Red Riding Hood and Cinderella, Hans Christian Andersen's The Ugly Duckling, The Emperor's New Clothes and The Princess and the Pea, The Brothers Grimm's The Fisherman and His Wife, Munro Leaf's Ferdinand the Bull and more.
Austin McCormick is a director, choreographer, dancer and teacher based in NYC. He was awarded a 2009 NYIT Award for Outstanding Choreography/Movement for The Judgment of Paris. His unique blend of Baroque vocabulary in conjunction with contemporary movement and theatrical staging is commanding attention. His work has been produced at Lincoln Center's Peter Jay Sharp Theater, Alice Tully Hall, Clark Studio Theater, Alvin Ailey Studios, Symphony Space, The Kennedy Center by City Dance and the Mark Morris Dance Center. In 2007, he was the recipient of the Susan Braun Award, a grant given to one young choreographer/filmmaker by Dance Films Association. Subsequently, his dance film Folies d'Espagne premiered at the Walter Reade Cinema in Lincoln Center. The film was nominated for the Jury Prize at Dance on Camera Lincoln Center 2008 and the Cinedans Award at the 2008 Cinedans Int'l Film Festival in Amsterdam. Austin has performed with the Metropolitan Opera Ballet of NY. He graduated in 2006 with a BFA from the Juilliard School.
The Company XIV ensemble consists of Marisol Cabrera, Laura Careless, Yeva Glover, Gioia Marchese, Austin McCormick, Davon Rainey and Jeff Takacs. The Charites Baroque Opera Trio includes Brooke Bryant, Brett Umlauf and Amber Youell. The design team consists of Zane Pihlstrom (Set & Costume Design) and Gina Scherr (Lighting Design). Le Cirque Feerique is sponsored by MAC Cosmetics.
Company XIV, a Black Book Magazine 'Icon Of The Future', is a non-profit mixed media dance/theater company based in Brooklyn, NY. Founded by Artistic Director Austin McCormick in 2005, the company works in the mediums of live dance/theater and film. Company XIV is contemporary, yet baroque inspired, with a mission to produce compelling theatrical dance productions that create a beautiful affecting experience. Company XIV is the resident company of 303 Bond St., a Brooklyn space converted from a tow truck warehouse to a theater.
Photo credit: Cristina Ramirez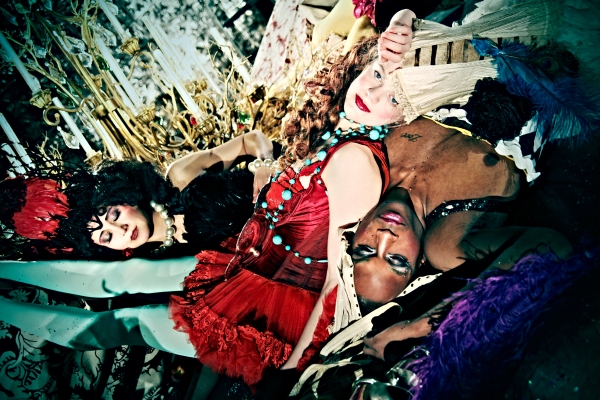 Marisol Cabrera, Laura Careless and Davon Rainey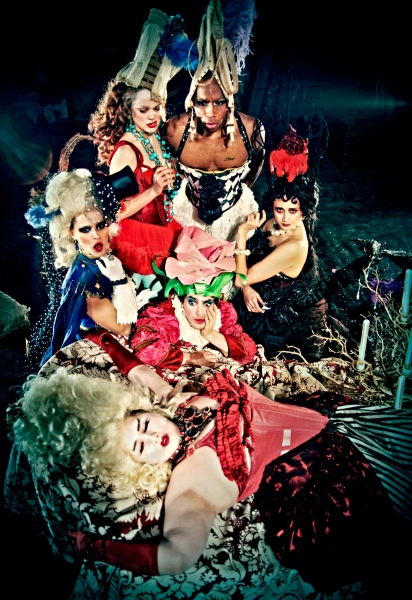 YEva Glover, Laura Careless, Davon Rainey, Marisol Cabrera, Austin McCormick and Gioia Marchese

Laura Careless, Marisol Cabrera, YEva Glover, Gioia Marchese, Davon Rainey and Austin McCormick

Austin McCormick, Laura Careless and Marisol Cabrera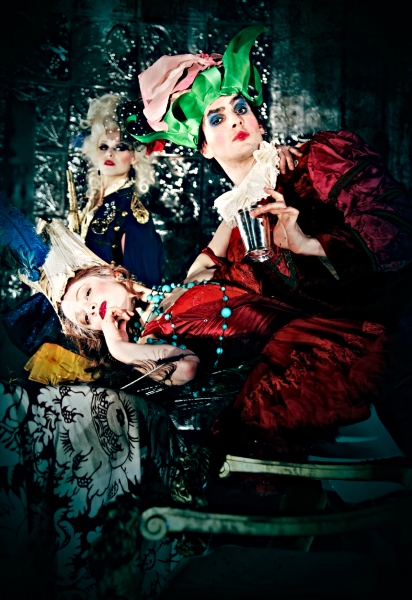 Laura Careless and Austin McCormick

Related Articles
More Hot Stories For You
Ellen's Stardust Diner Will Reopen Its Doors on October 1
Ellen's Stardust Diner will reopen its doors once again! The restaurant, famous for its singing wait staff, will be open for patrons beginning on Thur...

Steps on Broadway Announces Passing of Founder Carol Paumgarten
Steps on Broadway, the internationally recognized dance training center, announced today that its Founder, Carol Paumgarten, passed away on Thursday e...

Broadway Jukebox: 25 Songs for Falling Into Autumn!
Bust out your chunky sweaters, heat up your pumpkin spice latte, and get ready to roll in the leaves. Autumn is here and we're falling into the season...

18 Shows Streaming on BroadwayWorld Events This Week!
BroadwayWorld Events is bringing you incredible talent right into your home!...

Photo Flash: BACK TO THE FUTURE: THE MUSICAL Marquee Goes Up at the Adelphi Theatre
BACK TO THE FUTURE The Musical will transfer to the Adelphi Theatre in London's West End following an out-of-town opening at Manchester Opera House in...

7 More Broadway Choreography Tutorials You Can Follow Along with At Home!
Looking for something fun to do? We've rounded up even MORE Broadway dance tutorials from productions like Kinky Boots, The Lion King, The Prom, and m...