Photos: 'Cherry Orchard' and 'Coffee Trees' in Rep
Scheduled September 28 through October 21 at Theatre Row's Beckett Theatre (410 West 42nd Street) The Coffee Trees and The Cherry Orchard run in repertory Tuesdays at 7PM, Wednesdays through Fridays at 8PM, Saturdays at 2PM & 8PM, and Sundays at 2PM & 7PM (please note there will be no 7PM performance on Sunday, October 21; and there will be an added 2PM student matinee on Wednesday, October 17).
The Coffee Trees, a new play by Arthur Giron, inspired by Anton Chekhov's The Cherry Orchard, takes place on a Guatemalan coffee plantation following the country's 35-year civil war between communist guerilla forces and conservative landowners. The play examines one family's struggle to find its place in a new society that threatens to leave some of them behind.
Directed by Dr. Marion Castleberry the cast of The Coffee Trees is Teddy Canez, Chris Ceraso, Elizabeth A. Davis, Dan Domingues, Christine Farrell, Annie Henk, Veronica Matta, Steven Pounders, and Victor Truro.
The Cherry Orchard is one of Anton Chekhov's best-loved and most luminous works, exploring the bittersweet passing of a way of life and the devastating effect of the hand of history on the lives of a collection of ordinary people living in the Russian countryside at the turn of the 19th century. The Cherry Orchard is adapted by Resonance Ensemble Artistic Director Eric Parness from the translation by Julius West.
The cast of The Cherry Orchard is: Alberto Bonilla, Chris Ceraso, Brian D. Coats, Elizabeth A. Davis, Bill Fairbairn, Susan Ferrara, Sacha Iskra, Ben Masur, Jessica Myhr, James Ware, Kari Nicole Washington, and Evan Zes.
The design team for both The Coffee Trees and The Cherry Orchard is: Dustin O'Neill (scenic design); Sidney Shannon (costume design); Bobby Bradley (lighting design); and Nick Moore (original music/sound design).
Tickets are $18 and can be reserved by calling Ticket Central at 212-279-4200 or on-line at www.ticketcentral.com. For additional details, please visit www.resonanceensemble.org.
Photo Credit: Jon Kandel
THE COFFEE TREES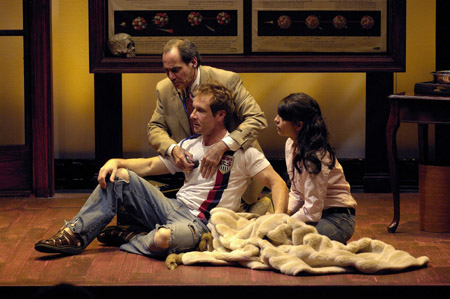 Chris Ceraso (as Antonio Reyes), Steven Pounders (as Manny), and Veronica Matta (as Anita)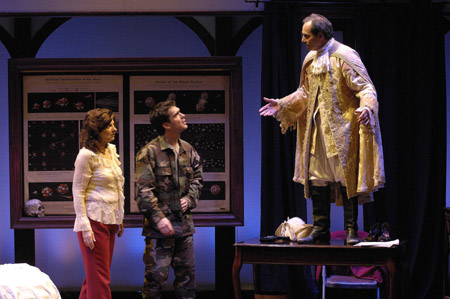 Christine Farrell (as Elena Reyes de Escalante), Dan Domingues (as Comandante X), and Chris Ceraso (as Antonio Reyes)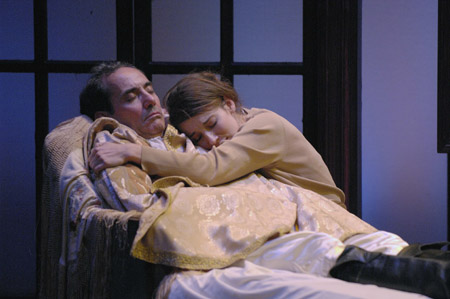 Chris Ceraso (as Antonio Reyes) and Elizabeth A. Davis (as Barbara)
THE CHERRY ORCHARD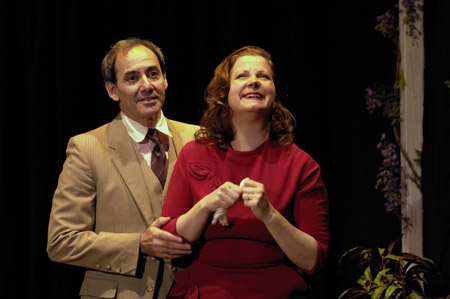 Chris Ceraso (as Gaev) and Susan Ferrara (as Lubov)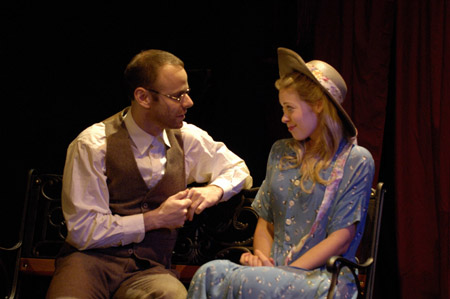 Ben Masur (as Trofimov) and Jessica Myhr (as Anya)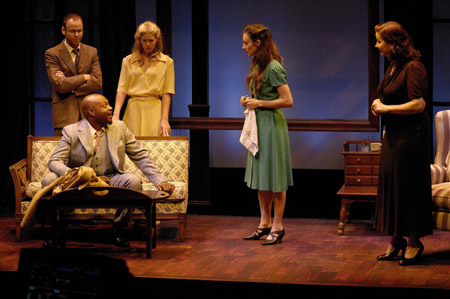 Ben Masur (as Trofimov), (seated) James Ware (as Lopakhin), Jessica Myhr (as Anya), Elizabeth A. Davis (as Varya) and Susan Ferrara (as Lubov)