Photo Coverage: When Nellie Met Jenna... The Pie People of WAITRESS and SWEENEY TODD Unite!
Jenna has the sweets and Nellie has the meats. Between Joe's Diner and Mrs. Lovett's Pie Shop, theatre-goers are getting pie in abundance this season at the Brooks Atkinson and Barrow Street Theatres. Just yesterday, two of the theatre community's most beloved pie makers -Jenna Hunterson and Mrs. Nellie Lovett (played by Betsy Wolfe and Carolee Carmello) met and BroadwayWorld was there!
Immersing audiences in a completely new theatrical experience, this production of the classic tale of bloodthirsty barber Sweeney Todd and resourceful pie shop proprietress Mrs. Lovett comes to New York City following sold-out runs in London. Tooting Arts Club first mounted this Sweeney Todd in the winter of 2014 in Harrington's Pie and Mash Shop, one of the oldest continuously operating pie shops in London, seating only 35 people at each performance. In 2015, the production made the leap to the West End where Tooting Arts Club recreated Harrington's in a 69 seat Shaftesbury Avenue venue provided by producer Cameron Mackintosh. The Harrington's shop environment has once again been brought to life for its US debut in the 130 seat Barrow Street Theatre.
Waitress tells the story of Jenna, an expert pie maker in a small town, who dreams of a way out of her loveless marriage with her husband Earl. A baking contest in a nearby county and the town's new doctor may offer her a chance at a new life, while her fellow Waitresses offer their own recipes to happiness. But Jenna must find the courage and strength within herself to rebuild her life. This new American musical celebrates friendship, motherhood, and the magic of a well-made pie.
Photo Credit: Jennifer Broski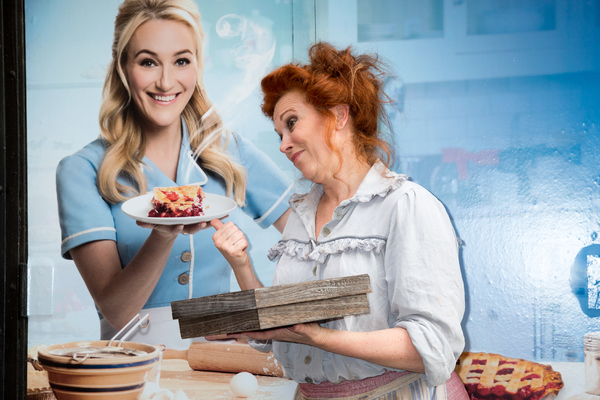 Carolee Carmello