Photo Coverage: 'Spring Awakening' Visits BLOOD MANOR!
BLOOD MANOR, NYC's Premier Haunted Attraction: The Nightmare on 27th St., returns with a depraved appetite for gore and a twisted thirst for blood! On Sunday October 5th, the cast of the hit musical Spring Awakening, joined by friends and fans, paid a visit to the haunted halls of horror at BLOOD MANOR to see what all the screaming is about! Spring Awakening brought BroadwayWorld along with them to share in all the terror filled fun (we just think they were too scared to go in by themselves)!
In October 2008, BLOOD MANOR unveiled its freaky facelift and complete makeover of eight newly themed horror experiences, dozens of cutting-edge animatronics and scores of state-of-the-art props.
Jim Faro, Mike Rodriguez and Jimmy Lorenzo, whose combined passion for all things spooky, created this Halloween Haven. Sparked by insurmountable cravings for the macabre and decades of their own incredible Halloween houses, the trio have reached scary nirvana with BLOOD MANOR. The team works all year long to perfect the haunted attraction in time for "the only month that really matters," October.  If BLOOD MANOR doesn't scare you out of your skull, these guys are not satisfied. With these guys - HALLOWEEN IS DEFINITELY NOT JUST FOR KIDS! Oh, and GO AHEAD SCREAM....IT WON'T MATTER!
BLOOD MANOR 2008 is open: 7:30PM-12AM Thursdays and Sundays
7:30PM-2AM Fridays and Saturdays
There are two types of tickets to BLOOD MANOR NYC'S Premier Haunted Attraction:
1. GENERAL ADMISSION E-TICKETS - $25 plus a $3.50 handling fee can be purchased in advance by phone (1-877-340-3002) or on-line using any major credit or debit card. General Admission can also be purchased at the door for $30 only on nights when BLOOD MANOR is open and are good only on the night purchased. At-the-door sales will be limited depending upon the number of advance tickets sold for that evening's show.
2. R.I.P. EXPRESS ENTRY TICKETS - $40 plus $3.50 handling fee from October 3-12 and $45 plus $3.50 handling fee from October 16-November 1. No Waiting (except for other R.I.P. patrons).
BLOOD MANOR is located at 542 West 27th Street (btwn 10th & 11th Ave).  
For more information visit www.bloodmanor.com
Spring Awakening features the music of Duncan Sheikand book and lyrics by Steven  Sater. Choreography is by Bill T. Jones and it is directed by Michael Mayer.  It is the recipient of 8 2007 Tony Awards, including Best Musical, and the Grammy Award.
Spring's performance schedule is as follows: Tuesday & Sunday at 7 pm, Wednesday-Saturday at 8 pm, Matinees on Saturday and Sunday at 2pm. For information and tickets, call Telecharge.com at 212 239-6200. The musical is playing at the 
Eugene O'Neill
 Theatre, 230 West 49th Street. 
www.springawakening.com
Photo Credit Amy Shaughnessy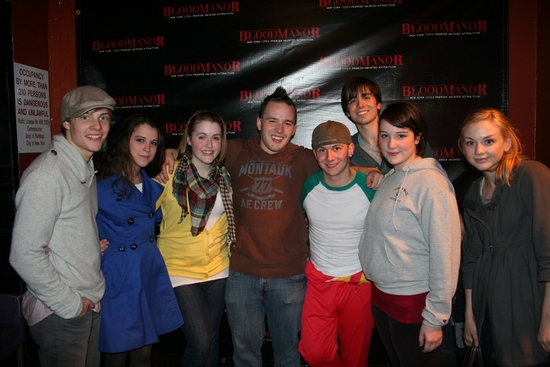 Hunter Parrish, Alexandra Socha, Caitlin Kinnunen, Gabriel Violett, Gerard Canonico, Matt Doyle, Emma Hunton and Emily Kinney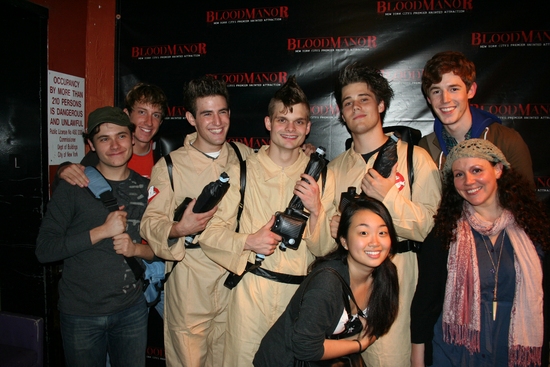 Zach Reiner-Harris, Adam Cerny, Morgan Karr, Andrew Durand, Alice Lee, Jesse Swenson, Frances Mercanti-Anthony and Blake Daniel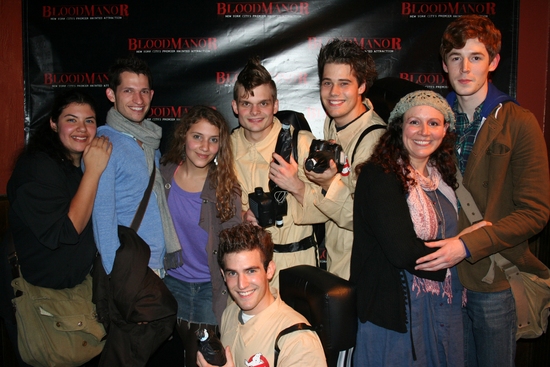 Amanda Castanos, Bobby Diehl, Eryn Murman, Morgan Karr, Andrew Durand, Jesse Swenson, Frances Mercanti-Anthony and Blake Daniel

Emma Hunton clutches Bobby Diehl while Zach Reiner-Harris hides in the background!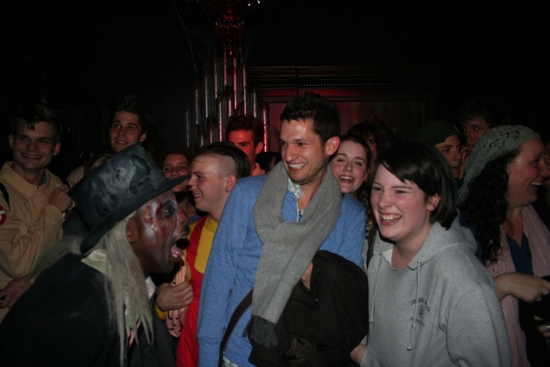 Emma Hunton faces a freak

Emma Hunton ain't afraid of no ghost!

Andrew Durand and Emily Kinney

Hunter Parrish gets ready for the horrors ahead!

Blake Daniel tries to reason with the ghouls while his sister Courtney Daniel keeps a safe distance

Caitlin Kinnunen, Gerard Canonico and Emma Hunton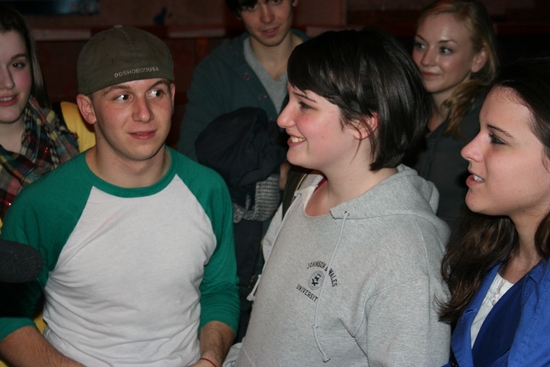 Gerard Canonico, Emma Hunton, Emily Kinney and Alexandra Socha

Emma Hunton and Zach Reiner-Harris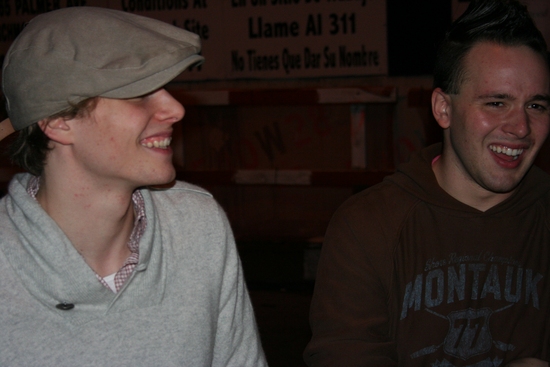 Hunter Parrish and Gabriel Violett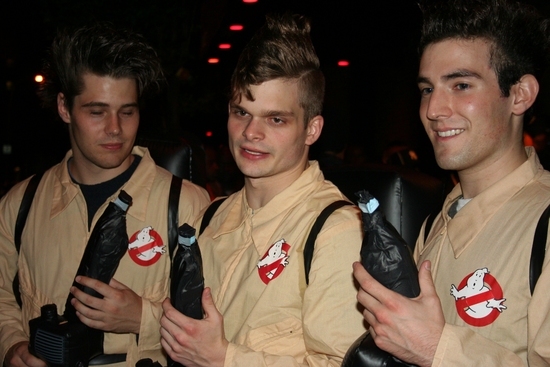 Jesse Swenson, Andrew Durand and Morgan Karr

Who you gonna call? Morgan Karr, Andrew Durand and Jesse Swenson are The Ghostbusters!
---
Shop BroadwayWorld

Shop this season's new musicals! Get dressed up for a night at the theatre, or just a night at home, with merch from some of Broadway's biggest hits including SOME LIKE IT HOT, KIMBERLY AKIMBO, and more!
---
Related Stories