PHOTO: Composer Charles Strouse Visits ANNIE At Paper Mill Playhouse
Annie composer Charles Strouse recently visited the production currently running at Paper Mill Playhouse! Check out the photo here: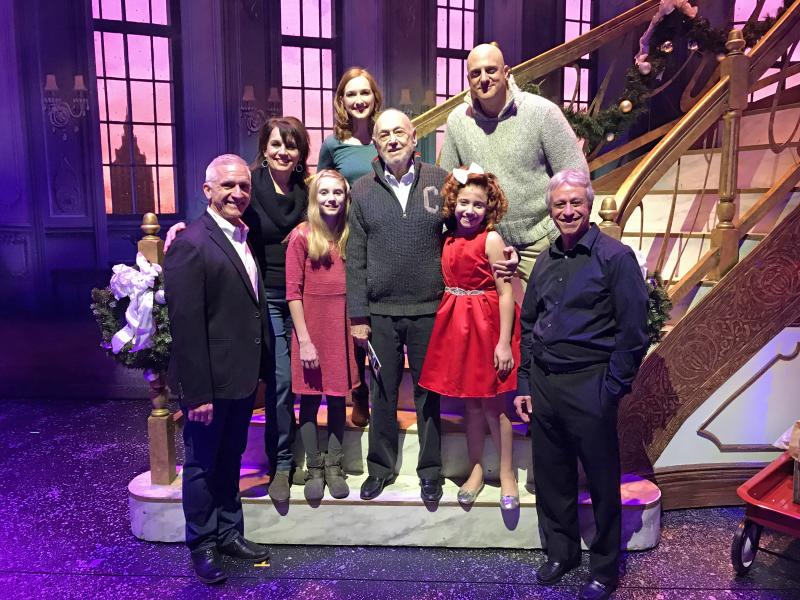 Strouse has written scores for over 30 stage musicals, including 14 for Broadway. He has also composed scores for five Hollywood films, two orchestral works and an opera. He has been inducted to the Songwriters Hall of Fame and the Theatre Hall of Fame. He is a three-time Tony Award winner, a two-time Emmy Award winner, and his cast recordings have earned him two Grammy Awards. His song "Those Were the Days" launched over 200 episodes of All in the Family and continues to reach new generations of television audiences in syndication. With hundreds of productions licensed annually, his musicals Annie and Bye Bye Birdie are among the most popular of all time-produced by regional, amateur and school groups all over the world.
It's the hard-knock life! Paper Mill Playhouse, recipient of the 2016 Regional Theatre Tony Award, presents the hit Broadway Tony Award-winning musical Annie, based on 'Little Orphan Annie,' with book by Thomas Meehan, music by Charles Strouse, and lyrics by Martin Charnin, directed by Paper Mill's Producing Artistic Director Mark S. Hoebee, with choreography by JoAnn M. Hunter and musical direction by Jeffrey Saver.
The principal cast features Paper Mill Playhouse favorite Tony Award winner Beth Leavelas the irascible Miss Hannigan and Tony Award nominee Christopher Sieber as Oliver Warbucks, Erin Mackey as Grace Farrell, Cooper Grodin as Rooster Hannigan, Kim Savaas Lily St. Regis, Kevin Pariseau as Franklin D. Roosevelt, and alternating in the role of Annie are Peyton Ella and Cassidy Pry.
The Annie orphans include Gabby Beredo as Pepper, Tessa Noelle Frascogna as Molly, Michelle Henderson as Duffy, Eve Johnson as Tessie, Lauren Sun as July, and Sloane Wolfe as Kate.
Rounding out the cast are Damien Brett, Shavey Brown, AnnEliza Canning-Skinner, Lynn Masako Cheng, Stacia Fernandez, Michael Coale Grey, Ruby Griffin, David Hess, Stacey Todd Holt, Joshua Israel, Allen Kendall, Kate Marilley, Bronwyn Tarboton, and Amy Van Norstrand.
Annie, the world's best-loved family musical returns to Paper Mill Playhouse just in time for the holidays. Little Orphan Annie is taken from her orphanage, and the clutches of cruel Miss Hannigan, to stay at billionaire Oliver Warbucks' mansion for the holidays. When Annie wins the hearts of Warbucks and his staff, they set out on an epic mission to find Annie's parents. Winner of the Best Musical Tony Award, Annie includes such unforgettable songs as "It's the Hard-Knock Life," "Easy Street," "A New Deal for Christmas," plus the eternal anthem of optimism, "Tomorrow."
Performances began Wednesday, November 22, 2017, at 7:00 p.m., for a limited run through Sunday, December 31, 2017, at Paper Mill Playhouse (22 Brookside Drive) in Millburn, NJ.