New York Youth Symphony Musical Theater Songwriting Program Announces 2022/23 Season
This season will feature guest lecturers Joe Iconis, James Lapine and more.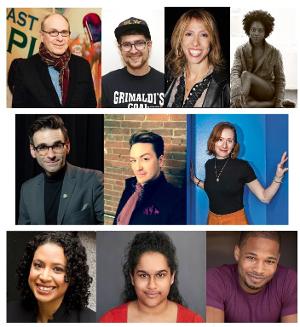 New York Youth Symphony has announced its 2022/23 season of performances for its Musical Theater Songwriting program. Led by director Anna K. Jacobs, the Musical Theater Songwriting Program continues into its fifth season, in partnership with the Harlem School of the Arts and Molloy/CAP21 Theatre Arts Program. The program is designed to lead students through a range of musical theater songwriting processes.
This season will feature guest lecturers Masi Asare, Composer/Lyricist (Paradise Square), Gilbert Bailey, Performer (Beetlejuice, A Bronx Tale, Book of Mormon), Brian Charles Rooney, Performer (The Threepenny Opera), Latoya Edwards, Performer (The Rolling Stone), Sushma Saha, Performer (1776), Joe Iconis, Composer (Be More Chill), Amanda Green, Lyricist (Mr. Saturday Night, Bring It On), James Lapine, Writer/Director (Into the Woods, Sunday in the Park with George, Falsettos), Charlie Rosen, Orchestrator (A Strange Loop, Moulin Rouge!), and Rachel Sussman, Producer (Suffs, What the Constitution Means to Me).
The students' original works will be showcased at a final concert at Joe's Pub on Wednesday, May 17, 2023 at 7:00 PM performed by the students themselves, plus students from the Harlem School of the Arts and Molloy/CAP21 Theatre Arts Program.
"MTS brings together students with different skill-sets and immerses them in the world of musicals and musical theater writing. They may be a classical musician who has never composed for singer-actors before. Or a singer-songwriter who wants to discover what it's like to write for characters," explained Anna K. Jacobs, artistic director for the Musical Theater Songwriting Program. "They may be playwrights and poets who want to learn how to craft song lyrics. Or musical theater performers who know everything there is to know about musicals, except what it's like to write one. At MTS we meet students where they are and help them build skills in the areas that are new to them through customized mentoring."
Applications for students for 2022/23 Musical Theater Songwriting Program are available at: https://www.nyys.org/programs/audition-info/musical-theater-songwriting.html.
Founded in 1963, the NYYS is internationally recognized for its award-winning and innovative educational programs for talented young musicians. As the premier independent music education organization for ensemble training in the New York metropolitan area, the NYYS has provided over 7,000 music students unparalleled opportunities to perform at world-class venues including Carnegie Hall, Jazz at Lincoln Center, Joe's Pub, Birdland, and The Times Center, and to study and perform with world-renowned artists. Beyond the instruction from accomplished musicians, students gain valuable life skills - commitment, discipline, focus, collaboration - and friendships that last a lifetime.
"The New York Youth Symphony's position in the New York City educational landscape is one which grows ever deeper as we launch the 2022/23 season. Navigating through the pandemic, our students' musical growth and engagement have become our raison d'ête. The guest artists and faculty visiting our workshops and masterclasses share NYYS's mission to educate and inspire the next generation of musical citizens." stated Shauna Quill, NYYS Executive Director.
ABOUT THE MUSICAL THEATER SONGWRITING PROGRAM AND Anna K. Jacobs
The New York Youth Symphony's Musical Theater Songwriting Program is specially designed to lead students between the ages of 12 to 22 through a range of musical theater songwriting processes. Whether their background is as a classical composer, singer-songwriter, performer, writer, or some cool hyphenate, this program will provide students with the opportunity to both study the fundamentals of musical theater songwriting and take artistic risks. Led by Director Anna Jacobs, weekly sessions will feature seminars, workshops, and masterclasses with some of Broadway's most distinguished composers, writers, performers, musicians, producers, directors, and designers.
Throughout the year, students will also have the unique opportunity to workshop new material with performers from the Harlem School of the Arts and New York Film Academy, as well as a Broadway pit band.
Anna K. Jacobs is a Jonathan Larson and Billie Burke Ziegfeld Award-winning composer, lyricist, and book writer. Her stage musicals include POP! (Yale Rep, Pittsburgh City Theatre, Studio Theatre, etc.), Teeth (NAMT, O'Neill; co-written w/ Tony & Pulitzer winner Michael R. Jackson), Anytown (George Street Playhouse), Harmony, Kansas (Diversionary Theatre), Echo (Musical Theatre Factory), and Stella and the Moon Man (Sydney Theatre Company/Theatre of Image). She also contributed music and lyrics to the multi-composer works, Witnesses (California Center for the Arts) and Letters to the President (Cooper Union), and penned the screenplay for The Real Gemma Jordan (University of Nebraska-Lincoln), which she is now adapting into a stage musical with composer-lyricist, Rob Rokicki. Currently, Anna and her playwright-collaborator, Anna Ziegler, are working on A House Without Windows, a new musical about the life and disappearance of child prodigy author, Barbara Newhall Follett, which was commissioned by Barbara Whitman Productions and Grove Entertainment, and recently seen as part of the Goodspeed Musicals 2022 Festival of New Musicals. She is also writing the book for a new musical adaptation for Disney Cruise Line Entertainment. Anna is a former Sundance Fellow and Dramatists Guild Fellow and received her MFA in Musical Theatre Writing from NYU-Tisch. As an educator, she is passionate about helping the next generation of songwriters to develop their voices and craft, and has served on the faculties of Temple University, Mannes School of Music, the Dramatists Guild Institute, and the Institute for American Musical Theatre. Learn more at www.annakjacobs.com.
---
Shop BroadwayWorld

Shop this season's new musicals! Get dressed up for a night at the theatre, or just a night at home, with merch from some of Broadway's biggest hits including SOME LIKE IT HOT, KIMBERLY AKIMBO, and more!
---
Related Stories