Click Here for More Articles on FIDDLER ON THE ROOF
New Book Will Give An Inside Look at FIDDLER ON THE ROOF IN YIDDISH
On The Roof: A look inside Fiddler on the Roof in Yiddish by Samantha Hahn is now available to preorder from Pegasus.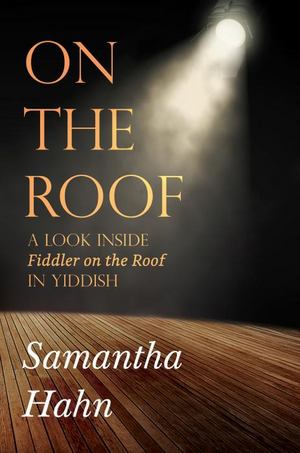 A new book will be released giving an inside look at the Off-Broadway production of Fiddler on the Roof in Yiddish.
On The Roof: A look inside Fiddler on the Roof in Yiddish by Samantha Hahn is now available to preorder from Pegasus here.
Samantha Hahn, the youngest member of the cast, tells the story of how "Yiddish Fiddler" came to be. Samantha has interviewed the cast, crew, and creative team - each with a unique take on the show and the impact it has had on their lives - for a behind-the-scenes look at what makes "Yiddish Fiddler" so special.
On the Roof takes the reader on a never before seen journey - from rehearsals that end in tears and screaming in elevators, to the beautiful bonds between company members as strangers turn into family.
"When we opened, something sort of miraculous happened. There we were - a hit. Our youngest member has written this altogether delightful recounting of the experience. Samantha Hahn is not only a gifted performer but a delightful documentarian; she takes you through our auditions, rehearsals, backstage life, mishaps, and relationships, and shares stories and intimate thoughts from the entire team. Come, sit in on a rehearsal or two..." -Joel Grey
Related Articles
More Hot Stories For You
Broadway Actor Doreen Montalvo, Known For IN THE HEIGHTS and ON YOUR FEET, Dies at 56
BroadwayWorld is saddened to report that stage and screen actor Doreen Montalvo has died at age 56. The news was confirmed by friends on social media....

Meet Our NEXT ON STAGE: SEASON 2 College Top 15!
You voted, here they are! In no particular order, meet our top 15 in the college category....

Broadway Jukebox: 40 Perfectly Political Anthems
The election is right around the corner, and while we count down the days until we can cast our votes, we might as well get in the political spirit......

BEETLEJUICE Will Premiere in South Korea in 2021
It has been confirmed that the first Korean production of Beetlejuice, performed in the Korean language, will come to Seoul, South Korea next year....

Photos/Video: First Look at the Russian Premiere of CHESS The Musical
On October 17, Chess the Musical made its Russian premiere at the MDM Theatre, Moscow....

Exclusive: Keala Settle Sings 'Being Alive' from COMPANY as Part of The Seth Concert Series; Re-Airs Today at 3pm and Available On Demand!
Her concert re-airs today at 3pm and is now available On Demand, get your tickets here!...