Michael Shannon-Led SIMPATICO, Christopher Durang Debut and More Set for McCarter in 2017-18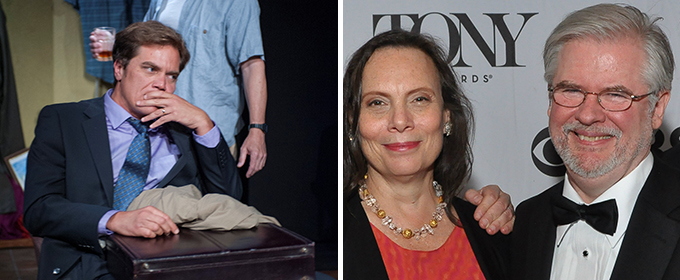 McCarter Theatre Center Artistic Director and Resident Playwright Emily Mann is pleased to announce the lineup for the upcoming 2017-2018 Theater Series.
Next season kicks off with the rarely produced
Sam Shepard
drama, SIMPATICO, featuring Chicago's acclaimed A Red Orchid Theatre - with ensemble members including
Michael Shannon
and director Dado. To follow is the unforgettable story of an American rock icon in A NIGHT WITH
Janis Joplin
written/directed by
R
Andy Johnson
; a contemporary revival of
Marie Jones
' Irish comedy STONES IN HIS POCKETS, directed by
Lindsay Posner
; the 15th Anniversary production of
Re
Gina Taylor
's gospel musical CROWNS; and the World Premiere of TURNING OFF THE MORNING NEWS, by Tony Award winner
Christopher Durang
, directed by
Emily Mann
.
About the season, Ms. Mann said: "With extraordinary performances, timely new work, and a generous dose of live music, this upcoming season truly has something for everyone whether they be a first time visitor or a long-time supporter. We want our audiences to not only have a great night out, but to open themselves to new perspectives. McCarter is committed to serving as a place where artists and audiences alike can gather to celebrate, to discuss, and to share experiences together. I cannot wait to begin."
Watch the season announcement video below!
---
A Red Orchid Theatre's SIMPATICO
By Sam Shepard
Directed by Dado
September 8 - October 8, 2017 in the Berlind Theatre
Buried secrets, blackmail, and false identities race onto the stage in Simpatico, a tragicomedy about the slippery netherworld of thoroughbred racing from Pulitzer Prize-winning dramatist Sam Shepard. McCarter is proud to collaborate with Chicago's multi-award winning A Red Orchid Theatre to bring this riveting American drama to Princeton. Starring Tony and two-time Oscar-nominated actor Michael Shannon (Boardwalk Empire, Nocturnal Animals, Long Day's Journey Into Night) and the acclaimed Red Orchid ensemble.
A NIGHT WITH Janis Joplin
Written and Directed by RAndy Johnson
October 10 - 29, 2017 in the Matthews Theatre
Janis Joplin exploded onto the music scene in 1967 and became a queen of rock n' roll almost overnight. Her unmistakable voice, laced with raw emotion and southern comfort, was inspired by the greatest Blues singers from Aretha Franklin to Bessie Smith. Fueled by a live band and psychedelic performances of her unforgettable songs including "Piece of my Heart," "Me and Bobby McGee," and "Cry Baby," A Night With Janis Joplin is a powerful celebration of the women who made the music that changed history.
A CHRISTMAS CAROL
By Charles Dickens
Adapted by David Thompson
Directed by Adam Immerwahr
December 5 - 31, 2017 in the Matthews Theatre
Using David Thompson's masterful adaptation, McCarter Theatre Center continues its annual tradition of joining Ebenezer Scrooge on his magical journey through Christmas past, present, and future. Using beloved carols and original music, a cast of professional actors is once again joined by ensemble members chosen from the greater Princeton community. Audiences will experience an immersive Dickensian environment from the opening of the theater doors to the final bows. This exciting production will usher you into the spirit of the season with all the joy, wonder, and generosity that Scrooge finally discovers.
STONES IN HIS POCKETS
By Marie Jones
Directed by Lindsay Posner
January 12 - February 11, 2018 in the Berlind Theatre
A couple of small town Irishmen hope to hit it big when hired as extras for an epic American movie filming in their scenic County Kerry village. Nominated for three Tony Awards and Winner of the Lawrence Olivier Award for Best Comedy, two actors portray a cast of fifteen colorful characters in this timely revival about the haves and have-nots, pitting harsh reality against fairy tale Hollywood endings.
CROWNS
Written and directed by ReGina Taylor
Adapted from the book by Michael Cunningham and Craig Marberry
March 13 - April 1, 2018 in the Matthews Theatre
Adapted from the best-selling book by the same title, Crowns weaves together faith, fashion and fortitude (with a generous dose of "hattitude") into an inspirational musical celebration of African American women and their church hats. ReGina Taylor returns to reintroduce the next generation to this unforgettable and joyous gospel musical which will lift up the heart, open the mind, and touch the souls of all who experience its magic.
TURNING OFF THE MORNING NEWS
A World Premiere McCarter Commission
by Christopher Durang
Directed by Emily Mann
May 4 - June 3, 2018 in the Berlind Theatre
From the Tony Award-winning playwright who brought us Vanya and Sonia and Masha and Spike; Christopher Durang returns to McCarter with his newest play and latest cast of eccentric characters. Timely and outrageous, this black comedy exposes the mayhem of contemporary family life in a time of alternative facts, non-stop streaming news, and social media saturation.
---
Subscription packages for the 2017-2018 Theatre Season are available now by calling McCarter Theatre Center at (609) 258-5050, online at www.mccarter.org, or in person at the McCarter Theatre Ticket Office, located at 91 University Place in Princeton. Tickets for the 2017-2018 Theatre Season will go on sale on July 31, 2017.
Led by Artistic Director/Resident Playwright Emily Mann and Managing Director Timothy J. Shields, McCarter Theatre Center is a leading destination for playwrights, actors, and directors to collaborate on ambitious world premieres, re-imagined classics, adaptations, and developmental workshops. Awarded the 1994 Tony Award for Outstanding Regional Theatre, McCarter has evolved into a nationally and internationally acclaimed theatre recognized for its first-rate productions, daring world premieres, and lasting contributions to the American theatrical canon. The theatre is celebrated for its emphasis on the creation and development of new work, marked especially by an on-going program of commissions, an annual artists retreat, and the fostering of long term relationships with emerging and established playwrights.
McCarter is supported by Princeton University, the New Jersey State Council on the Arts, and over 3,000 individuals, corporations, and foundations. McCarter Theatre is located at 91 University Place in Princeton, NJ. For more information, visit www.mccarter.org.