Click Here for More Articles on MEAN GIRLS
MEAN GIRLS Announces Special Rush for Pink Wednesdays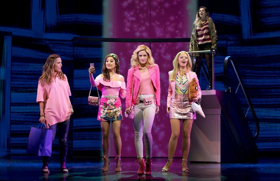 To commemorate The Plastics' favorite day of the week, customers who wear pink on Wednesdays can score a special, limited time only ticket offer for the Broadway premiere of Mean Girls. Previews begin Monday, March 12 and opening night is Sunday, April 8 at New York's August Wilson Theatre (245 West 52nd Street).
Here's how to make sure you're sitting at the right table:
Pink Wednesdays Rush Tickets:
On Wednesdays beginning next Wednesday, March 14, a limited number of $42.50 general rush tickets will be available only to customers wearing pink at the August Wilson Theatre and can be purchased with cash or credit card when the box office opens at 10:00am, Monday-Saturday. In order to be eligible, you must be wearing a visible item of pink clothing! Tickets are limited to two per customer, and are non-transferable and subject to availability; seat locations will vary, and some may be partial view. The rush policy is exclusive to Wednesday performances for a limited time only.
Pre-Show Lottery (In-Person):
As previously announced, a limited number of $42.50 same-day tickets will be made available prior to each performance of Mean Girls via a pre-show, in-person lottery. For Wednesday performances - yes, we're totally going there - Pre-Show Lottery participants who wear a visible item of pink clothing will receive a pink lotto slip and the first pink slip drawn will receive a free pair of tickets to that performance.
Entries for the Pre-Show Lottery will be accepted beginning two and a half hours before curtain time, and winners will be selected two hours prior to each performance. Lottery winners must be present at the time of the drawing with valid identification to purchase tickets, using cash or credit card. Pre-Show Lottery tickets are limited to one entry per person and two tickets per winner. Seat locations and number of tickets awarded by the Pre-Show Lottery are subject to availability.
To find out more about all lottery and rush policies for Mean Girls, visit: www.MeanGirlsOnBroadway.com/Lottery.
Mean Girls features a book by nine-time Emmy Award winner Tina Fey, based on her screenplay for the film, music by three-time Emmy Award winner Jeff Richmond, and lyrics by Tony Award nominee Nell Benjamin. Tony Award winner Casey Nicholaw directs and choreographs.
The Broadway cast is led by Erika Henningsen as Cady Heron, Taylor Louderman as Regina George, Ashley Park as Gretchen Wieners, Kate Rockwell as Karen Smith, Barrett Wilbert Weed as Janis Sarkisian, Grey Henson as Damian Hubbard, Kerry Butler as Mrs. Heron / Ms. Norbury / Mrs. George, Kyle Selig as Aaron Samuels, Cheech Manohar as Kevin Gnapoor, Rick Younger as Mr. Duvall. The cast also includes Stephanie Lynn Bissonnette, Tee Boyich, Collins Conley, Ben Cook, DeMarius R. Copes, Kevin Csolak, Devon Hadsell, Curtis Holland, Myles McHale, Chris Medlin, Brittany Nicholas, Becca Petersen, Nikhil Saboo, Jonalyn Saxer, Brendon Stimson, Riza Takahashi, Kamille Upshaw, Zurin Villanueva, Gianna Yanelli, and Iain Young.
Cady Heron may have grown up on an African savanna, but nothing prepared her for the wild and vicious ways of her strange new home: suburban Illinois. How will this naïve newbie rise to the top of the popularity pecking order? By taking on The Plastics, a trio of lionized frenemies led by the charming but ruthless Regina George. But when Cady devises a plan to end Regina's reign, she learns the hard way that you can't cross a Queen Bee without getting stung.
Mean Girls' creative team includes Scott Pask (Set Design), Gregg Barnes (Costume Design), Kenneth Posner (Lighting Design), Brian Ronan (Sound Design), Finn Ross & Adam Young (Video Design), Josh Marquette (Hair Design), Milagros Medina-Cerdeira (Make-Up Design), Mary-Mitchell Campbell (Music Director), John Clancy (Orchestrations), Glen Kelly (Dance and Incidental Music Arrangements), Mary-Mitchell Campbell, Jeff Richmond, and Natalie Tenenbaum (Vocal Arrangements), Howard Joines (Music Coordinator), and Telsey + Co / Bethany Knox, CSA (Casting).
The musical is produced by Lorne Michaels, Stuart Thompson, Sonia Friedman, Paramount Pictures, Marisa Sechrest, Ars Nova Entertainment, Berlind Productions, Steve Burke, Scott M. Delman, Roy Furman, Robert Greenblatt, Ruth Hendel, JAM Theatricals, The John Gore Organization, The Lowy Salpeter Company, James L. Nederlander, Christine Schwarzman, and Universal Theatrical Group.
Mean Girls had its world premiere at the National Theatre in Washington D.C., running October 31 to December 3, 2017.
TICKET INFORMATION
Tickets are available through Ticketmaster.com, by calling (877) 250-2929, and in-person at the August Wilson Theatre Box Office (245 West 52nd Street; Monday - Saturday: 10am - 8pm). Book groups of 12 or more by calling 1-800-BROADWAY x2.
PERFORMANCE SCHEDULE
The schedule for preview performances varies from the regular schedule. Visit Ticketmaster.com to see the preview schedule.
From April 10, 2018, the regular performance schedule will be:
Monday - no performance
Tuesday - 7:00 PM
Wednesday - 2:00 PM & 8:00 PM
Thursday - 7:00 PM
Friday - 8:00 PM
Saturday - 2:00 PM & 8:00 PM
Sunday - 3:00 PM
Photo Credit: Joan Marcus