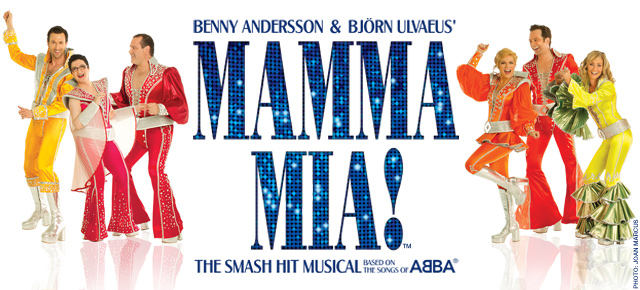 Click Here for More Articles on MAMMA MIA!
MAMMA MIA! is Moving! Show to Transfer to Broadway's Broadhurst Theatre in Late 2013
Creator/Producer Judy Craymer has announced that MAMMA MIA!, the global smash hit musical based on the songs of ABBA, will transfer from the Winter Garden Theatre to the Broadhurst Theatre in late 2013.
"I'm thrilled that we have this opportunity to move MAMMA MIA! to the Broadhurst Theatre in the heart of Times Square," said original creator/producer Judy Craymer.
"This is perfect timing for MAMMA MIA!," Ms. Craymer continued. "As we celebrate 12 years and 5,000 performances in New York, I'm thrilled that The Shubert Organization has created this timely opportunity, which will allow us to present MAMMA MIA! to delight audiences on Broadway for many years to come."
The tenth longest-running show on Broadway, MAMMA MIA! frequently grosses over $1 million a week for more than a decade. MAMMA MIA! has been seen by over 50 million people worldwide and has grossed more than $2 billion at the box office. The most successful movie musical of all time, Mamma Mia! the Movie starring Meryl Streep has a world-wide gross of more than $600 Million.
Philip J. Smith and Robert E. Wankel, Co-CEOs of The Shubert Organization said, "MAMMA MIA! is one of the crown jewels of the musical theatre, and we have so much respect for the way Judy has produced and maintained MAMMA MIA! not only on Broadway, but in tours and other productions around the US and the world. MAMMA MIA! is very important show to us and we expect the production to keep playing at the Broadhurst Theatre for a very long time."
MAMMA MIA! has broken box office records at three theatres in London's West End since opening at the Prince Edward Theatre in London in 1999. The musical moved to the Prince Edward Theatre in 2004, and the Novello in 2012.
The show has premiered in more markets worldwide faster than any other musical in history, opening in over 400 major cities since 1999.
"Touring " hit musicals within the ten block radius of Times Square is a long-standing Broadway tradition. The original productions of 42nd Street and Les Miserables both moved downtown during the course of their runs, as did the longest running American musical of all time, the revival of Chicago. The firstAnnie holds the record of playing the most houses in recent years, going from the Alvin (Neil Simon) Theatre to the ANTA (August Wilson) to the Eugene O'Neill and finally the Uris (Gershwin) during its six year run.
Some of the notable musicals that have played the Broadhurst include the original production of Cabaret (1966), Dancin' (1978), Kiss of the Spiderwoman(1993), the Tony Award-winning Best Musical Fosse (1999) and the revivals of Into the Woods and Les Miserables.
Broadway favorite Judy McLane (Chess, Kiss of the Spider Woman) stars as Donna Sheridan, the independent single mother whose carefree past catches up with her on the eve of her daughter's wedding. Felicia Finley (The Wedding Singer, The Life) and Lauren Cohn (The Drowsy Chaperone tour) star as Tanya and Rosie, respectively, Donna's best friends and former back-up band who reunite on a Greek island for the wedding of Donna's daughter, Sophie. Broadway veterans Aaron Lazar (A Little Night Music, LES MISERABLES), Daniel Cooney (9 to 5, Bonnie & Clyde) and Graham Rowat (Guys and Dolls, The Blue Flower) star as Sam Carmichael, Bill Austin and Harry Bright, respectively - the trio of men from Donna's past who are Sophie's three possible dads.
Christy Altomare and Zak Resnick make their Broadway debuts opposite each other as bride-to-be Sophie Sheridan and her fiancé Sky. Jacob Pinion is Sky's sidekick Pepper with Thomasina E. Gross as Lisa, Traci Victoria as Ali and Albert Guerzon as Eddie. MAMMA MIA! also features Deanna Aguinaga, Sydni Beaudoin, Brent Black, Natalie Bradshaw, Felicity Claire, Allyson Carr, Mark Dancewicz, Stacia Fernandez, Adrienne Jean Fisher,Tony Gonzalez, Bryan Scott Johnson, Corinne Melançon, Paul Heesang Miller, Christopher Hudson Myers, Jennifer Noth, Elena Ricardo, Gerard Salvador, Lauren Sambataro, Victor Wallace and Blake Whyte.
Produced by Judy Craymer, Richard East and Björn Ulvaeus for Littlestar in association with Universal, the creative team responsible for bringingMAMMA MIA! to theatrical life includes some of the most gifted and celebrated talents of musical theatre and opera. With music and lyrics by Benny Andersson and Björn Ulvaeus, MAMMA MIA! is written by Catherine Johnson and directed by Phyllida Lloyd. Mamma Mia! has choreography byAnthony Van Laast, production design by Mark Thompson, lighting design by Howard Harrison, sound design by Andrew Bruce and Bobby Aitken, and musical supervision, additional material and arrangements by Martin Koch.
For tickets, schedule and information about MAMMA MIA!, visit www.mammamianorthamerica.com, or follow the show on Twitter , Facebook or YouTube.
Photo Credit: Joan Marcus