Lewis Black, Arianna Huffington and More Headline Talkback Series for DISCORD at Primary Stages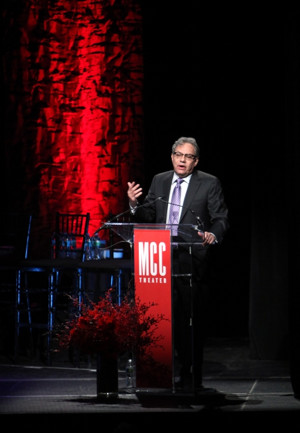 Primary Stages has announced the lineup of guests for talkbacks that will happen after select shows of their first production of the 2017/18 season, The New York Premiere of THE GOSPEL ACCORDING TO Thomas Jefferson, Charles Dickens AND COUNT Leo Tolstoy: DISCORD written by Scott Carter and directed by Kimberly Senior.
Scott Carter (Executive Producer of "Real Time with Bill Maher") will lead the talkbacks with a number of special guests. The lineup is currently as follows, but is subject to change:
- Saturday, September 30 at 2pm - Iconic Performance Artist & Author Karen Finley
- Saturday, October 7 at 2pm - New York Times Columnist & CNBC "Squawk Box" Host Andrew Ross Sorkin
- Saturday, October 7 at 8pm - Ex-New York Times Ethicist & "Person, Place, Thing" Host RAndy Cohen
- Thursday, October 12 at 8pm - Comedian, Author & Playwright Lewis Black
- Friday, October 13 at 8pm - Thrive Global Founder & CEO Arianna Huffington
- Saturday, October 14 at 8pm - New Yorker Contributing Writer & Author Maria Konnikova
- Sunday, October 15 at 3pm - Ex-U.S. Representative Rick Lazio (R-NY)
- Sunday, October 21 at 8pm - Progressive Radio Talk Show Host & Author Thom Hartmann
- Sunday, October 22 at 3pm - "Curb Your Enthusiasm" Star & Comedian Susie Essman
From Scott Carter, THE GOSPEL ACCORDING TO Thomas Jefferson, Charles Dickens AND COUNT Leo Tolstoy: DISCORD finds three of history's most famous men, all of whom wrote their own version of the gospels, debating everything from religion to literature to marriage in this "hugely entertaining, rapid-fire" (Chicago Sun-Times) new play. Thomas Jefferson (author of the Declaration of Independence), Charles Dickens (the man who brought us A Christmas Carol and Oliver Twist) and Count Leo Tolstoy (the epic Russian novelist of War & Peace fame) are trapped in a limbo where each believes their path to salvation depends on convincing the other two that they are wrong. Kimberly Senior, the acclaimed director of Disgraced and Chris Gethard's Career Suicide, will helm this profound and exciting battle of truly biblical proportions.
The cast of DISCORD, which begins performances at the Cherry Lane Theatre (38 Commerce St, New York, NY, 10014) on September 19, 2017, will feature Duane Boutté (Parade, The Bubbly Black Girl Sheds Her Chameleon Skin) as "Charles Dickens," Michael Laurence (Appropriate, Talk Radio) as "Thomas Jefferson," and Thom Sesma (Pacific Overtures, Man of La Mancha) as "Leo Tolstoy." Opening night is set for Sunday, October 1, for a limited run through October 22, 2017.
The production features set design by Wilson Chin (Cost of Living); costume design by David Hyman (D Deb Debbie Deborah); lighting design by Jen Schriever (Eclipsed); sound design by Lindsay Jones (Bronx Bombers); projection design by Caite Hevner (In Transit); casting by Stephanie Klapper Casting.
The performance schedule for DISCORD from September 19 through September 30 is as follows: Tuesday-Friday at 8pm; Saturday at 2pm & 8pm; Sunday at 3pm. Exceptions: There will be no 8pm performance on Saturday, September 30.
The performance schedule for DISCORD from October 3- October 22 is as follows: Wednesday-Saturday at 8pm; Sunday at 3pm. Exceptions: There will be additional performances on Saturday, October 7 at 2pm & Wednesday, October 18 at 2pm. There will be no performance on Sunday, October 8.
Single tickets for DISCORD are priced at $70 with additional premium seating options offered. All tickets are available at PrimaryStages.org or by calling OvationTix at 212-352-3101. Group tickets are available for $45 per ticket ($35 for student groups) by contacting 212-840-9705. Subscriptions for the Primary Stages 2017/18 Season are on sale now for $180 and include tickets to all four mainstage productions. All subscription packages can also be purchased by visiting PrimaryStages.org or by calling OvationTix at 212-352-3101.
Primary Stages' 2017/18 season will continue with The New York premiere of PRIDE AND PREJUDICE, adapted by Kate Hamill (Vanity Fair) and co-produced by Hudson Valley Shakespeare Festival. Directed by Amanda Dehnert (Trinity Repertory Company), PRIDE AND PREJUDICE will run November 7 through December 15, 2017. In 2018, the season will continue with the world premiere of A WALK WITH MR. HEIFETZ, written by James Inverne (Wrestling with Elephants). Directed by Benjamin Kamine (Washer/Dryer), A WALK WITH MR. HEIFETZ is set to run January-February 2018. The season will conclude with FEEDING THE DRAGON, written and performed by Sharon Washington(While I Yet Live) and directed by Maria Mileaf (A Body of Water). Presented in a co-production with Hartford Stage, FEEDING THE DRAGON will run March-April 2018.
Primary Stages is an Off-Broadway not-for-profit theater company dedicated to inspiring, supporting, and sharing the art of playwriting. We operate on the strongly held belief that the future of American theater relies on nurturing playwrights and giving them the artistic support needed to create new work. Since our founding in 1984, we have produced more than 130 new plays, including In Transit by James-Allen-Ford, Kristen Anderson-Lopez, Russ Kaplan, and Sara Wordsworth (on Broadway last season); Horton Foote's The Roads to Home, The Day Emily Married, Harrison, TX, and Dividing the Estate (two Tony nominations); Donald Margulies' The Model Apartment (1995 premiere and 2013 revival); David Ives' Lives of the Saints and All in the Timing (original 1993 production and 2013 revival); Billy Porter's While I Yet Live; Deborah Zoe Laufer's Informed Consent; Charles Busch's The Tribute Artist and Olive and the Bitter Herbs; Ike Holter's Exit Strategy; Tanya Saracho's Fade; Michael McKeever's Daniel's Husband, A.R. Gurney's Black Tie; Theresa Rebeck's Poor Behavior; Tanya Barfield's The Call, Terrence McNally's Dedication or the Stuff of Dreams and The Stendhal Syndrome; Dan O'Brien's The Body of an American; Danai Gurira and Nikkole Salter's In the Continuum (which went on to tour the U.S., Africa, and Scotland); and Conor McPherson's St. Nicholas (which marked the playwright's U.S. debut). Our productions and artists have received critical acclaim, including Tony, Obie, Lortel, AUDELCO, Outer Critics' Circle, Drama League, and Drama Desk awards and nominations. Primary Stages supports playwrights and develops new works through commissions, workshops, readings, and our education and training programs: The Dorothy Strelsin New American Writers Group, the Marvin and Anne Einhorn School of Performing Arts (ESPA), the Fordham/Primary Stages MFA in Playwriting, and the newly launched Primary Stages Off-Broadway Oral History Project. Through these programs, Primary Stages advocates for our artists, helping them make important-and often transformative- connections within the theater community.
Related Articles
More Hot Stories For You