Legendary Actress and Singer Doris Day Dies at Age 97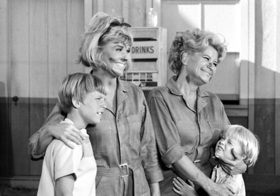 Legendary actress and singer Doris Day has died at age 97, according to AP. Her death was confirmed by her foundation, The Doris Day Animal Foundation.
The foundation said that she died early Monday at her home in Carmel Valley, CA. Day had been in "excellent physical health for her age" until she recently got pneumonia.
Read more on AP.
Doris Day was one of the most prolific actresses of the 1950's and 1960's. Some of her most notable works included the title role in Calamity Jane (1953), Alfred Hitchcock's The Man Who Knew Too Much (1956), Pillow Talk (1959), Move Over, Darling (1963), and many more. After her final film in 1968, she went on to star in the CBS sitcom The Doris Day Show (1968-1973).
In the beginning of her career, she was primarily known for starring in musical comedies such as On Moonlight Bay, By the Light of the Silvery Moon, and Tea For Two, in addition to Calamity Jane. Her most commercially successful film for Warner Brothers was I'll See You in My Dreams (1951), a musical biography of lyricist Gus Kahn.
The albums from six of Day's movie musicals charted in the Top 10, three of them at No. 1.
Returning to her musical comedy roots, Day appeared in 1957's The Pajama Game with John Raitt, based on the Broadway show of the same name.