Click Here for More Articles on NEW YORK CITY
LTR House Party to Stage Reading of Tanya Everett's T(WO) TRAIN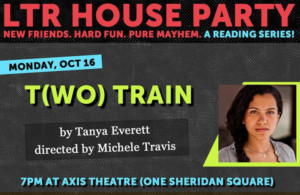 Less Than Rent Theatre continues LTR HOUSE PARTY, a new reading series presenting bold, innovative works by emerging playwrights, with a staged reading of Tanya Everett's T(wo) Train: to be in transit(ion) at Axis Theatre in the West Village.
The reading stars Spencer Aste (Dead End), FrEddie Bennett (STC's A Midsummer Night's Dream), Jennifer Fouché (B-Boy Blues), Michaela Morton (Unknown Soldier), and RJ Vaillancourt (Pussy Sludge, LTR company member), directed by Michele Travis.
Tanya Everett hails from Mass, bred in Brooklyn, to pursue her career as an actor and writer. Her plays have been performed in Off and Off-off Broadway venues: including The Cherry Lane, HERE Arts Center, TheaterLab, The Kraine, Cherry Pit. She is a proud member of the 2017 Wright Club, a professional writing residency run by the famed Amoralists. She is also a NY Madness playwright and actor. Her play Pr$de was recently performed as part of the 7th Season of the Fire This Time Festival and received positive write-ups in the Village Voice and Broadway Black. Her play, We Were Not Meant To Survive, was read as part of the I Am Soul Series at the National Black Theatre in Spring 2017. Other plays include: Doesn't Matter How You Say It, Got A Light, Lady of the Lake, Lobstah Pot, Virgin Christmas. She has written one screenplay and is working on a second.
T(wo) Train: to be in transit(ion) is about how our tunnel vision around identity, race, gender and class shatter when the private becomes public. Trapped in a stalled subway car, strangers' assumptions about each other are challenged--and they are all forced to reckon with our violent shared history.
Curated by Less Than Rent Associate Artistic Director Patrick K. Dooley and Literary Manager S.P. Monahan, LTR HOUSE PARTY offers playwrights a two-week long "mini-residency," in which they have the opportunity to workshop a dynamic new work with a director and full cast, culminating in a staged reading.
Since 2010, LTR has produced twelve full-length plays, as well as numerous readings and workshops. Their work has been seen at HERE Arts Center, La Mama, 59E59, Walkerspace, Theatre Row, Horse Trade Theater Group, The Wild Project, The Brick, Theater for the New City, Dixon Place, and The Gene Frankel. In addition to multiple FringeNYC and United Solo awards and NYIT nominations, they were named Indie Theater Now's "People of the Year" in 2013.
LTR House Party's staged reading of T(wo) Train: to be in transit(ion) will be performed on Monday, October 16, at 7pm at Axis Theatre (1 Sheridan Square). Admission is free.