Kate Baldwin, Alysha Umphress & More Feature On New Album ALL THE POSSIBILITIES: BROADWAY SINGS WARTOFSKY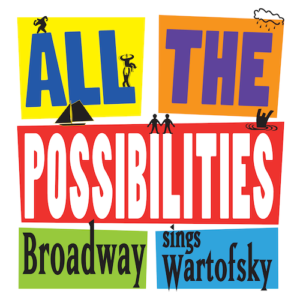 With lead vocals by a dozen Broadway stars, Yellow Sound Label has announced the release of the debut album of eleven original songs by award-winning songwriter and Berklee College of Music Professor Michael Wartofsky, in digital, streaming and physical formats, today, Friday, January 4. "All the Possibilities: Broadway Sings Wartofsky" features interpretations by some of the Broadway community's most breathtaking artists, including in alphabetical order: Farah Alvin (It Shoulda Been You), Kate Baldwin (Hello, Dolly!), Darius de Haas (Shuffle Along), Annie Golden (Violet), Aisha Jackson (Frozen), Marcus Paul James (In the Heights), Michael Roberts McKee (Mamma Mia), Daniel Quadrino (Newsies), Shayna Steele (Hairspray), Katie Thompson (Giant), Allie Trimm (13), and Alysha Umphress (On The Town). The album is available on iTunes HERE and the physical CD may be ordered from www.yellowsoundlabel.com.
The project is notable as a dynamic collaboration between the Berklee and Broadway communities. Produced by Sean Patrick Flahaven (President, Concord Theatricals, and a producer on the original cast recording of Hamilton) and with music direction by veteran Broadway conductor and Berklee faculty member Eric Stern (Shrek, Parade, Xanadu), the album features new arrangements by Wartofsky, his Berklee colleague Jeri Sykes, and several recent alums. The Broadway artists learned the songs from demo vocals recorded by Wartofsky's students in the Berklee Theater Arts Collaborative. The album's wealth of instrumental ensembles feature faculty, alumni and current student musicians, recorded on campus by faculty engineer Chad Blinman. In New York, Berklee alumni, pianist Mike Moise (Hamilton) and drummer Elena Bonomo (Waitress tour), joined Broadway bassist Randy Landau and guitarist John Benthal to back up Annie Golden and Farah Alvin at Avatar Studios, which is coincidentally now Berklee's PowerStation. The rest of the album's vocals were recorded at Yellow Sound Lab in New York by Matthias Winter, who also mixed the entire album.
"Michael's memorable tunes, fresh harmonies and infectious grooves made the whole experience buoyant and joyful," recalls Mr. Stern. Dean Pitchford, lyricist of Footloose and Fame, calls the album "a joy. A dazzling array of artists deliver these sometimes witty, sometimes touching, always engaging songs in a crisply produced and wonderfully sung compilation." Bookwriter/composer/lyricist Kirsten Childs, whose Yellow Sound Label original cast recording of Bella: An American Tale is in the works, praises the "haunting elegance" of Wartofsky's album, calling him "a storyteller with a bold, imaginative voice." Fellow theater composer and Yellow Sound Label recording artist Lynne Shankel admires Wartofsky's "sophisticated harmonic sense" and "spirited and driving" melodies.
"My goal was for this album to pulsate with humanity," explains Wartofsky. "Sonically, the tracks are unified as much by rhythmic guitar as much as by the piano. In addition to the percussion, strings and horns, I hope this gives the album a contemporary songwriter vibe." Wartofsky chose to title his album after one of his most-performed works, but also to represent the diverse "songs of secret longings, devious schemes, and hope in the face of loss." Wartofsky studied and later taught at the NYU/Tisch Graduate Musical Theater Writing Program, where he met Mr. Flahaven. Wartofsky is the composer/lyricist of The Man In My Head (NY Musical Theater Festival, 2006) and the composer of Cupcake (Club Cafe, Boston 2012).
In 1998, he launched his first Musical Theater Writing class at Berklee, and established an undergraduate minor in Musical Theater Writing in 2015 alongside Mr. Stern and Ms. Sykes, who lead theatre training programs in Musical Direction and Orchestration, respectively. Wartofsky won a Distinguished Faculty Award in 2018, and over a half-dozen of Wartofsky's recent graduates have been admitted to the prestigious MFA program at NYU.
Michael Wartofsky is a Professor of Songwriting at Berklee College of Music, where he established an undergraduate minor in Musical Theater Writing in 2015 and won a Distinguished Faculty Award in 2018. He composed the musicals Car Talk: The Musical!!! and Cupcake, both produced in Boston in 2012, and wrote music/lyrics for The Man in My Head starring Darius de Haas at New York Musical Theatre Festival (NYMF) 2006. Along with David Reiffel, he was a finalist in the 2014 Davenport Musical Theater Songwriting Contest, and his song "Without Your Love" was recorded by John Michael Dias for his 2014 release Write This Way. In 2013, Michael's songs were featured in the revue Never Far From Home at Central Square Theater with script by Broadway playwright Lydia Diamond; and in The Concert hosted by Seth Rudetsky at Second Stage in NYC. The Broadway Boys have performed "All the Possibilities," named one of the "top 25 songs" of 2012 by ContemporaryMusicalTheatre.com. Adjunct faculty and alumnus, NYU Graduate Musical Theatre Writing Program; Founder, NOMTI (New Opera & Musical Theater Initiative); member, The Dramatist Guild. Winner, Frederick Loewe Foundation First Look Award 2009. www.michaelwartofsky.com