Jacklyn Thrapp Presents PARK FOR YOUR PROBLEMS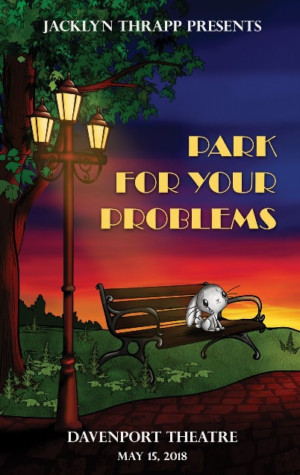 JACKLYN THRAPP LLC presents Park for Your Problems on May 15, 2018. It's a new social experiment where New Yorker's secrets get shared to an audience full of strangers. The secrets coming from writers across the Tri-State region and beyond.
Do you want to know what people really think? Join us as we explore the thoughts of a CFO, drug dealer, the former lover of a guy who dated a famous person, single mom of 11 kids and more.
"As a writer, I've always had a series of monologues waiting to be used so I figured a bunch of other writers have them too," lead producer Jacklyn Thrapp said. "I want to give people a platform to speak their truth. There's nothing more therapeutic than writing how you really feel and hearing someone say it on a stage."
Park for Your Problems starts at 8:00 p.m. at the Davenport Theatre (354 W 45th St, New York, NY 10036). Tickets and information can be found at JacklynThrapp.com. Tickets are available on the day of performance at the door.
MORE ABOUT JACKLYN THRAPP LLC
Jacklyn Thrapp LLC is a new theatrical Production Company in New York City. It's splashing into the NYC market with the Off-Broadway event Park for Your Problems and is currently developing Good Morning New York: A New Musical. More information can be found at JacklynThrapp.com
Related Articles

More Hot Stories For You
VIDEO: HAMILTON Fan Creates a Side-By-Side Comparison of 'Helpless' and 'Satisfied'
One Hamilton fan saw some parallels while watching the musical on Disney+, specifically between A Winter's Ball/Helpless and Satisfied....

Ben Vereen's Son, Ben Vereen Jr., Has Died
BroadwayWorld is saddened to hear of the passing of Benjamin Vereen Jr., the son of Tony-winning actor Ben Vereen....

Disney Employee Pulls the Curtain Back on What it is Like to Work at Disney World During the Pandemic
Rolling Stone has reported on a conversation they had with one Disney World employee, pulling the curtain back on issues of safety, whether social dis...

Photo Flash: Berkshire Theatre Group's GODSPELL Takes Bows as First Equity-Approved Musical
The first musical in the United States to be approved by Actors' Equity Association has officially begun performances. Berkshire Theatre Group's Godsp...

Debra Messing and Eric McCormack Will Moderate an Online Discussion and Fundraiser For Joe Biden
Debra Messing and Eric McCormack will moderate an upcoming online discussion and fundraiser for Joe Biden....

Jason Robert Brown, Carolee Carmello, Chita Rivera & More Pay Tribute to Brent Carver
As BroadwayWorld reported yesterday, Tony Award winning actor Brent Carver has passed away at age 68. This evening, Carver's Broadway colleagues took ...