Hip To Hip Theatre Co Presents HENRY IV, Part 2 Staged Reading This Weekend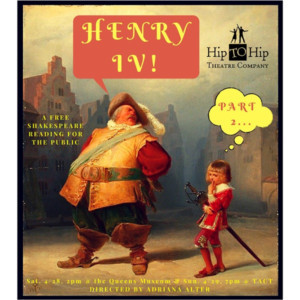 Kicking off the season will be Hip to Hip's first indoor offering: a free staged reading of Shakespeare's Henry IV, Part 2, finishing what Hip to Hip started with last season's triumphant production of Henry IV, Part 1. Shakespeare's action-packed and hilarious cavalcade of noble warriors, scheming rebels, and brawling tavern scoundrels, led by the iconic Sir John Falstaff, will be staged on April 28th at 2 pm at The Queens Museum; and April 29th at 7 pm at The Actors Company Theatre (TACT).
Henry IV, Part 2 is directed by Adriana Alter who has worked on numerous productions with Hip to Hip including The Merry Wives of Windsor, Julius Caesar, and Measure for Measure. The reading features an accomplished cast including Daren Kelly (Broadway; Deathtrap, Woman of the Year, Crazy for You, and South Pacific), and Evangelia Kingsley (Broadway; Coram Boy and The Light in the Piazza).
More info can be found at www.hiptohip.org
Henry IV, Part 2 Staged Reading
Henry IV, Part 2
The king lies dying, haunted by guilt and still yearning to atone by going on pilgrimage to Jerusalem. Meanwhile, in the taverns of Eastcheap, the irrepressible reveler Falstaff schemes to use his influence over Prince Hal, the heir to the throne, to sell government offices. As a fresh wave of rebellion sweeps the kingdom, Hal must turn his back on his wild friends and get ready to assume the crown.
Saturday, April 28th at 2:00 pm
The Queens Museum, New York City Building, Flushing Meadows Corona Park, Queens, NY 11368
Sunday, April 29th at 7:00 pm
The Actors Company Theatre (TACT), 900 Broadway (Between 19th & 20th), New York, NY 10003
The company is led by Natalia Cuevas (Notre Dame Shakespeare Festival) who returns to play Prince Hal. The cast also includes Chaunice Chapman, Daren Kelly, Evangelia Kingsley, Kurt Kingsley, Sam Leichter, Jason Marr, Joy Marr, Sabrina Marr, Elisabeth S. Rodgers, Owen Thompson, and William Oliver Watkins