He's Here...Peter Joback Returns to THE PHANTOM OF THE OPERA Today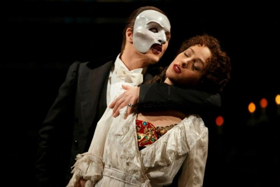 Today, January 16, marks the beginning of Peter Jöback's return engagement with The Phantom of the Opera on Broadway. He will play a limited run through March 31. Jöback will be playing the title role when the show reaches its 30th anniversary on January 26. As previously announced, the anniversary will be celebrated two days prior on January 24.
Jöback's return to Broadway follows his most recent performance in the sold out Stockholm production of Phantom. One of Sweden's most prolific and respected artists, Mr. Jöback has earned rave reviews and ignited the box office for his performance as 'The Phantom' in London (2012), New York (2013, becoming the first European to play the role on Broadway since the original cast) and two sold out engagements in his native Stockholm (2016).
Mr. Jöback has also appeared in the West End for producer Cameron Mackintosh, playing 'Chris' in the original production of Miss Saigon, and creating the role of 'Michael' in The Witches of Eastwick. Peter has been awarded two Swedish Tony Awards, for creating the role of 'Robert' in Bjorn Ulvaeus' and Benny Andersson's original musical Kristina and for playing the 'Emcee' in Cabaret. He also starred in a sold out Stockholm production of Sweeny Todd in 2013. His albums have sold over 1 million copies, including the best-selling Swedish albums of 2006 and 2008 and Sweden's best-selling Christmas album of all time, and have been nominated for three Swedish Grammy Awards. Among his countless tours and concert appearances, his record-breaking concert series I Love Musicals (featuring music from his album of the same name) has sold out arena tours in Scandinavia, Finland and Japan. Two of Peter's TV specials have been nominated for the Silver Rose at the Rose d'Or Global Entertainment Television Festival in Montreux, including the mini-series "With the heart at stake." Visit www.peterjoback.com for more information.
Jöback succeeds acclaimed 'Phantom' James Barbour, who has played the role since February 2015. As previously announced, his final performance in the title role will be Saturday, December 23. During the three weeks between Mr. Barbour and Mr. Jöback (December 25 - January 13), the role of 'The Phantom' will be played by principal cast member Laird Mackintosh, who plays the role of 'Monsieur André.' A successor to Mr. Jöback will be announced in the coming weeks.
Mr. Jöback will join previously-announced 30th Anniversary principal cast members Ali Ewoldt as 'Christine,' Rodney Ingram as 'Raoul,' Laird Mackintosh as 'Monsieur André,' Craig Bennett as 'Monsieur Firmin,' Raquel Suarez Groen as 'Carlotta,' Carlton Moe as 'Piangi,' Maree Johnson as 'Madame Giry' and Kara Klein as 'Meg Giry.' At certain performances, Kayley Ann Voorhees plays the role of 'Christine.'
Based on the classic novel Le Fantôme de L'Opéra by Gaston Leroux, The Phantom of the Opera tells the story of a masked figure who lurks beneath the catacombs of the Paris Opera House, exercising a reign of terror over all who inhabit it. He falls madly in love with an innocent young soprano, Christine, and devotes himself to creating a new star by nurturing her extraordinary talents and by employing all of the devious methods at his command.
THE PHANTOM OF THE OPERA is produced by Cameron Mackintosh and The Really Useful Group, has music by Andrew Lloyd Webber and is directed by Harold Prince. Lyrics are by Charles Hart (with additional lyrics by Richard Stilgoe) and the book is by Richard Stilgoe and Andrew Lloyd Webber. The Phantom of the Opera has production design by the late Maria Björnson, lighting by Andrew Bridge and sound design by Mick Potter with original sound by Martin Levan. Musical staging and choreography is by Gillian Lynne. Orchestrations are by David Cullen and Andrew Lloyd Webber.
Since its debut on January 26, 1988, the Broadway production of The Phantom of the Opera has played an unprecedented 30 Years and grossed over $1.1 billion with total attendance of 18 million. Entering its fourth decade, it remains a box office champ and continues to play with no end in sight.
PHANTOM OF THE OPERA became the longest-running show in Broadway history on January 9, 2006 with its 7,486th performance, surpassing the previous record-holder Cats, also by Andrew Lloyd Webber and also produced by Cameron Mackintosh. Incredibly, since breaking that record, PHANTOM has played both an additional 12 years and nearly 5,000 performances - which by itself would be a smash hit run for a Broadway musical.
Photo Credit: Joan Marcus