Hal Linden Will Be Honored with Arena Stage's 2017 American Artist Award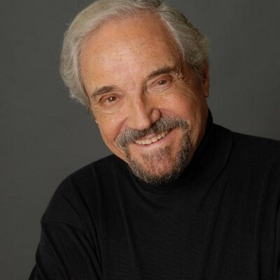 Arena Stage at the Mead Center for American Theater will present the American Artist Award to Tony and Emmy Award-winning actor Hal Linden who is currently performing in Arthur Miller's The Price in Arena Stage's Kogod Cradle. The award will be presented Wednesday, November 8, 2017 as part of the opening night celebration for the musical comedy The Pajama Game, directed by Alan Paul.
Beginning at 6:00 p.m., the evening will include a cocktail reception in the Bank of America Lower Lobby, seated dinner in the Molly Smith Study, 8:00 p.m. opening night performance of The Pajama Game in the Fichandler Stage and post-show dessert reception in the Grand Lobby. The seated dinner will feature the presentation of the American Artist Award to Linden.
Hal Linden is an actor, singer and musician whose career has spanned over 65 years on stage, TV, film and a cabaret-style variety show which tours nationally, Hal Linden in Concert. He is perhaps best known for his portrayal of police precinct captain Barney Miller in the hit TV series Barney Miller, which earned him seven Emmy Award nominations and three Golden Globe nominations. Film credits include Bells Are Ringing; When You Comin' Back; Red Ryder?; Starflight One; Out To Sea; A New Life; and Time Changer. Linden has performed in over 20 Broadway and Off-Broadway productions, including the revival of The Pajama Game, the revival of Cole Porter's Anything Goes and The Rothschilds, for which he won a Tony Award for Best Actor in a Musical. He currently serves as spokesman for the Jewish National Fund.
"Arena's mission is focused on American artists and presenting the American Artist Award each season is a joy," shares Molly Smith. "Hal Linden is a delight. He is talented, engaging, humble. He's a consummate artist and a real team player. It has a been a pleasure to have him on Arena's stage with The Price and I cannot think of a better person to receive the American Artist Award this season. While he has earned fame in all media, theater is his first love and we are so pleased to highlight his accomplishments with this award."
The American Artist Award recognizes artists of the highest caliber, honoring their work and significant contributions to American theater. Past awardees include Moisés Kaufman, Sheldon Harnick, Kathleen Turner, Leslie Uggams, Edward Albee, James Earl Jones, Robert "Bob" Alexander, August Wilson and Arena Stage co-founder Zelda Fichandler.
"It's an honor just being involved with Arena Stage this season," says Linden. "Art is man's way of reminding himself he's not perfect and we all need art. It's an honor to be recognized for my work and my art, and to receive this award."
Winner of the 1955 Tony Award for Best Musical and based on the novel 7½ Cents by Richard Bissell, The Pajama Game follows Sid Sorokin and Babe Williams in a battle of the sexes romance that soars with seductive dance numbers like "Steam Heat" and "Hernando's Hideaway." The Pajama Game features Tim Rogan (Beauty and the Beast national tour) as Sid, Britney Coleman (Broadway's Sunset Boulevard) as Babe, Edward Gero (Arena's The Originalist) as Hasler, Tony Award winner Donna McKechnie (Broadway's A Chorus Line) as Mabel, Nancy Anderson (Broadway's Sunset Boulevard) as Gladys, Eddie Korbich (Broadway's The Little Mermaid) as Hines, Blakely Slaybaugh (Shrek The Musical national tour) as Prez, Elliot Dash (Shakespeare Theatre Company's Kiss Me, Kate) as Pop and Gabi Stapula (The Muny's Newsies) as Mae. With direction by Alan Paul and featuring musical direction by James Cunningham, choreography by Parker Esse and dance music arrangement by Michael Dansicker, The Pajama Game runs October 27-December 24, 2017.
For sponsorship opportunities (tables begin at $5,000 for a half-table), contact Maria Corso at 202-600-4025 or email mcorso@arenastage.org. Table sponsorships benefit Arena Stage's artistic and educational programs.
Arena Stage at the Mead Center for American Theater, under the leadership of Artistic Director Molly Smith and Executive Director Edgar Dobie, is a national center dedicated to American voices and artists. Arena Stage produces plays of all that is passionate, profound, deep and dangerous in the American spirit, and presents diverse and ground-breaking work from some of the best artists around the country. Arena Stage is committed to commissioning and developing new plays and impacts the lives of over 10,000 students annually through its work in community engagement. Now in its seventh decade, Arena Stage serves a diverse annual audience of more than 300,000. Visit arenastage.org.