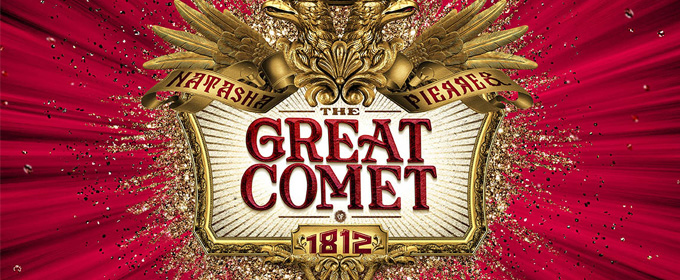 Click Here for More Articles on NATASHA, PIERRE AND THE GREAT COMET OF 1812
'GREAT COMET' to Trail Across Broadway Into Winter 2018; New Block of Tickets Released!
NATASHA, PIERRE & THE GREAT COMET OF 1812, nominated for 12 Tony Awards including Best Musical, announced today that a new block of tickets is now on sale through January 8, 2018.
Created by three-time Tony Award nominee Dave Malloy (Ghost Quartet, Preludes) and directed by Tony Award nominee Rachel Chavkin (Hadestown, Artistic Director of The TEAM), THE GREAT COMET began previews on October 18 at Broadway's Imperial Theatre (249 West 45th Street), and officially opened Monday, November 14, 2016.
Led by Tony Award nominee for Best Actor in a Musical Josh Groban as 'Pierre,' and Tony Award nominee for Best Actress in a Musical Denée Benton as 'Natasha,' the cast of THE GREAT COMET includes Brittain Ashford as 'Sonya,' Gelsey Bell as 'Mary,' Nicholas Belton as 'Andrey/Bolkonsky,' Nick Choksi as 'Dolokhov,' Amber Gray as 'Hélène,' Grace McLean as 'Marya D,' Paul Pinto as 'Balaga,' Scott Stangland as 'Pierre' (standby), and Tony Award nominee for Best Featured Actor in a Musical Lucas Steele as 'Anatole.' The ensemble includes Sumayya Ali, Courtney Bassett, Josh Canfield, Kennedy Caughell, Ken Clark, Erica Dorfler, Lulu Fall, Ashley Pérez Flanagan, Nick Gaswirth, Alex Gibson, Billy Joe Kiessling, Mary Spencer Knapp, Blaine Alden Krauss, Reed Luplau, Brandt Martinez, Andrew Mayer, Mary Page Nance, Shoba Narayan, Azudi Onyejekwe, Pearl Rhein, Celia Mei Rubin, Heath Saunders, Ani Taj, Katrina Yaukey, and Lauren Zakrin.
Creator Dave Malloy recently made his Broadway performing debut in the show, stepping into the role of 'Pierre' after originating the role in the show's initial off-Broadway runs atArs Nova and Kazino. Malloy will perform the role of 'Pierre' once again at the following performances: Tuesday, June 13 at 7pm; Tuesday, June 20 at 7pm; and Tuesday, June 27 at 7pm.
Groban, who is making his Broadway debut with the show, will play 'Pierre' through July 2, 2017. Okieriete "Oak" Onaodowan, best known for originating the roles of Hercules Mulligan and James Madison in Hamilton, will join the cast as 'Pierre' beginning July 3, 2017.
THE GREAT COMET features choreography by Tony Award nominee Sam Pinkleton, set design by Tony Award nominee Mimi Lien, costume design by 2017 Tony Award nominee and 2012 Tony Award winner Paloma Young, lighting design by Tony Award nominee Bradley King, sound design by Nicholas Pope, music supervision by Sonny Paladino, musical direction by Or Matias, casting by Stewart/Whitley, and production stage management by Karyn Meek.
THE GREAT COMET is a theatrical experience like no other. Malloy's inspired adaptation of a 70-page slice of War and Peace puts audiences just inches away from Tolstoy's brash young lovers, as they light up Moscow in an epic tale of romance and passion.
Natasha is young, Anatole is hot, and Andrey isn't here... but what about Pierre? Natasha is a beautiful ingénue visiting Moscow while she waits for her beloved fiancé Andrey to return from the war. In a moment of indiscretion, she is seduced by the dashing (but already married) Anatole and her position in society is ruined. Her only hope lies with Pierre (Groban), the lonely outsider whose love and compassion for Natasha may be the key to her redemption... and to the renewal of his own soul.
THE GREAT COMET was originally commissioned and developed at Ars Nova in NYC where it had its world premiere in the fall of 2012, and was soon-after transferred to a custom-built venue in the Meatpacking District for the summer of 2013. The show became a sensation and the entire venue was transferred to the Theater District where it continued its run into the spring of 2014. In December 2015, the show played a limited engagement at the American Repertory Theater in Cambridge where its innovative design was expanded to bring the show's signature staging to a traditional proscenium-style theatre.