Click Here for More Articles on INDEPTH INTERVIEWS
Exclusive InDepth InterView: Constantine Maroulis Talks THE TOXIC AVENGER, ROCK OF AGES Film, AMERICAN IDOL & More
On Friday, I had the enviable privilege of talking to ROCK OF AGES Tony Award nominee and AMERICAN IDOL star Constantine Maroulis all about the new musical he is starring in at the Alley Theater in Houston as it eyes Broadway, THE TOXIC AVENGER. In addition to discussing all aspects of the science fiction-themed musical spoof and its creators, David Bryan and Joe DiPietro - of MEMPHIS fame - Maroulis and I also take a look back at his career onstage thus far and his essaying of roles in RENT, JESUS CHRIST SUPERSTAR, THE WEDDING SINGER, Jacques Brel IS ALIVE AND WELL AND LIVING IN PARIS and ROCK OF AGES, as well as what we can expect from him in the future, near and far. Additionally, he shares his reflections on appearing on AMERICAN IDOL Season 4 and being mentored by fellow InDepth InterView participant Simon Cowell, as well as the immense impact that that entertainment entity, along with GLEE, has had on a whole new generation of theatregoers in the 21st century. Plus, Constantine clues us in to the exciting expansions that have been made to ROCK OF AGES for the forthcoming feature film version that he makes an appearance in, directed by HAIRSPRAY's Adam Shankman, and also shares his experiences recording the ASTEP benefit album NEW YORK CITY CHRISTMAS, his new role as a dad, future theatrical producing aspirations and much, much more!
Further information and tickets to THE TOXIC AVENGER in Houston, TX can be found here.
Don't Stop Believing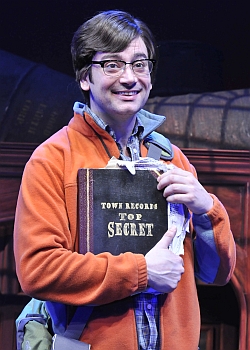 PC: You are one of the most popular stars on BroadwayWorld so this is a special moment for all your fans on the site.
CM: Oh, really? I didn't know that! You know, sometimes, I think that I might be a polarizing type of guy - people really like what I do or they aren't quite sold yet. Maybe I need a few more Tony nominations to get people into what I do. [Laughs.]
PC: It couldn't hurt!
CM: [Laughs.] I try not to focus on that stuff too much, though, because, you know, after being on a show like AMERICAN IDOL, you build up some really broad shoulders as far as the fandom and what people say about you goes.
PC: How so?
CM: You just kind of - you don't really think about it. I think, more, you just have to focus on your work and do your job… [Laughs.]… and, hopefully, all the rest of that stuff works out.
PC: Eye on the prize.
CM: Yeah, but, I have been pretty blessed with the fans and with the positive stuff, so I can't really focus too much on the talk - but, I hope it's mostly good stuff that people are saying!
PC: It definitely is. So, from Broadway to the road to Houston, Texas?
CM: Yes. Houston, Texas. We are in the midst of a very intense tech with THE TOXIC AVENGER. It's the biggest show I've ever done as far as tech and production goes - I've never experienced anything like this.
PC: How exciting.
CM: We've made huge changes to the show and the design and my costume - different songs and a lot of book changes, too. It's a totally different design as far as set, lighting and sound - so, it's a brand new show. Basically, there is nothing that similar to the other shows that you may have seen of THE TOXIC AVENGER.
PC: It's had a few iterations at this point. So, you would say that tech is going pretty smoothly, then - all in all?
CM: Yeah, I am getting used to it - I'll admit it's a little bumpy as far as the technical stuff goes, though. Because, you know, as an actor, you work in the rehearsal process with the director and you are creating and you are building, and, then, you have to stop and jump into the theater and there is all this start and stop sort of action. So, you know, you are implementing costumes and designs - all of the elements - and you feel like you haven't done certain things for, like, many, many days, and it is all starting to come back to you; and, now, you are doing it with fifty pounds of armor on!
PC: Wow - that's a lot.
CM: Yeah, it's constantly changing, so, it is an interesting part of the process for an actor - if I'm being totally honest, this part is always a little frustrating.
PC: The show is finding its voice.
CM: Yeah, I think we have a beautiful show. It's got so much heart. The songs are amazing. My cast is unbelievable - I am just in awe of them every day; all the work they do. It's amazing to be back with, of course,
Mitch Jarvis
- from ROCK OF AGES.
PC: Of course.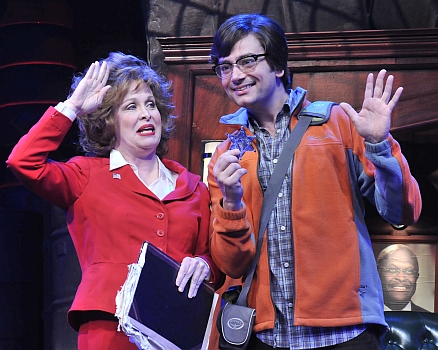 CM: He's now the face of Keystone Beer in all those internet videos and everything, you know! And, then,
Nancy Opel
- just a tremendous talent. Her voice, her spirit, all the character work she does - she's just a first-class woman and I am glad to be out there with her.
PC: And Mara Davi is new to the show.
CM: Yes, a couple of newer faces -
Mara Davi
has been in lots of stuff, but I think this is the first chance she has had to get to really show her leading lady chops.
PC: Her voice is unbelievable.
CM: Her voice is unbelievable. Her charm is even more so. [Pause.] You know, she's just dazzling! It's great. And, she plays a blind librarian, so it's not an easy challenge for her to be, of course, believable as a blind person onstage - but, from day one, she has been tremendous with that. And, Antoine [Smith] is so great - we pulled him from MEMPHIS, where he is incredibly valuable because he plays so many parts in the show. You know, he could play Montego's brother in the show - you know, [Sings.] "She's my sister!"
PC: Precisely.
CM: But, he could also play one of the kids. He's very hard to replace in MEMPHIS because he plays so many different tracks - from old to young. So, we are very happy to have him and for him to get the chance to be featured like this is just huge. So, it's just the five of us - it's crazy.
PC: Was Diana DeGarmo ever planned to be a part of this production as far as you know? She was so great Off-Broadway.
CM: Diana, I believe, was a replacement in the Off-Broadway production and this is a totally new production.
PC: Starting from scratch.
CM: Yeah, you know, they did great work there and they built a great fan-base. They ran for 10 months.
PC: Around 300 performances.
CM: Yeah. We've completely changed the show, though. I never got to see it Off-Broadway, but I think the true fans of THE TOXIC AVENGER will be happy with all of the changes. The spirit of the show and the plot and most of the book is still there, but we changed a lot of things as well. But, Diana is amazing and I love her - this is just a totally new thing. The
Alley Theatre
is the best in the country and they have been amazing hosts and partners on this project and we are all very excited about it.
PC: What is your opinion of the score as rock music? Does it fit in with TOMMY and ROCKY HORROR and HEDWIG and the great rock musical scores?
CM: Absolutely. Absolutely. It definitely fits right up there. It's very different - it's got its own charm. You know
David Bryan
, of course, from Bon Jovi - he wrote MEMPHIS with Joe [DiPietro] and they wrote this and he wrote hundreds of songs before - they go about the songs for the show like writing rock or pop songs for radio. They are set up like that - bridge, chorus, and then we take them home - and, you know, a lot of musical theatre stuff is in a longer format as far as composition goes. But, this is pretty much all songs, songs, songs.
PC: Very music-heavy.
CM: Yeah - it's really exciting. And, the Alley is an amazing theater - they are the number one regional theater. They have an amazing crew and an amazing facility. I love being in Houston. Even though we are technically not on tour, we are out on the road just working it out. We open a week from tonight officially and we will be doing a bunch of previews before then.
PC: Are you looking forward to doing it for audiences?
CM: Oh, yeah - every big show needs a preview period. We only get so few of them with this, so we need them and we need the audience there now to help us bring it all together.
PC: How do you see your character and the themes of the show itself?
CM: It's a very challenging part for me. I play this nerdy scientist who is an aspiring earth scientist. He is an environmentalist and he wants to do what he can to help with the pollution problem in his city and the toxic waste from this evil mayor who has sort of set upon our beautiful city of Tromaville. So, he starts making problems for the mayor and she has him taken care of, basically. With that, we discover the Toxic Avenger character - who comes out of the barrels of toxic waste after being thrown in there by some goons. He is out for vengeance. But, there is a lot of love in the show, too - there's a wonderful love story between Mara's character and I.
PC: The first press shots are quite remarkable - what is the process for you like getting into the huge, fifty pound Toxic Avenger costume? Do you do some of it at intermission, perhaps?
CM: [Laughs.] Well, not to reveal too much, but we've gotten it down to under two minutes - the change. It happens, basically, onstage - I get thrown into this vat of toxic goo and two minutes later I pop out of the barrel in full Toxic Avenger mode. [Pause.] What else can I say about it than it is a challenge to work from outside in like that - with a skin like that on you. I want to be able to do all the things I worked on in rehearsal and apply them onstage with all of the technical aspects - and that part is challenging. But, that's what previews are for and that's what Houston is for - to have this out of town experience to really learn what the show is and where we can maybe even better some of the elements, as well. We have such an amazing team -
John Rando
and
Kelly Devine
are just incredible. They are guiding us every step and we all trust them so much. They are going to help us get there - that's probably the best part.
PC: What about the physical demands of the Toxic Avenger role? Are you training in any special ways?
CM: Yeah, I have been doing my daily workouts and stretches. I think people are going to be definitely surprised at the physicality of the character - especially where we first meet my first character in the show, Melvin. Toxic is Melvin underneath it all, we learn - except that when he is out for blood, he is a beast. You know, he's a beast from the deepest parts of the toxic waste dump - he's bloodthirsty. But, underneath that is this beautiful soul-ed nerd who is hopelessly in love with this blind librarian who is just everything to him. She is his light. But, yeah, there are definitely so many physical aspects to the show that I am doing my best to keep myself in shape.
PC: Are there choreographic demands to meet, as well? I'd assume the music comes easier to you than the dance elements.
CM: Right. I mean, I studied dance and, of course, acting, in school, long before I was on AMERICAN IDOL and all of that stuff, but, you know, I am not a dancer. I don't think there was any choreography in the show before this current line-up and creative team. Kelly, of course, killed it with ROCK OF AGES and she is also working on ROCKY. We're really happy to have her and she has really given us a show. Mitch and Antoine are great dancers - and Nancy and Mara - they all do the big dancing stuff, to be honest. [Laughs.] I sort of stay out of a lot of the big dancing stuff, but Kelly has just added so much to the show, which is really nice.
PC: It's particularly nice to see you are so relaxed in the midst of final tech and everything else going on right now. Sometimes I talk to people at this stage of the game and you can smell the tension.
CM: Well, I'm just being honest with you, Pat! Sure, there are definitely some challenges ahead of us in the next week or so, before we officially open for an, essentially, New York audience. You know, everyone is coming to see the show. Sure, there are high expectations, but we just want to put on the best show possible for this Houston audience - because they deserve it. They are very smart audiences and this is a wonderful arts town. This theater is amazing and they do first-class work. They don't usually do a lot of musicals, they do a lot of classic plays and stuff like that.
PC: From TOXIC AVENGER to X FACTOR - Simon Cowell has done this column and I found that he is truly a great guy. What was your experience like working with him on AMERICAN IDOL, on and off camera?
CM: Yes. Yes. As you know, he is incredibly kind and nice and very charming and I definitely consider him a friend - no question. My experience on the show was just the most rewarding thing I've ever been a part of. You know, to, basically, come out of the Boston Conservatory, I booked the national tour of RENT...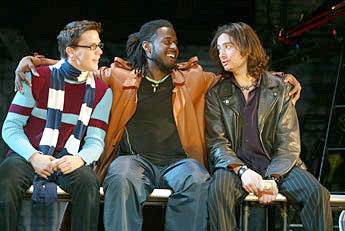 PC: You were fantastic in that tour, by the way. I saw you in it.
CM: Aww, well, thank you! That was so long ago - my God. It was like eleven years ago now - 2002. We're getting old, man! [Laughs.]
PC: Do you look back on that non-Equity tour being a formative experience for you - a stepping stone to bigger things?
CM: It was an absolutely huge experience for me. I didn't know much about the business at the time - "the first non-equity tour?" I didn't even know what that meant at the time, really! So, the opportunity to get to tour around in a bus with an ensemble doing an amazing show with an amazing cast…
PC: It was a blast?
CM: Yeah! I learned so much. And, I had my band on the road with me and we were doing club dates and bar shows after RENT at night. That just kind of thrust me into the AMERICAN IDOL thing. I mean, I went home from the RENT tour and needed a job, then I auditioned for IDOL and I was meeting
Simon Cowell
minutes later - it was amazing. So, it all happened very fast for me, but the experience was unbelievable. I consider Simon a great friend. Sure, sometimes I look back and I think, "Gosh, I wish I could have a chance to do that song again," or, "If they could hear how I sing these days, then who knows?" But, then, I wouldn't be where I am right now - which is where I always wanted to be. Ever since I was a little kid and I was watching, you know, WEST SIDE STORY and GUYS & DOLLS and JESUS CHRIST SUPERSTAR - all the videos of movie musicals; that's all I wanted to do. I wanted to be in a rock band, always, but I also wanted to be a Broadway star. And I've gotten the opportunity to not only be a part of great shows, but to create great parts in shows that are on Broadway and are going to Broadway and will down the road. I'm just in the place where I want to be - I'm pretty happy.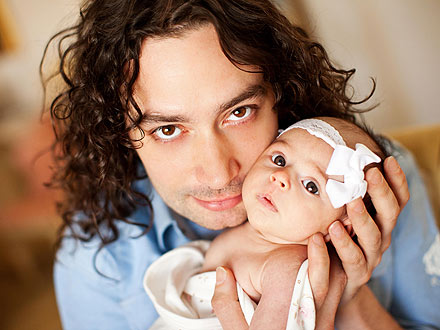 PC: And you are a new dad, as well. Congratulations!
CM: Yes, I have a baby now, and, yeah, she is definitely the light of my life. [Pause.] So, yeah, now - it's all for her, really.
PC: I truly believe your recording of the duet mash-up of "I'll Be Home For Christmas" and "Christmas In America" on Lynne Shankel's NEW YORK CITY CHRISTMAS with Orfeh is one of the finest Christmas recordings ever. It's absolutely sublime. We just featured the album this holiday season on the site as a must-own - because it is.
CM: Aww, wow - thanks, man! You know what's so funny? I don't know if you know this, but that was originally supposed to be
Lauren Pritchard
and not Orfeh.
PC: No way!
CM: Yeah, Lauren was getting her album together in the UK, but then she got in a car accident - she was fine, but she was pretty banged up. So, Orfeh stepped in. We had to, like, change the whole thing - it was all done very last minute. But, sometimes, that gives it a sense of… [Pause.]
PC: Urgency.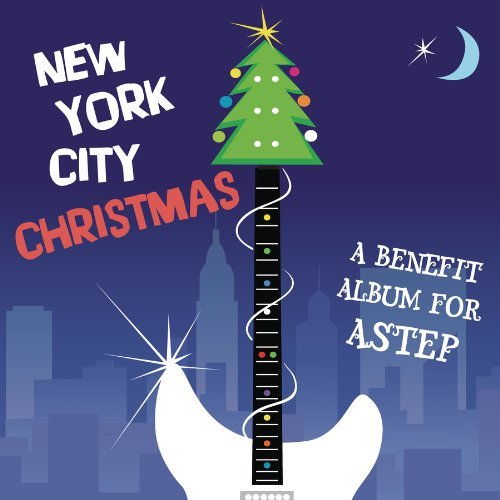 CM: Yeah, I mean, I remember being very sick that day - I was in the middle of ROCK OF AGES and awards season, too. It wasn't even during the Winter - but, you never record Christmas songs when it's Christmastime, you are always doing them in the Spring so the record can be ready and all that stuff by Christmas. So, it all just kind of came together and they told me Orfeh was going to be doing it and I was like, "OK. Great! Let's do it."
PC: It's such a terrific album. Have you heard it?
CM: You know, to be honest, I have a hard time listening to anything I've ever done or watch things that I am a part of, so I think I only listened to it once and I was like, "OK. Now I've heard it so that's all I need to hear." [Laughs.]
PC: It's right up there with the David Bowie/Bing Crosby duet, in my opinion.
The best.
CM: That's the best. That's so nice of you to say, man. Thanks. I really appreciate that.
PC: Tell me about working on Jacques Brel IS A LIVE AND WELL AND LIVING IN PARIS Off-Broadway.
CM: Well,
John Rando
had cast me in WEDDING SINGER and put me into it, so I had just had my first Broadway experience.
Gordon Greenberg
, who is a great friend of mine who gave me my first job - JESUS CHRIST SUPERSTAR with
Billy Porte
r and
Emily Skinner
in Nyack with
Drew Sarich
and everybody; it was insane. It was like the ultimate production of SUPERSTAR ever.
PC: What a cast!
CM: Exactly. I was in the ensemble and I think I had like one line.
PC: What was it?
CM: I think it was, [Sings.] "See my eyes I can hardly see."
PC: You've played Jesus and Judas in the show since, correct?
CM: Yes. I've done Jesus and Judas. It's my favorite show. I am so happy to see it coming back to Broadway with a new cast.
PC: What do you think of the proposed reality TV casting competition for the role of Jesus in a new arena tour?
CM: Right - the arena tour thing. I don't know how much of a market there is for that in the States, but I wish them all the best.
Andrew i
s amazing and, obviously, it is the most amazing show. I just love it.
Josh Young
and I did regional theater together, you know.
PC: The actor playing Judas in the upcoming Broadway production - what a big talent! Did you have any memories of working with him?
CM: Oh, yeah! We have plenty of memories. We did CHORUS LINE together and TITANIC together. That summer I did HEDWIG AND THE ANGRY INCH and he got to see that. A bunch of us were all, like, living together at the time - it was insane. He's always been incredibly talented, so to see him have a chance to be on Broadway and sing a great part like Judas - I'm excited he's going to be doing some rock n roll. You know, he's got that really pretty voice, so I'm excited that he's going to be doing some real rock n roll, too - and, on Broadway.
PC: Would you ever consider a role in the Broadway production at some point should a replacement spot open up?
CM: Hey, as an actor, I love to sort of entertain all kinds of interesting possibilities. You know, I know Des [the director] and those guys and they are very excited about that cast and they have been getting all the buzz they deserve. I hope they have a huge opening and I hope it lives on for a very long time. I do think that it is one of the most important Broadway shows that exists and I don't think that it has ever really had the definitive Broadway production that could really show what a great show it is.
PC: I completely agree - on both counts.
CM: You know, we know the music and we know the movie and I look forward to this revival doing very well. But, you know, right now, all my focus is on TOXIC AVENGER.
PC: Was WEDDING SINGER the first time you worked with John Rando?
CM: Yeah, I first met
John Rando
on THE WEDDING SINGER. As I was telling you before,
Gordon Greenberg
gave me the job in
Jacques Brel
coming off WEDDING SINGER. That was an amazing experience, too - to work with
Bob Cuccioli
and all these great people and get back to the downtown theatre thing again. It had that starving artist feel to it and it was great to perform all those amazing songs. It's really great stuff and that show taught me a lot as an actor.
PC: What is it like going from singing Bon Jovi songs in ROCK OF AGES to working with the songwriter from the actual band itself now on TOXIC AVENGER?
CM: It's very surreal! We first met many years ago, when I was first doing AMERICAN IDOL. They did productions of ROCK OF AGES in LA and Vegas and then they were going to come to New York and I jumped on board when they finally secured a theater Off-Broadway.
PC: What was that development process like for ROCK OF AGES?
CM: I'll tell you - we built that sucker up in that room in three weeks, man! We all contributed so much and we had such a great creative team. You know, it was so surreal to be basically playing myself, in a way - the young version of me as an aspiring songwriter growing up and loving those artists and everything. When I was a kid, it was all about the WEST SIDE STORY movie and being in Bon Jovi to me. [Laughs.] Those are my two big things I wanted to do, as a kid.
PC: Those Bon Jovi songs are so theatrical and epic - many in the power ballad mode, of course.
CM: Absolutely. So, getting to meet Jon [Bon Jovi] and getting to work with David - who has become one of my best friends - is just a true pleasure. But, I think people are going to be surprised with TOXIC AVENGER - David, of course, comes from one of the biggest rock bands of all time, but his writing style is very diverse. He writes great mid-century-influenced rock n roll, but he has all kinds of other influences in there. It has a great sense of humor, of course, too - it's a very funny show. You know, not a lot of the other big rock shows have a lot of sense of humor, let's say... [Laughs.]
PC: You can say that again!
CM: It's hard to write rock musicals with laughs - it's hard to do that. So, David and Joe are just a great team and I am so excited to be working with them.
PC: Is it true you just filmed a cameo for the feature film version of ROCK OF AGES?
CM: Yes, I did - the ROCK OF AGES movie. That was great.
Adam Shankman
called me and wanted me to be a part of the movie, so I flew down there for a few days and it was just epic. Epic. To be a part of that and do a scene with
Paul Giamatti
was just great. So, I'm excited about that. The movie is going to be a big deal, of course, and I think I had a little something to do with that from the very beginning. You know, we all did our part onstage and, now, three years later,
Tom Cruise
and every other big Hollywood star is in the movie version - that's crazy!
PC: And in such a short turnaround time, too! Have you seen a rough cut of it yet?
CM: Yeah, I've seen a lot of the movie. I saw a lot of the movie when I was down there - they were pretty much done with it. So, I basically saw all of the production numbers and they look totally amazing. I am really excited for them. I will be on the soundtrack, too, as well.
PC: What are you performing on the soundtrack and in the film? Any hints?
CM: Well, let's just say I sing one of the most famous runs in rock n roll history - originally sung by Steve Perry. So, that's all I will tell you. [Laughs.]
PC: Not a bit of his "Don't Stop Believing", like you did on Broadway - is it?
CM: [Laughs.] I am not saying anything more than that! It is one of the most famous runs in rock history and Steve Perry originally sang it. It's one of those runs that, you know, everyone tries to sing it - whether it is karaoke or whether it's whatever it is - and it was really fun to be able to do in the movie. And, no, I don't get to do it in the onstage version of ROCK OF AGES, either, so that was fun.
PC: I've heard there are a number of new songs - 4 or 5?
CM: Oh, yeah - the movie is going to be very different in many ways. There are some new characters, as well. And, I think that's all great. When you compare the stage and screen versions of shows - even WEST SIDE STORY; there are a lot of different things in the movie that are not in the stage and vice versa. I mean, in the movie they sing "Cool" after Riff is dead and that is gigantically different than in the show.
PC: Especially juxtaposed to "Gee, Officer Krupke" in the same slot as in the show!
CM: [Laughs.] I know! It's crazy, isn't it?
PC: Have you seen the new Blu-ray yet? Sondheim's commentary is so fascinating.
CM: Oh, it is? He did one? I have to check that out now.
PC: Speaking of contemporary music styles, what do you think of the use of rap in musical theatre - as Sondheim famously first did in INTO THE WOODS? Lin-Manuel Miranda's IN THE HEIGHTS is perhaps the finest example of it done well recently, I would say.
CM: Yeah, Lin has BRING IT ON! which is coming through Houston while we are here, too.
PC: Indeed. What do you think of his work?
CM: I am a huge fan of his. I was lucky enough to have Lin announce my name as one of the Tony nominees during my year for Best Actor. So, that was really cool and I will always remember that. And we've become buds since then. But, look - I am from Brooklyn, New York, and I grew up in New Jersey: hip-hop was a huge part of my youth and my life. I am very into hip-hop and into rap - when it's done well. It's got to be done well - and Lin knows exactly what's up with that. There are still a lot of artists out there who do hip-hop and rap really well. And, I think there can be a place for it in musical theatre - sure. As a matter of fact, there was a rap at one point in TOXIC AVENGER - but, it's since been changed into a more Dixie Chicks-type moment; which is even better for what we are doing. But, yeah, hip-hop and rap definitely have a place on Broadway - going back to the 90s and BRING IN DA NOISE and even RENT has some rap in it.
PC: Benny's part in "Happy New Year", for instance.
CM: Yeah, yeah, yeah - Benny's stuff, and, also, that [Sings/Raps.] "Red. Hot. Heat. Fire…"
PC: "Contact".
CM: Yeah! Yeah, there are some elements of rap in there, too.
PC: Speaking of BRING IT ON!, what do you think of Tom Kitt's work - specifically NEXT TO NORMAL? Would you perhaps be interested in doing that show at some point in the future?
CM: Oh, to play Bobby's part, you mean? The dad?
PC: Exactly.
CM: Sure. And, I think Tom is incredible. We've become close ever since I did all the AMERICAN IDIOT workshops early on. So, I got to see him and the band sort of put that whole thing together. I decided not to be a part of the Berkeley run of AMERICAN IDIOT because I was in ROCK OF AGES at the time, so to leave ROCK OF AGES right after the Tonys to go to Berkeley? You know, I wish I was two people. I would have loved to have sent Constantine #2 to Berkeley to do that. [Laughs.]
PC: If only if were possible, right?
CM: To sort of live with the cast and to work on something from the ground-up with the band in the band's hometown? Who knows! It might have even been a little bit different as an end result if I stayed with it.
PC: You played the Tony Vincent role in the workshops, yes?
CM: Yes. Yes.
PC: Staying with ROCK OF AGES seems to have been the best decision for you in the end, anyway.
CM: Yeah, I remember I kind of wanted to stay where I was - I kind of had a little mini-franchise in the making there. But, I love
Michael Mayer
's work and I'd love to get to work with him someday.
PC: Have you seen the pilot he directed for SMASH yet? I think it's superb.
CM: Yes. I've seen the pilot and I think it's awesome, too. I have a lot of friends who are involved in it - Wes Taylor and
Savannah Wise
and Kat McPhee. She really is a very, very special girl. She actually went to the Boston Conservatory, too - for a little while at least. So, I know her and I am very excited for her to be doing this. Megan [Hilty] is just awesome and such a sweetheart, as well.
PC: It keeps getting even better as it goes on, too.
CM: Oh, wow, really? I can just see where it is going! I have heard a little about 5, 10 episodes down the road and the possibilities are just endless. It's just great for the community of Broadway. Hopefully, there will be the right part on the show for me maybe someday down the road, too. I'm excited for everyone who is involved in the beginning of it, though.
PC: It seems we are in a particularly theatrically attuned age thanks to IDOL and GLEE and Broadway shows like ROCK OF AGES - do you agree? There is a big audience for musicals.
CM: Absolutely. Absolutely. You know, look - script and score musical theatre has been around forever and, I mean, Hollywood was pretty much only making movie musicals at one point. It's all coming back around again now. Everything is sort of cyclical and Broadway is as big as it's ever been. It's doing billions in business a year now - with so many big stars. A show like GLEE is a great show - I don't tune in every week, but I know Lea [Michele] from over the years and I think what they are doing is great. Anything to get kids involved in the arts in a positive way is a great thing. I'm just happy to be working and excited about the other projects I have lined up down the road.
PC: I've heard THE TOXIC AVENGER is already seeking theaters in New York, is that true?
CM: Well, it's hard for me to talk about all of that because it puts expectations on everybody else that they don't necessarily need right now. We're at this beautiful theater and we're under the direction of a great director and we just want to put on a great show for the Houston audiences. I think if we all just focus right now on this one show then we will be in a great place. After that, the possibilities are endless.
PC: A few in New York will be empty soon enough that could accomodate the show, no doubt!
CM: [Laughs.] Right. Hey, I think THE TOXIC AVENGER definitely has a place on Broadway at some point. Whether it is with me or with someone else, who knows? We'll see. But, I think Joe and John and David and Kelly have done an amazing job with the show and I think audiences should even come to Houston to see the show if they can. I feel very strongly about it. With Broadway, it's got its own sort of thing going on and there are always lots of politics and things involved. Again - we just need to make the best show possible here in Houston and then everything else will play itself out in a very positive way.
PC: Since John Rando directed DANCE OF THE VAMPIRES and you are known for your performances of the great power ballads - what do you think of Jim Steinman's music?
CM: Dude, of course I am a huge, humongous fan of his! I'd love to work with him or write with him someday. You know, Meat Loaf has become a buddy of mine and he is a big fan of ROCK OF AGES. I know Meat and he were talking about the stage adaptation of BAT OUT OF HELL and I think someone's lawyer called me at some point about it, so who knows? Maybe that is a possibility down the road. But, of course, those are amazing, amazing songs. And, I think I could make songs like that relevant again right now, too - you know, new versions of those songs or those kinds of songs. There really isn't that sort of dramatic rock singer in popular music right now - it could definitely be kind of fun. So, maybe that will be in the cards for us someday.
PC: Two of your co-stars for a short film you did have done this column, as well: Scott Cohen and Callie Thorne, for MEET MY BOYFRIEND!!! - which is a really fun movie. Callie just received a Golden Globe nomination for NECESSARY ROUGHNESS.
CM: Oh, that was a lot of fun to be a part of! Honestly, I only had like one little line in it, but we had the best time. It was just such a fun day. Callie has become a friend and I saw her when I was in Atlanta when I was in ROCK OF AGES - I just randomly ran into her in my hotel lobby. I was like "What the f*ck?!" Callie and I get along really well. I believe she is Armenian, which is very close to Greek - her name is really Calliope, which is like Carol in Greek. I've got to e-mail her and congratulate her on the Golden Globe now that you told me that.
PC: From RENT to IDOL to AGES to TOXIC AVENGER - your time has come, Constantine!
CM: Thanks, man! I'm working on it! I'm really excited about this project and the ones coming up and I also want to get into producing, too. There's a lot to look forward to, but, hey - thank you so much for this today.
PC: I really appreciate it. All my best to you and the TOXIC AVENGER cast!
CM: Definitely. This was awesome. Thanks, Pat. Bye.