Duncan Macmillan's PEOPLE, PLACES & THINGS, Enda Walsh's BALLYTURK Headline 2017-18 Season at St. Ann's Warehouse; Lineup Announced!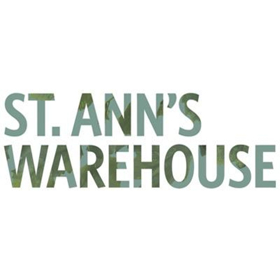 St. Ann's Warehouse launches into its ambitious international 2017-18 Season, the third in its waterfront theater in Brooklyn Bridge Park, with highlights that exemplify the institution's role as a home for major new works from singular international companies and American avant-garde masters.
With productions whose ideas span politics to notions of the afterlife and utopia, to the fractures and desires of the addicted mind to the soundscape of a public park, St. Ann's Warehouse once again demonstrates its unique place on the City's cultural landscape as a flexible platform for wide-ranging performance and perspective.
2017-18 at St. Ann's Warehouse begins October 19 with the American Premiere of Duncan Macmillan's People, Places & Things, one of last season's must-see shows in London's West End following a successful run at the National Theatre. Denise Gough, fresh off her celebrated performance as Harper in Marianne Elliot's recent production of Angels in America, reprises her role as Emma, a young actress and addict, seeking to locate herself between the overwhelming addictions that will surely kill her and the ambiguous recovery modalities she finds hard to embrace. Gough and director Jeremy Herrin meticulously portray the dilemmas of a personality at once defiantly individualistic and willfully self-deluding when confronted with who she is or what her options are. Emma is simply too smart for her own good.
Both in the West End and at the National, People, Places & Things garnered tremendous praise. Gough scored both the Olivier Award and the Critics' Circle Award for Best Actress for her crushingly astute turn as Emma. The Times applauded her "career-making performance," and the Evening Standard raved,"Denise Gough gives the greatest stage performance since Mark Rylance in Jerusalem...a remarkable, truthful performance-awe-inspiring and utterly convincing." Susan Feldman, Artist Director of St. Ann's Warehouse, said, "I feel for Denise Gough's character, as she rails and flails boldly against the odds. Many of us have known incendiary people like Emma, who burn both inside and out. We are pleased to open our doors to this intense new collaboration with the National Theatre."
Following the acclaimed, haunted Arlington in the 2016-17 St. Ann's season-which was his sixth American Premiere at St. Ann's Warehouse-renowned Irish writer/director Enda Walsh returns to the theater with Ballyturk (January 9-28, 2018), perhaps his most ambitious work to date. Like People, Places & Things, Ballyturk has a wild, kinetic energy. In this tragicomic, slapstick-yet-meditative play, manic, repetitive, day-to-day ritualizing, set to 80's pop music, keeps sane two inhabitants of Walsh's trademark claustrophobic "womb without a view." On this particular day in the imaginary village called Ballyturk, a stranger shows up, "as if Beckett's Godot had unexpectedly materialized" (The Guardian).
Schaubühne Berlin's production of Returning to Reims-an adaptation of French author Didier Eribon's memoir of the same name, directed by Berlin auteur Thomas Ostermeier-comes to St. Ann's Warehouse for its American Premiere February 4-25, 2018. In the American Premiere of this critically lauded production, an actress played by "the magnetic" Homeland star Nina Hoss (The Guardian) and her director are working on the narration for Returning to Reims, a documentary adaptation of Didier Eribon's memoir about his homecoming after coming out as a gay man and years of estrangement. Through the text, they confront Eribon's painful discovery upon his arrival: the traditionally left-wing parties and the liberal middle-class with which he now identifies are perpetuating the marginalization of the working-class to which he once belonged, sending the workers running into the arms of the right-wing National Front. In a four-star review, The Guardian called the production "adventurously staged," "compellingly acted" and "a poignant political drama about change and the left's disregard of the working class." The Stage praised Hoss for "an understated and remarkable performance." Returning to Reims is a co-production with the Manchester International Festival MIF, Manchester HOME, and Téatre de la Ville, Paris.
St. Ann's 2017 will continue to engage in today's global politics (through subjects highly relevant to contemporary America) with The Fall, from South Africa's Baxter Theatre Centre at the University of Cape Town. The company's last visit to St. Ann's brought Yael Farber's cutting Apartheid-era adaptation of Mies Julie which received vast acclaim, both for its electric performances and its historically specific re-activation of Strindberg's play. The Fall, a hit at this year's Edinburgh Festival Fringe, and currently on its way to London's Royal Court, was devised collaboratively by a cast of seven actors who recount their experiences as student leaders of the #RhodesMustFall protest movement, which called for the teardown of a colonialist monument on their University of Cape Town campus. Marshaling the power of protest songs and dance, The Fall unpacks discrimination in all forms, exposing the impact of inflammatory iconography, crushing student debt and tuition fees, shedding light on similar debates here in America. The Stagecalls the show "a truly ensemble production which has both teeth and heart, and one which stands for student revolt around the world and down the ages."
Later in the season, St. Ann's Warehouse, in collaboration with the Onassis Cultural Centre Athens, will present a play both ancient and timely. The Birds, Nikos Karathanos' outrageous take on Aristophanes' 414 BC comedy, is about the attempted and controversial collaboration between men and birds to build a utopia in the sky. The "fowl-play" here represents the human desire to seek the impossible-to fly, to create a new world. Coming from a severely stricken Greece to a desperately splintered America, the longing to rebuild a flawed society should certainly feel urgent and familiar to U.S. audiences. The work makes its American Premiere May 2-13, 2018.
St. Ann's Puppet Lab will celebrate its 19th year in existence with its annual Labapalooza! festival (June 26-July 1), where artists perform the array of works of puppet and object theater the Lab has nurtured over the course of the year, under the direction of Matt Acheson and KrisSy Smith.
Complementing St. Ann's theatrical offerings, the renowned singer/songwriter Rufus Wainwright will give two exclusive New York performances of his Northern Stars, in which he interprets the music of fellow Canadian icons including Leonard Cohen, Joni Mitchell, Neil Young and others. (April 19 & 20).
Throughout the season, audiences can also experience Geoff Sobelle's site-specific sonic art project Here Their There Here: A Sound Walk Through Brooklyn Bridge Park, an homage to everyday observation.For the app-based project, made with award-winning sound designer Gareth Fry (Black Watch, The Encounter)and app designer Jesse Garrison, Sobelle and his team interviewed and recorded hundreds of voices in random locations throughout the Park. In Here Their There Here, you can enjoy the typically unremembered quality of these passing observations as you walk past the exact spots where they were recorded, affixing the typically deracinated medium of recorded sound to its locational origins. HTTH is to be experienced in the ever-changing present, whenever you wish to take a stroll with your headphones on. You will have the sense of being among other Park visitors and sensing their thoughts as you wander and meander along.
Tickets for the 2017-18 season are on sale today at www.stannswarehouse.org, 718.254.8779 and 866.811.4111. St. Ann's Warehouse is located at 45 Water Street in DUMBO, Brooklyn.
---
ST. ANN'S WAREHOUSE 2017-18 SEASON HIGHLIGHTS:
St. Ann's Warehouse presents
The National Theatre/Headlong Production of
People, Places & Things
American Premiere
October 19-November 19
Tickets start at $35
St. Ann's Warehouse is proud to join forces with the National Theatre and Headlongfor the first time to present the American Premiere of Duncan Macmillan's People, Places & Things, directed byJeremy Herrin, which was a must-see in London's West End. Denise Gough will reprise her Olivier Award-winning, "awe-inspiring and utterly convincing" (The Evening Standard) role as an actress whose life has spun recklessly out of control due to her addiction to alcohol and drugs. The play follows her character, Emma, through the many steps of rehab, as she becomes vehemently disdainful of the cookie-cutter format of the process; but is she using that disdain as a mere means to avoid self-reflection? The National Theatre, Headlong and St. Ann's Warehouse present the production in association with Bryan Singer Productions.
Duncan Macmillan, the British playwright whose work recently reached-and disturbed-Broadway audiences via his stage adaptation of George Orwell's 1984, says he "wanted to write about the process of recovery" because it "tends to be underrepresented in discussions of addiction." Though his character may struggle finding anything positive to say about the institutional methodology of her rehab process, Macmillan himself had a more measured approach. He explains, "It's also a subject which is fraught with controversy and debate. The more I looked into it the more I struggled with some of the central aspects of the support structures offered for addicts. I found the whole area irreconcilably contradictory, morally, intellectually and emotionally."
He balanced these realizations with the notion that "there's a huge responsibility which comes with dealing with something that effects so many people. Everybody is connected to addiction in some way, whether it's themselves, a neighbour, a sibling, a partner. There's a moment, as a writer, when you embark on a project and suddenly realise the weight of responsibility to deal with the issue accurately, respectfully and without sentiment."
Through Herrin's staging choices, the whole environment of the production matches the emotional polarities Emma experiences: the rush of a high, the devastating nightmare of a low, all informed by research Herrin and Macmillan conducted, as well as input from therapists who visited rehearsals.
Casting is now complete for the American Premiere of the production, in which several of the actors reprise their roles. Joining Gough will be Jacob James Beswick (T/Ensemble), Alistair Cope (Foster), Jacqui Dubois (Jodi/Ensemble), Charlotte Gascoyne (Charlotte/Ensemble), Kevin McMonagle (Paul/Dad), Nathaniel Martello-White (Mark), Barbara Marten (Doctor/Therapist/Mum), Himesh Patel (Shaun/Ensemble) and Laura Woodward (Laura/Ensemble).
People, Places & Things at St. Ann's Warehouse is made possible with the support of Andrew J. Martin-Weber, Jon and Noralee Sedmak, Areté Foundation / Betsy & Ed Cohen and Leila Maw Straus MBE.
St. Ann's Warehouse presents
Landmark Productions / Galway International Arts Festival production of
Ballyturk
Written and directed by Enda Walsh
American Premiere
January 9-28, 2018
Presented in association with the Abbey Theatre
Tickets start at $35
The lives of two men unravel quickly, in a strangely context-less chamber, over the course of 90 minutes. Who are they? What room is this, and what might be beyond the walls? Ballyturk scratches beneath the surface of small town rural Ireland with moments of jaw dropping physical comedy and devastating heartbreak.
The Landmark Productions and Galway International Arts Festival production of Ballyturk, written and directed by Enda Walsh, premiered at the Festival to huge acclaim in 2014. It made its UK premiere at the National Theatre in London, where it was included in The Guardian's Top 10 Theatre Shows of the Year. The show received multiple award nominations, and garnered both Best Sound Design and Best Production at the Irish Times Irish Theatre Awards in 2015.
This new production of Ballyturk is a Landmark Productions and Galway International Arts Festival co-production in association with the Abbey Theatre, and stars Olwen Fouéré, Mikel Murfi and Tadhg Murphy. It played at the Abbey Theatre, Dublin, in March 2017, as part of the inaugural season by the new Directors of the Abbey, Graham McLaren and Neil Murray.
Reuniting the creative team that was responsible for Walsh's hits Misterman and Arlington, the production is directed by Walsh, with sets and costumes designed by Jamie Vartan and lighting by Adam Silverman. Sound is designed by Helen Atkinson, with original music composed by Teho Teardo, who was responsible for the haunting score to Arlington.
Walsh told The Irish Times, "I want to hold people. I don't want to bamboozle them. I want to kinetically move them. After years of making work, the ambition is still to keep theatre alive, dangerous, unknowable and dreadfully f**king exciting for an audience." Gut-wrenchingly funny and achingly sad, Ballyturk is an ambitious, profound and tender work from one of Ireland's leading playwrights.
St. Ann's Warehouse presents
Schaubühne Berlin production of
Returning to Reims
Based on the memoir by Didier Eribon
Directed by Thomas Ostermeier
Featuring Nina Hoss
American Premiere
February 4-25, 2018
A sound studio. An actress is recording a voiceover and at the mixing desk, a director is giving her instructions. Above, a film is running. They're working on the text for Returning to Reims, a documentary adaptation of Didier Eribon's memoir about his homecoming after coming out as a gay man and years of estrangement. Through the text, they confront Eribon's painful discovery upon his arrival: the traditionally left-wing parties and liberal middle-class, with which he now identifies, are perpetuating the marginalization of the working-class to which he once belonged, and workers are running into the arms of the right-wing National Front.
They argue. How can things have come to this, and what are the solutions? As populism marches around the globe, does political activism still have a role to play? Starring Homeland's Nina Hoss in a "magnetic" performance (The Guardian), director Thomas Ostermeier's production from Didier's diary becomes a key work in understanding what's gripping contemporary society. As The Guardian glowed in their review, the play "extends the boundaries of political theatre by turning the stage into a source of living debate."
Co-production with the Manchester International Festival MIF, HOME Manchester and Théâtre de la Ville Paris. Funded by Lotto Stiftung Berlin.
St. Ann's Warehouse presents
Baxter Theatre Centre's production of
The Fall
Devised by the Ensemble
Facilitated by Clare Stopford
American Premiere
March 8-25, 2018
On April 9, 2015, following months of dramatic student protest, the bronze statue of colonialist Cecil Rhodes was removed from the University of Cape Town. To document their experience from inside the movements that led to the statue's dismantling, seven drama students devised The Fall. Getting to the heart of how race, class, gender, power and history's voices intersect as colonialist and patriarchal icons are taKen Down across the world, The Fall comes to America with echoes of our own struggles with iconographic symbols, racism and inequalities. The Fall arrives with five-star reviews and two top awards from the Edinburgh Festival Fringe added to its accolades from its run at the Baxter Theatre Centre. Preceding its engagement at St. Ann's, The Fall opens at London's Royal Court at the end of September.
St. Ann's Warehouse presents
Rufus Wainwright
Northern Stars
New York Premiere
2 Performances Only: April 19 & 20
Tickets start at $55
The incomparable singer-songwriter Rufus Wainwright lights up St. Ann's Warehouse with Northern Stars, an intimate evening of music by fellow Canadian icons Joni Mitchell, Neil Young and Leonard Cohen, among others. Praised by The New York Times for his "genuine originality," and celebrated by Elton John as "the greatest songwriter on the planet," Wainwright takes to the stage with some of the most beautiful rock songs ever written.
Wainwright, one of the great male vocalists, composers, and songwriters of his generation, has released eight studio albums, three DVDs, and three live albums. He has collaborated with artists ranging from Elton John, David Byrne, Robbie Williams, Mark Ronson, Joni Mitchell to Burt Bacharach. His album "Rufus Does Judy" recorded at Carnegie Hall in 2006 was nominated for a Grammy.
His acclaimed first opera, Prima Donna, premiered at the Manchester International Festival in July 2009 and has since been presented in London, Toronto and BAM in New York. This summer it will be performed at the Armel Opera Festival in Hungary and Augsburg Theatre in Germany. In 2015, Deutsche Grammaphon released a studio recording of the opera recorded with the BBC Symphony Orchestra.
Wainwright celebrated the 400th anniversary of Shakespeare's death with the release of his latest album, Take All My Loves: 9 Shakespeare Sonnets, on Deutsche Grammophon worldwide in Spring 2016. The Canadian Opera Company has commissioned Wainwright's second opera, about Roman Emperor Hadrian, to premiere in Toronto in the fall of 2018.
St. Ann's Warehouse & Onassis Cultural Centre Athens present
The Birds
by Aristophanes
Directed by Nikos Karathanos
Adapted by Nikos Karathanos and Giannis Asteris
American Premiere; 12 performances only
May 2-13, 2018
Tickets start at $40
Following its sold-out World Premiere and presentations at the Ancient Theater of Epidaurus and Onassis Cultural Center in Athens, Greece, Nikos Karathanos brings his astounding rendition of Aristophanes' The Birds to America. In this vibrant restaging of an ancient classic, two men of Athens, fed up with their city and the gods who rule over it, journey to the country of the birds. They call upon the birds to build a new utopia with the seriousness of a game, the fluidity of a dream, and the essence of the sweet melancholy of life.
Performed in Greek with English subtitles.
This production of The Birds is supported by the Onassis Foundation.
St. Ann's Warehouse presents
Labapalooza!: A Mini Festival of Puppet Theater From the Lab
Directed by Matt Acheson and KrisSy Smith
June 26-July 1
Tickets start at $20
Each spring, St. Ann's Warehouse showcases works-in-progress developed over the course of a year in the St. Ann's Puppet Lab. Now in its 19th year, the Lab is an experimental haven for artists making interdisciplinary puppet and object theater.
St. Ann's Puppet Lab and Labapalooza are supported by Cheryl Henson and The Jim Henson Foundation.
St. Ann's Warehouse presents
Here Their There Here: A Sound Walk Through Brooklyn Bridge Park
Created by Geoff Sobelle
Sound design by Gareth Fry
App Design by Jesse Garrison
Ongoing; download the app at stannswarehouse.org/show/here-their-there-here/
St. Ann's Warehouse is pleased to present Here Their There Here, a site-specific sonic art work, an interactive audio guide for the "here and now." This project from Geoff Sobelle, a theater artist who emphasizes his dedication to the "sublime ridiculous," is a playful soundwalk through Brooklyn Bridge Park that is at once ordinary and extraordinary.
Over many months, the creators recorded the observations of hundreds of voices in the park. Using the geo-location capability of a smartphone, the app lets the listener hear the words of these individuals where they said them, awakening, from spot to spot, past, personalized perceptions of those locations.
Part documentary, part chance operation, Here Their There Here follows the listener where they go throughout the park. The participant's choice in direction and duration tells the app what to play-and there is always something new to uncover and listen for with each experience. You will never take the same walk twice.
Here Their There Here was commissioned and developed by St. Ann's Warehouse. It features sound design by Gareth Fry (Black Watch, The Encounter), app design and development by Jesse Garrison and artwork by Victoria Burge. Additional assistance came from Sheelagh Darling, Rae Binstock, Ben Grant, Harry Johnson, Mike Winship and Eben Hoffer. This work was supported by a Building Demand for the Arts Implementation Grant from the Doris Duke Charitable Foundation.
Sobelle's most recent project was the immersive The Object Lesson at New York Theatre Workshop, for which the artist filled the space to the brim with cardboard boxes, and created a humorous, poignant and (literally) towering meditation on people's relationship to stuff. Ben Brantley of The New York Times called it a "comically sentimental piece that plucks a fleeting connective poetry in the seeming randomness of what we hoard," ultimately seeing "boxes and their contents liv[ing] on" once the actors have left the stage, "whispering of lost time to whoever next stumbles upon them." With Here Their There Here, Sobelle continues to mine these themes, with participants of the walk stumbling upon more literal voices oddly bound, like the objects that outlive us, indefinitely by space.
---
St. Ann's Warehouse plays a vital role on the global cultural landscape as an American artistic home for international companies of distinction, American avant-garde masters and talented emerging artists ready to work on a grand scale. St. Ann's signature flexible, open space allows artists to stretch, both literally and imaginatively, enabling them to approach work with unfettered creativity, knowing that the theater can be adapted in multiple configurations to suit their needs.
In the heart of Brooklyn Bridge Park, St. Ann's Warehouse has designed a spectacular waterfront theater that opened in October 2015. The new Joseph S. and Diane H. Steinberg Theater offers St. Ann's signature versatility and grandeur on an amplified scale while respecting the walls of an original 1860's Tobacco Warehouse. The building complex includes a second space, a Studio, for St. Ann's Puppet Lab, smaller-scale events and community uses, as well as The Max Family Garden, designed by landscape architects Michael Van Valkenburgh Associates and open to Brooklyn Bridge Park visitors during Park hours.
Susan Feldman founded Arts at St. Ann's (now St. Ann's Warehouse) in 1980 as part of The New York Landmarks Conservancy, to help save the National Historic Landmark Church of St. Ann and the Holy Trinity on Montague Street in B­rooklyn Heights. For twenty-one years, St. Ann's presented a decidedly eclectic array of concert and theater performances in the church sanctuary.
From Fall 2001 through the 2014-15 season, the organization activated found spaces in DUMBO with the world's most imaginative theater- and music-makers, helping to make the burgeoning neighborhood a destination for New Yorkers and tourists alike. After twelve years (2001-2012) in a warehouse that was located at 38 Water Street, St. Ann's transformed another raw space at 29 Jay Street into an interim home (2012-2015), while the organization adapted the then-roofless Tobacco Warehouse at 45 Water Street in Brooklyn Bridge Park into the new St. Ann's Warehouse.
Almost four decades of consistently acclaimed landmark productions that found their American home at St. Ann's include Lou Reed's and John Cale's Songs for 'Drella; Marianne Faithfull's Seven Deadly Sins; Artistic Director Susan Feldman's Band in Berlin; Charlie Kaufman and the Coen Brothers' Theater of the New Ear; The Royal Court and TR Warszawa productions of Sarah Kane's 4:48 Psychosis; The Globe Theatre of London's Measure for Measure with Mark Rylance; Druid Company's The Walworth Farce, The New Electric Ballroom and Penelope by Enda Walsh and Walsh's Misterman, featuring Cillian Murphy, and Arlington; Lou Reed's Berlin; the National Theater of Scotland's Black Watch and Let the Right One In; Kneehigh Theatre's Brief Encounter, 946 and Tristan & Yseult; Yael Farber's Mies Julie; Dmitry Krymov Lab's Opus No. 7; the Donmar Warehouse all-female Shakespeare Trilogy: Julius Caesar, Henry IV, The Tempest; Kate Tempest's Brand New Ancients; Tricycle Theatre's Red Velvet, The Young Vic production of A Streetcar Named Desire with Gillian Anderson; Mark Rylance's Nice Fish, and the World Premiere of the complete Taylor Mac's A 24 Decade History of Popular Music, including the one-time only 24-hour marathon in 2016. St. Ann's has championed such artists as The Wooster Group, Mabou Mines, Jeff Buckley, Cynthia Hopkins, Daniel Kitson, Emma Rice and Kneehigh, and presented an historic David Bowie concert in 2002.
The new St. Ann's Warehouse retains the best of its past homes: the sense of sacred space of its original home in St. Ann's Church; the vastness and endless capacity for reconfiguration artists have harnessed in St. Ann's temporary warehouses in DUMBO.
For more information, visit www.stannswarehouse.org.