Duke Ellington Center For The Arts (DECFA) To Celebrate The Maestro's 119th Birthday With A Free Musical Tribute Concert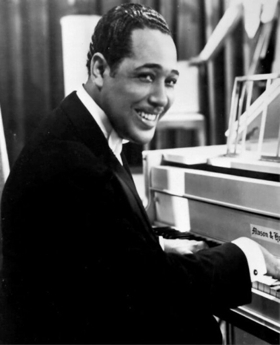 The Duke Ellington Center for the Arts (DECFA) will celebrate the 119th birthday of Duke Ellington with a FREE All-Ellington Musical Tribute on Sunday, April 29, 2018, 1PM to 3PM. which will be staged beneath the Duke Ellington statue that stands majestically at the corner of 110th Street and 5th Avenue - the Gateway to Harlem, it was announced by noted dancer/choreographer Mercedes Ellington, Duke Ellington's granddaughter, who is President, Founder & Artistic Director of DECFA.
The Birthday Musical Tribute, produced by Mercedes Ellington, stars Jazz vocalists Marion Cowings, Antoinette Montague, Ty Stephens & Jazzmobile artist Lynette Washington; guitarist Ethan Fein; dancer Mark Mindek (on Stilts); Tony Waag and Tap City Youth Ensemble, a project of The American Tap Dance Foundation; Jazz Power Initiative; Zah! Jazz Youth; and The Duke Ellington Center Big Band led by Eli Yamin, with soloists James Sollar (Trumpet), Claire Daly (baritone saxophone) and Dave Gibson (drums).
"This annual birthday celebration at my grandfather's statue is very special to me," says Ms. Ellington. "Uncle Edward - the name Ellington preferred to be called by members of his family - tried to instill his values with me. I started the Duke Ellington Center for the Arts in 2004 to ensure that these values - his musical legacy and the term 'beyond category,' which he used to define excellence - will live on. Along with the great work of Wynton Marsalis in this area, we are dedicated to make Uncle Edward's legacy continually meaningful to new generations of musicians and music lovers."
DECFA is a not-for-profit 501(c)(3) organization that plans on developing Duke Ellington's astounding number of musical compositions (almost 3,000) into multi-
disciplinary theatrical presentations and educational programs, to be performed in many different types of venues all over the globe. In addition The Center maintains an accurate record of all things Ellington for present and future generations.
Edward Kennedy "Duke" Ellington was born April 29, 1899 in Washington, DC, and died on May 24, 1974 in New York City. He was America's most prolific composer of the 20th century in both volume and variety. The Duke Ellington Orchestra introduced American jazz to international audiences starting in the late 1920s through May 1974 when he died.... AND HIS MUSIC LIVES ON!
Ellington's birthday will be celebrated with various musical tributes during his Birthday Weekend (April 28 and 29). On Saturday night, April 28, Mercedes Ellington and the Duke Ellington Center Big Band, will present an Ellington Birthday Eve Concert at 8 PM at the Emelin Theatre (emelin.org), 153 Library Lane, in Mamaroneck, NY. There will also be a birthday celebration for Ellington on Sunday, April 29, from 3 to 4:30 PM in the Woolworth Chapel at Woodlawn Cemetery in the Bronx where Ellington is buried. Trolley tours to The Jazz Corner and Ellington's grave site will be available one hour prior to the concert and after the concert as well.
Related Articles
More Hot Stories For You
Voting Now Open For The 2019 BroadwayWorld Cabaret Awards, Presented by TodayTix!
Voting is NOW OPEN for the 2019 BroadwayWorld Cabaret Awards, brought to you by TodayTix! The BWW Cabaret Awards honor exemplary performers and produc... (read more)

Voting Now Open For The 2019 BroadwayWorld Los Angeles Awards, Presented by TodayTix!
Voting is NOW OPEN for the 2019 BroadwayWorld Los Angeles Awards, brought to you by TodayTix! The nominees are set, and now you can vote to make sure ... (read more)

Kerry Butler, Will Swenson & More Will Star in BROADWAY VACATION Reading
They've been to Wally World, Europe, and Vegas . . . and now The Griswolds are coming to Broadway!... (read more)

Voting Now Open For The 2019 BroadwayWorld Chicago Awards, Presented by TodayTix!
Voting is NOW OPEN for the 2019 BroadwayWorld Chicago Awards, brought to you by TodayTix! The nominees are set, and now you can vote to make sure your... (read more)

Photo Flash: First Look at the Cast of BABY
Out of the Box Theatrics has released "First Look" photos of the cast of their upcoming limited engagement production of BABY. Featuring a book by Syb... (read more)

THE SPONGEBOB MUSICAL: LIVE ON STAGE to Air on Nickelodeon Dec 7
Nickelodeon today announced that following a critically lauded run on Broadway, The SpongeBob Musical: Live On Stage!, which reunites members of the o... (read more)