Dick Van Dyke and Angela Lansbury Star in BUTTONS: A NEW MUSICAL FILM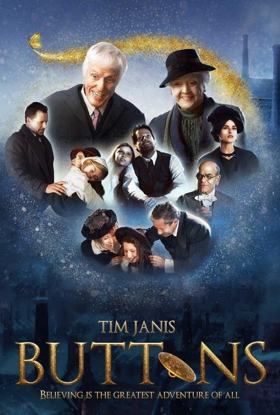 From creator/director Tim Janis comes "Buttons: A New Musical Film." This heartwarming, family-friendly feature takes audiences on a journey to discover that sometimes believing can be the greatest adventure of all!
During a time of robber barons, mills, and rising industry, two orphan children meet two unexpected visitors (Dick Van Dyke and Angela Lansbury) who turn the tide of events and change their lives forever.
Narrated by Robert Redford and Kate Winslet, the film also features actors Abigail Spencer, Jane Seymour, Roma Downey, Ioan Gruffudd, Katie McGrath, Robert Picardo, Charles Shaughnessy, Paul Greene, John de Lancie, and "Nova" a song written by Sir Paul McCartney.
After the feature content, join Patricia Ward Kelly, wife and biographer of legendary dancer, director, and choreographer, Gene Kelly, on the set of "Buttons" as she shares intimate, behind-the-scenes stories about some of her husband's most popular and universally beloved movies: Singin' in the Rain, An American in Paris, On the Town, and more.
Tickets for "Buttons: A New Musical Film" can be purchased at www.FathomEvents.com and participating theater box offices.
Fathom Events brings "Buttons: A New Musical Film" in more than 500 select movie theaters on December 8 at 12:55 p.m. (local time), through Fathom's Digital Broadcast Network (DBN). For a complete list of theater, visit the Fathom Events website (theaters and participants are subject to change).
"I'm very excited to share this heartwarming film with audiences on the big screen through this special in-theater event partnership with Fathom Events," director Tim Janis said. This family- friendly film brings together such extraordinary talents and is a great way to kick off the Christmas season."
"We could not be more excited to bring this delightful holiday feature to movie theaters nationwide," Fathom Events CEO Ray Nutt said. "'Buttons' provides cinematic audiences with the joy of music, a heartwarming story and the nostalgia of old Hollywood."