Daphne Rubin-Vega, Mare Winningham and More to Join Kenyon Phillips for Halloween UNISEX SALON at Joe's Pub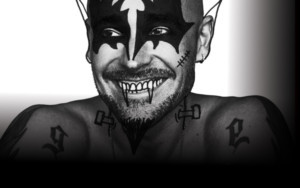 Kenyon Phillips, known for his inventive blend of orchestral rock, surrealist theater and interactive cabaret, will be haunting Joe's Pub for an all-new Halloween installment of Unisex Salon with Kenyon Phillips on October 29, 2017.
Following a string of sold-out dates in his genre-hopping improvisational series, Phillips has tapped a long list of Broadway and Off-Broadway - as well as big screen and small screen - personalities to join him onstage through the spring of 2018.
Anchored by Phillips and his all-girl orchestral backing band, The Ladies in Waiting, each show features a rotating - and truly eclectic - lineup of musical guests in addition to vaudeville, dance and burlesque-style acts. In lieu of interviews à la Ed Sullivan and other variety show hosts, Phillips engages in sung conversations with his guests and audience members against improvisational accompaniment by The Ladies in Waiting. While songs are rehearsed and the guest list curated ahead of time, the order of appearances is decided spontaneously by Phillips based on the mood of the room - making each show utterly unique and impossible to duplicate.
"This Unisex Salon will be witchy, wild and magnificently macabre!" enthuses Phillips. "It's also a costume party, so I have every expectation that my audience will show up looking as scary as Frankenstein...or as scandalous as Frankenfurter!"
Confirmed guests for the October 29th performance include Emmy Award winner and Oscar nominee Mare Winningham, who plays politician Sally Kefler in the latest season of American Horror Story: Cult. Other confirmed guests include RENT's original Mimi, Daphne Rubin-Vega; gay icon, journalist and TV personality Michael Musto; and Cheryl Freeman, the original Acid Queen from the Broadway production of The Who's Tommy. Unisex Salon regulars Mackenzie Shivers, Lance Breakfast, Nikkie McLeod, Sarah Elizabeth Haines, and Yuka Tadano will also return, along with guest guitarist Scott Meola.
Following the October 29 performance, Joe's Pub will continue to host Unisex Salon with Kenyon Phillips on a quarterly schedule through the winter and into the spring of 2018. Throughout the series, the guest list will also include performers Cady Huffman, Erik Liberman, Jacob Ware, Justin Sams, and Jen McKenna; illusionist, clown and performance artist Geoff Sobelle; nonagenarian artist, singer and muse Ilona Royce Smithkin; international drag performer Joey Arias; musicians Mina Caputo, Rachelle Garniez, Royston Langdon, Angela McCluskey and Paul Cantelon; and Joe's Pub artists-in-residence Ike Ufomadu, Celisse Henderson, Isaac Oliver, and Kaylyn Marie.
The next show is set for Sunday, October 29, 2017 at 9:30 p.m. Doors open at 9:00 p.m. Halloween costumes are strongly encouraged. Tickets are $20 and are available online at bit.ly/uniscaredsalon There is a $12 food minimum or two-drink minimum. The Public Theater is located at 425 Lafayette Street, and is accessible by the R, N and 6 trains.
Crowned "the new King of New York" by The Huffington Post and "the of-the-moment It kid of the musical theater scene" by The Daily Beast, wildly theatrical singer, songwriter, emcee, actor, model, and DJ Kenyon Phillips knows how to put on a show. In addition to founding and fronting the bands Roma! and Unisex Salon, Phillips has shared the stage, screen and studio with such luminaries as comedienne Amy Poehler, pop culture commentator Michael Musto, international drag performer Joey Arias, choreographer Karole Armitage, director Mark Romanek, and Broadway bombshells Cady Huffman and Daphne Rubin-Vega. His songs have been featured on several network and cable television programs, including Shameless on Showtime and Eleventh Hour on CBS. Together with his all-girl orchestral rock band, The Ladies in Waiting, Phillips delivers danceable drama in the spirit of Rocky Horror.
Related Articles
More Hot Stories For You