Cynthia Shaw Presents Velvet Determination At United Solo Festival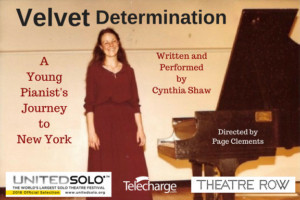 Cynthia Shaw enjoyed her Colorado childhood of piano lessons and music-making. But as time went on she developed bigger dreams: moving to New York to attend the esteemed Manhattan School of Music. However, this goal was a bit more difficult than she expected. As she struggles with her self-sabotaging demons, shaky memorization and insufficient technique, she masters a falling piano, a sweltering practice room, a music-hating neighbor, a condescending teacher and other obstacles that confront an innocent, young classical pianist who has decided to tackle the Big Apple! And the big question is, does she get in?
In this charming, music-filled 50 minute solo show, Cynthia creates over ten characters including her kindly childhood teacher, the University of Denver teacher who opens up her eyes to the world of New York, and her formidable first New York piano teacher. Throughout the show she'll play the piano music of Bach, Beethoven, Brahms, Chopin, Debussy, Poulenc and Schubert.
Born and raised in Pueblo, Colorado, Cynthia moved to NY to pursue a career as a classical pianist and attend the Manhattan School of Music. She soon moved on to musical directing and finally to acting in film and theatre. Her recent film work has been presented at Cannes Festival Corner, The Film Society of Lincoln Center, The Soho International Film Festival, World-Fest International Film Festival, Indie-Fest, The LA Movie Awards, The Big Apple Film Festival, Manhattan Film Festival, to name a few. Her episode of the web series, "Brooklyn is in Love" won two awards at the prestigious LA Webfest.
Stage work includes Off-Broadway theaters in New York City including The Medicine Show Theatre, The Barrow Group, T. Schreiber Studios, The Wild Project, The Articulate and The Secret Theaters.
As a singer she has sung back-up vocals for both Paul McCartney at Carnegie Hall and Björk at Riverside Church and she sang with the NewYork Philharmonic when they won three Grammy Awards in Classical Music for John Adams' "On the Transmigration of Souls." Her singing has been featured on the New York Times website and as a pianist she has performed with The New York Revels on Garrison Keillor's "A Prairie Home Companion" at New York's Town Hall and on NPR.

UNITED SOLO THEATRE FESTIVAL is an annual international festival for solo performances held at the Theatre Row in the heart of the New York City theatre district on 42nd Street, currently in its 9th season. Fiona Shaw called United Solo "the mecca of the solo shows in the world." Over 130 participants from six continents will present their shows every day from September 13 until November 18, 2018. Numerous performances are already sold out. Through its mission, United Solo presents renowned artists as well as new talents, discovers original stories, connects artists with their audiences, exchanges diverse perspectives, fosters a dialogue for change, entertains, and now also educates through its professional training program led by distinguished artists and cultural icons. Artists and companies interested in being presented at The United Solo Festival in 2019 are now welcome to submit their applications online at www.unitedsolo.org/submit