Composer Anna Webber Wins Canadian Women Artists' Award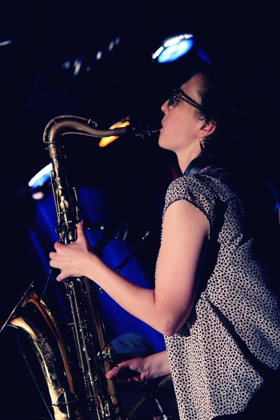 The New York Foundation for the Arts (NYFA) has announced composer and musician Anna Webber as the first-ever recipient of the Canadian Women Artists' Award. The $5,000 award is supported by funding granted to NYFA by the Canadian Women's Club (CWC) of New York as a way to continue its philanthropic work when it disbanded. It is designed to provide financial support to an emerging or early career artist working in any discipline, and can be used in any manner the recipient deems necessary to further her artistic goals.
"We're thrilled to present Anna Webber with the inaugural Canadian Women Artists' Award and are grateful to the Canadian Women's Club for helping to support Anna's work in avant-garde jazz and new classical music," said NYFA's Executive Director Michael L. Royce.
Webber, a British Columbia-born, Brooklyn-based composer, flutist, and saxophonist, was selected by a multidisciplinary panel of artists from a pool of 100 Canadian women artist applicants between the ages of 21 and 35 from across New York, New Jersey, and Connecticut. Recent albums include the critically-acclaimed Binary (2016) and SIMPLE (2014), both through Skirl Records and recorded with her Simple Trio featuring drummer John Hollenbeck and pianist Matt Mitchell.
Webber's other projects include her septet Percussive Mechanics, Jagged Spheres with Devin Gray and Elias Stemeseder, and The Hero of Warchester with Nathaniel Morgan and Liz Kosack. She has performed and/or recorded with bands led by Dan Weiss, Jen Shyu, Ohad Talmor, C.E. Smith, Hank Roberts, Harris Eisenstadt, Adam Hopkins, and Erik Hove. Webber has previously been recognized with a grant from the Shifting Foundation (2015) and the Charlie Parker Jazz Composition Prize as a member of the BMI Jazz Composers Workshop (2014). Webber studied music at McGill University and holds master's degrees from Manhattan School of Music and the Jazz Institute Berlin.
"It is a huge honour to be awarded the inaugural Canadian Women Artists' Award," said Webber. "As I am currently composing a new hour-long suite of music for septet which will be recorded in January 2018, the award will go to immediate use in support of this brand new project. I am very grateful to NYFA and the Canadian Women's Club of New York!"
Lorraine Bell, Board Director, OFA, University of Toronto Associates and former Canadian Women's Club member said of the award: "Thank you to all of the former Canadian Women's Club of NY members for ensuring that the original goal of supporting young, talented Canadian artists will live on through this endowment. We are thrilled that Anna Webber is the first recipient of this wonderful award."
The New York Foundation for the Arts (NYFA) was founded in 1971 to empower artists at critical stages in their creative lives. Each year we award $650,000 in cash grants to individual artists in all artistic disciplines. Our fiscal sponsorship program is one of the oldest and most reputable in the country and helps artists and organizations raise and manage an average of $4 million annually. Our Learning programs provide thousands of artists with professional development training and support, and our website, NYFA.org, received over 1.2 million visitors last year and has information about more than 20,000 opportunities and resources available to artists in all disciplines.
Related Articles
More Hot Stories For You