Christian Duhamel Hosts Concert Reading of THE UNCIVIL ONES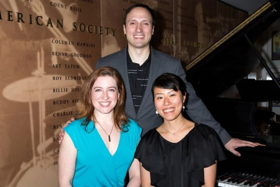 Christian Duhamel, recipient of the 2018 Kleban Award for most promising musical librettist, presents a concert reading of his latest musical, The Uncivil Ones, as a benefit for Emerging Artists Theatre's New Work Series on October 28 at 7 pm.
The Uncivil Ones is a new musical with Concept, Book & Lyrics by Christian Duhamel (winner of the 2018 Kleban Award), Concept & Additional Book by Charissa Bertels and Music by Ayumi Okada.
Featuring a cast of 10 female and non-binary performers, The Uncivil Ones explores the unheard voices of the American Civil War. The Uncivil Ones is based on historical characters - Doctor Mary Walker (to this day the only female recipient of the Medal of Honor, a battlefield surgeon in the Civil War, and prisoner of war), Mary Elizabeth Bowser (a freed slave who re-enslaved herself in order to become a spy in Jefferson Davis' Confederate White House), Jennie Hooke (based on two historical figures who dressed as men in order to fight in the Civil War), and Miss Van Lew (a wealthy Southern woman who ran a Union spy ring in the heart of the Confederacy).
Directed by Jade King Carroll (Off Broadway's Hello, From the Children of Planet Earth) and Music Directed by Anna Dagmar (Waitress) with percussion by James Pingenot, the cast features Charissa Bertels (Broadway: A Christmas Story, If/Then National Tour), Alana Cauthen (20th Anniversary Rent), Christiana Cole, Lynn Craig (Lazarus), Danyel Fulton (Off-Broadway Jasper in Deadland), Victoria Huston-Elem (Finding Neverland National Tour), Jodi Kimura (Lincoln Center's South Pacific National Tour), Sandy Taylor, Jennifer Teska and Katie Zaffrann.
Sunday, October 28 at 7 pm
Emerging Artists Theatre at
TADA! Theater - 15 W. 28th St. 2nd Floor
Tickets are $15 and can be purchased at the door (cash only) or online at https://www.brownpapertickets.com/event/3616605.
Photo: Charissa Bertels, Christian Duhamel & Ayumi Okada
Photo Credit: Jennifer Broski